This post may contain affiliate links. We only share items that we love and make a small percentage of the sale if you choose to buy through our links- but there's never any added cost to you...our earnings go to important stuff like more coffee to survive the toddler years!
Ultimate BBQ Baked Chicken Recipe
The BEST bar-be-que chicken baked in the oven and ready in 30 minutes!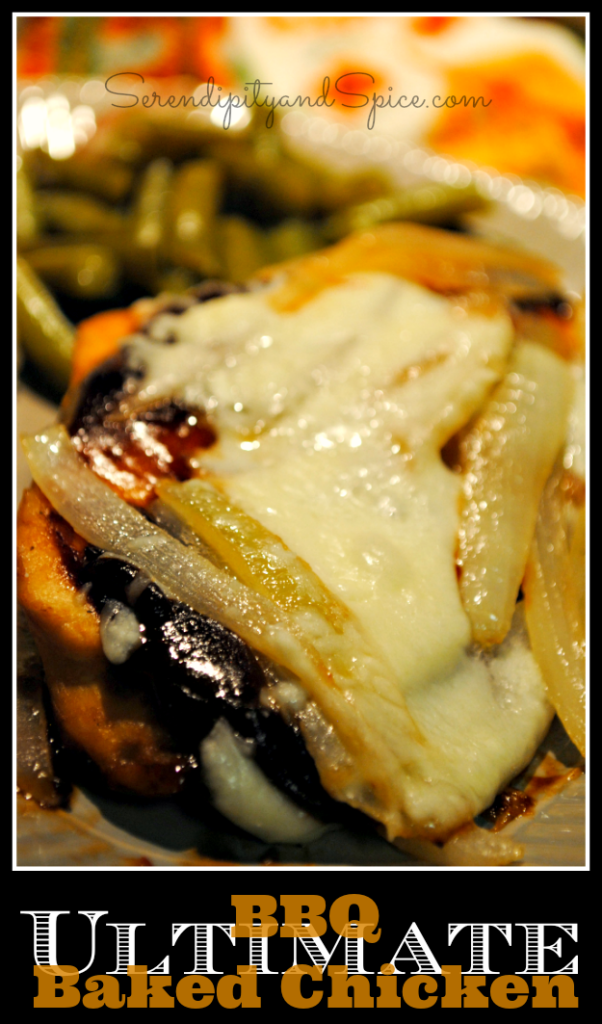 I LOVE grilling out!  We normally grill out 2-3 times a week during the Spring, Summer, and early Fall….but unfortunately it's just too darn cold during these Winter months!  Luckily I came up with this Ultimate BBQ Baked Chicken Recipe that tastes just as yummy as cooking out on the grill but done in the warmth of the kitchen!

Ultimate BBQ Baked Chicken Recipe
The BEST BBQ chicken done right in the oven....no grill required and it's ready in 30 minutes!
Ingredients
4 Boneless Skinless Chicken Breasts
1 Cup BBQ Sauce
1 Medium Onion
1 TBS Butter
1 Cup shredded Mozzarella Cheese
Instructions
Preheat oven to 400 degrees.
Butterfly chicken breasts and place in a baking dish in oven for 15 minutes.
While chicken is cooking in oven melt the butter in a skillet on medium heat.
Slice onion and sautee in the skillet with the butter.
Remove chicken and flip over-continue cooking additional 10 minutes.
Remove chicken and make sure it is cooked through- no pink when cut open.
Pour BBQ sauce over chicken breasts.
Top with sauteed onions and shredded mozzarella cheese.
Bake for an additional 5 minutes or until cheese is fully melted.
What else would you add to make this chicken even yummier??
Join the Challenge
Are you ready to start spring cleaning but just overwhelmed with where to start? I'm right there with you! Join along in the 5 Day Spring Cleaning Challenge!!
The following two tabs change content below.
Melissa loves getting in the kitchen with her two children and teaching them about food, cooking, and healthy choices. She loves hosting events, traveling, and enjoying all life as to offer. Her latest cookbook "Serendipity Sweets" will be available for purchase in the fall.
Latest posts by Melissa Llado (see all)