As a busy mom of two, I am always on the lookout for quick and easy dinner recipes that my family will love. One of our go-to meals is this buffalo chicken casserole. This dish is simple to make, full of flavor, and can be easily customized to meet everyone's taste preferences.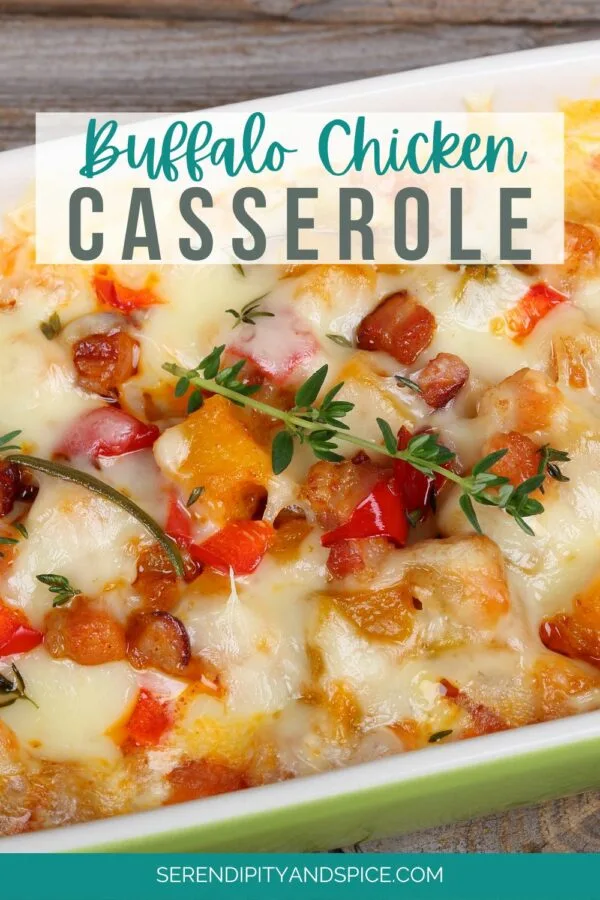 Before my son was born I was looking for easy freeze meals and got really interested in Once A Month Cooking (OAMC) which is awesome for those busy days when I don't feel like cooking. This Buffalo Chicken Casserole is one of those recipes that's perfect for making ahead and freezing…just double up your recipe and have one tonight and one for the future.
If you are a fan of buffalo chicken and tater tots, then you are going to love this recipe! Tater tot buffalo chicken casserole is a delicious and easy-to-make dinner that is perfect for busy weeknights. In this blog post, I will share with you my recipe for this mouthwatering casserole that is sure to become a family favorite.
Adjusting the Heat Index
One of the great things about this buffalo chicken casserole recipe is that it is easy to adjust the heat index based on your family's taste preferences. If you like your food spicy, you can increase the amount of buffalo sauce or add some cayenne pepper to the chicken mixture. On the other hand, if you prefer a milder taste, you can reduce the amount of buffalo sauce or replace it with BBQ sauce. You can also omit the blue cheese if it is too strong for your liking.
Serving with a side of sour cream, ranch dressing, or cold glass of milk will also cool down the spice in this buffalo chicken casserole. The cream/milk contains casein which will subdue the capsaicin from the hot sauce.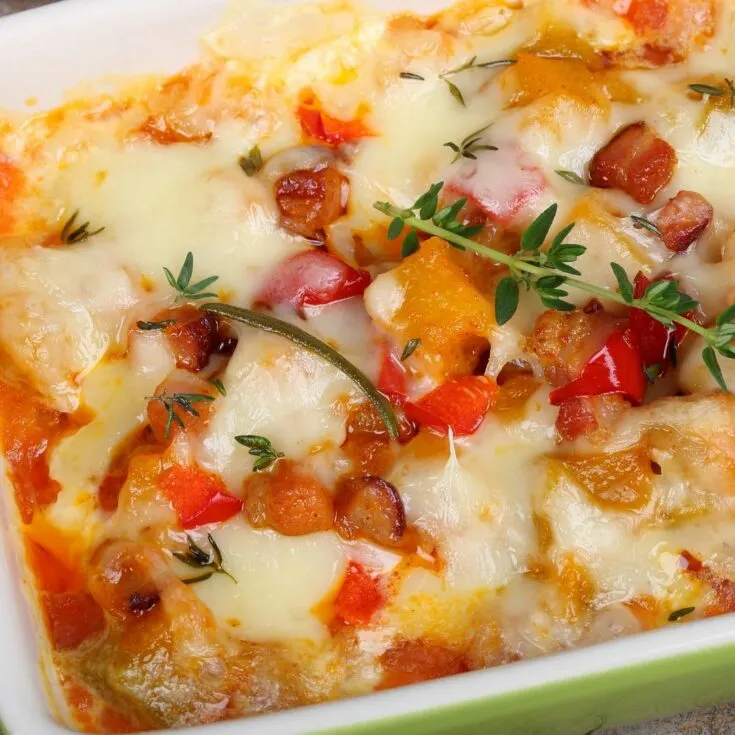 Buffalo Chicken Casserole
This buffalo chicken casserole is a quick and easy dinner recipe that everyone in the family will love. With its bold flavors and customizable heat index, this dish is sure to be a hit at your dinner table.
You May Also Like:
Franks Red Hot Buffalo Chicken Dip Slow Cooker Recipe
Ingredients
1 lb. of boneless, skinless chicken breast, cooked and shredded
1/2 cup of buffalo sauce
1/2 cup of ranch dressing
1/2 cup of crumbled blue cheese
1 bag of frozen tater tots (32 oz.)
1/2 cup of diced celery
1/2 cup of diced onion
1/2 cup of diced bell pepper
1/4 cup of chopped fresh parsley (optional)
1/2 cup of sour cream
1/4 cup of chopped fresh cilantro (optional)
Salt and pepper to taste
1 Cup Shredded Mozzarella Cheese
Instructions
Preheat your oven to 375°F (190°C) and lightly grease a 9x13 inch baking dish.
In a large mixing bowl, combine the cooked chicken, buffalo sauce, ranch dressing, blue cheese, celery, onion, and bell pepper. Mix well.
Spread the frozen tater tots in an even layer on the bottom of the prepared baking dish.
Pour the chicken mixture over the tater tots, spreading it out evenly.
In a separate mixing bowl, combine the sour cream, cilantro (if using), salt, and pepper. Mix well.
Spread the sour cream mixture over the chicken mixture, covering it completely.
Bake the casserole for 30-35 minutes, or until the chicken mixture is hot and bubbly and the tater tots are crispy and golden brown.
Top with mozzarella cheese and bake an additional 10 minutes or until cheese is fully melted.
Garnish with chopped parsley (if using) and serve hot.
Recommended Products
As an Amazon Associate and member of other affiliate programs, I earn from qualifying purchases.