Looking for a show-stopping side dish that combines the freshness of green beans with the savory goodness of bacon and spices? Look no further than this crack green beans recipe! Bursting with flavor and easy to prepare, this dish will quickly become a family favorite.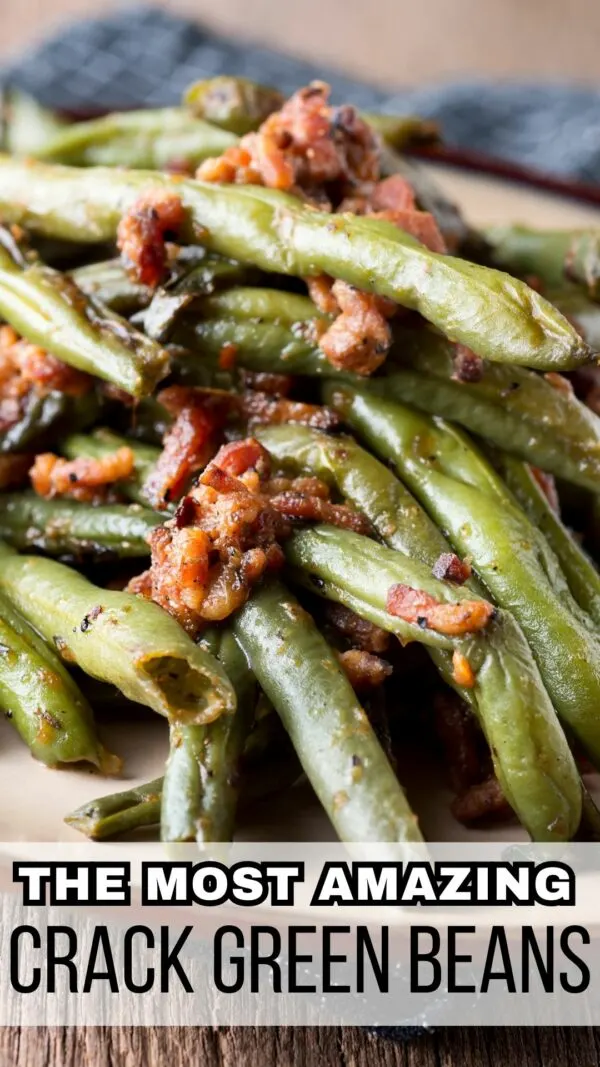 In this blog post, we'll guide you through the simple steps of creating this delectable recipe using fresh green beans, crispy bacon, and a mouthwatering blend of seasonings. Get ready to elevate your culinary game with this irresistible crack green beans recipe!
Table of Contents
Using Fresh Beans for Crack Green Beans
Most of the recipes I've come across for crack green beans use canned beans and I have to admit…I'm not a fan. For me, canned green beans are soggy, lack flavor, and honestly taste a little funny. So, I switched up the recipe and tried using fresh green beans from our garden.
The result was better than I could have imagined!
Using fresh green beans for this crack green beans recipe was a total game changer. The green beans came out perfectly al dente and not soggy. The flavors of the fresh green beans blended perfectly with the smoky bacon and oriental spices.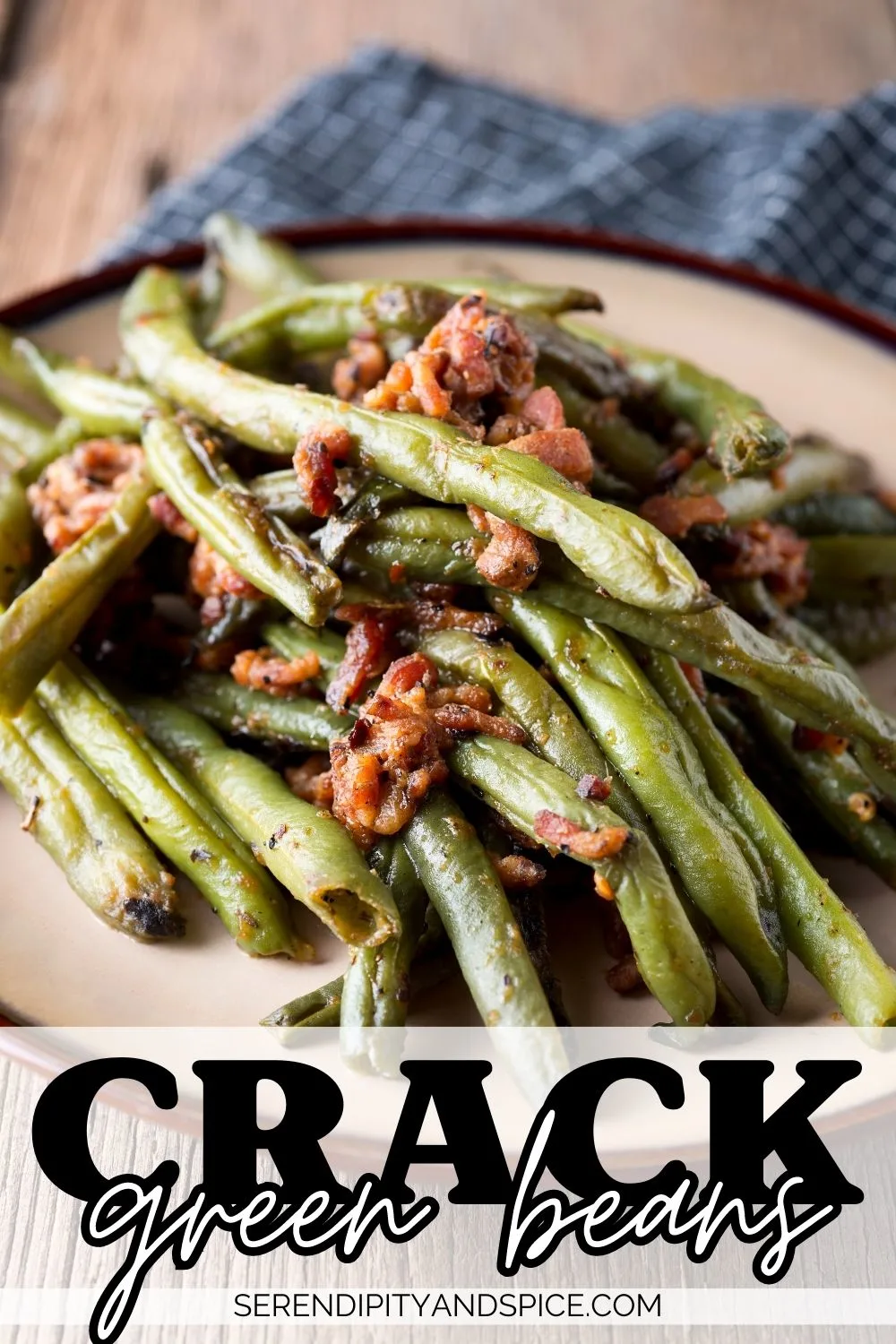 My family went nuts over these crack green beans! They actually ate ALL of them and there were NO leftovers…. which never happens in our house when it comes to veggies!
Crack Green Beans FAQs
What are crack green beans?
Crack green beans are a flavorful and irresistible side dish made with fresh green beans, crispy bacon, and a savory sauce. The term "crack" refers to the addictive nature of the dish, as it's hard to resist having more!
Can I use frozen green beans instead of fresh ones?
While fresh green beans are recommended for the best texture and flavor, you can use frozen green beans in a pinch. Just be sure to thaw and drain them before following the recipe.
Can I use canned green beans instead of fresh or frozen?
While substituting frozen green beans is okay, I would not recommend using canned green beans for this recipe. Canned green beans are a softer texture and will become mushy if cooked too long.
Is the bacon necessary for the recipe?
The bacon is a crucial ingredient that adds smoky and savory flavors to the dish. However, if you prefer a vegetarian version, you can omit the bacon and use olive oil or vegetable oil as a substitute.
You can also substitute the bacon for this vegan Bacon Lovers Seasoning….I love adding this stuff to homemade french fries, baked potatoes, and other dishes that need a little smoky flavor!
How can I adjust the sweetness of the sauce?
If you find the sauce too sweet for your liking, you can reduce the amount of brown sugar or substitute it with a natural sweetener like honey or maple syrup.
Can I make crack green beans in advance?
While crack green beans are best enjoyed fresh, you can prepare some components ahead of time. Blanch the green beans and cook the bacon in advance, then assemble and toss everything together just before serving.
Are crack green beans suitable for meal prepping?
Yes, crack green beans can be part of your meal prep routine. Prepare the blanched green beans and cooked bacon in separate containers, then store the sauce separately. When ready to serve, heat the sauce, toss it with the green beans and bacon, and enjoy!
Can I add other vegetables to the dish?
Absolutely! While the traditional recipe features green beans, feel free to add other vegetables like sliced bell peppers, mushrooms, or snap peas for extra color and variety.
How do I store leftovers?
If you have any leftovers, store them in an airtight container in the refrigerator for up to 2-3 days. Reheat gently in a skillet or microwave before serving.
Ingredients for Crack Green Beans Recipe
1 pound fresh green beans, ends trimmed
6 slices of bacon, cooked until crispy and crumbled
2 tablespoons brown sugar
2 tablespoons soy sauce (low-sodium recommended)
2 tablespoons butter
1 teaspoon garlic powder
1 teaspoon onion powder
Preparing Crack Green Beans
Blanching the Green Beans:

Bring a large pot of water to a boil. Add the green beans and cook for 15 minutes until they turn bright green and reach the desired texture. Drain and immediately transfer the beans to an ice bath to halt the cooking process. Drain once cooled.

Cooking the Bacon and Preparing the Sauce:

In a skillet, cook the bacon over medium heat until crispy. Remove the bacon from the skillet and crumble it into small pieces.
In the same skillet, melt the butter over medium heat. Stir in the brown sugar, soy sauce, garlic powder, and onion powder. Cook the mixture for 2-3 minutes until the sugar is dissolved and the sauce is well combined.

Combining the Ingredients:

Add the blanched green beans to the skillet with the sauce. Toss the beans gently to coat them evenly. Cook for 2-3 minutes, allowing the beans to absorb the flavors of the sauce.
Place the green beans in an oven safe casserole dish.
Sprinkle the crumbled bacon over the green beans and toss lightly to distribute the bacon throughout the dish.

Baking the Crack Green Beans

Preheat oven to 350 degrees. Bake crack green beans for 30 minutes.
With its irresistible combination of fresh green beans, smoky bacon, and a flavorful sauce, this crack green beans recipe is a guaranteed winner on any dinner table. Its simple preparation and outstanding taste make it an ideal choice for both weeknight dinners and special occasions.
Printable Crack Green Beans Recipe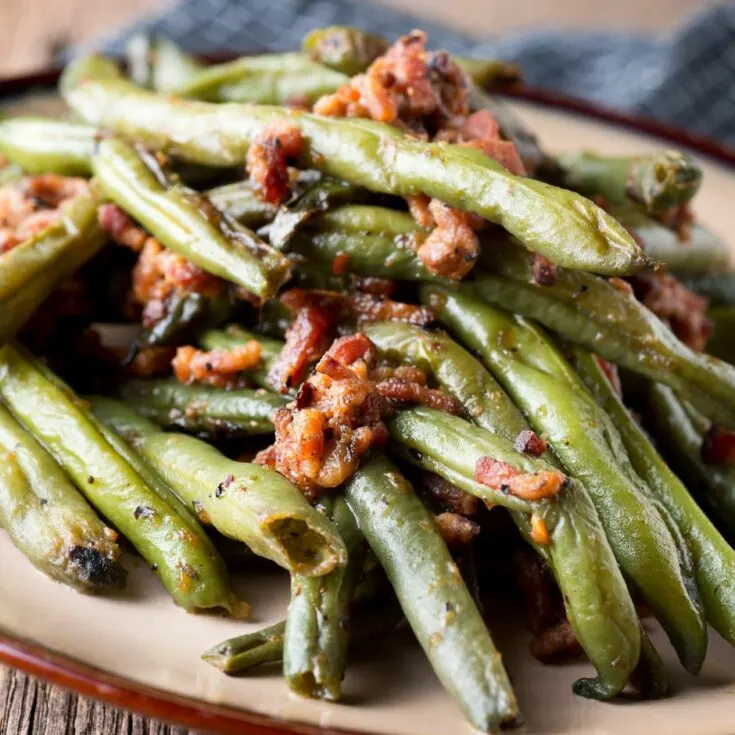 Yield:

4
Crack Green Beans Recipe
Ingredients
1 lb fresh green beans
6 slices crispy bacon, crumbled
2 tbsp brown sugar
2 tbsp soy sauce
2 tbsp butter
1 tsp garlic powder
1 tsp onion powder
Instructions
Cook green beans in boiling water, until al dente.
Cook bacon until crispy and crumble it.
Preheat oven to 350 degrees.
In a skillet, melt butter and mix in brown sugar, soy sauce, garlic powder, and onion powder.
Add green beans to the skillet and coat them with the sauce.
Transfer green beans with sauce to an oven safe casserole dish.
Top with green bean mixture with crumbled bacon.
Bake at 350 degrees for 30 minutes.
Recommended Products
As an Amazon Associate and member of other affiliate programs, I earn from qualifying purchases.
More Delicious Recipes to Try: