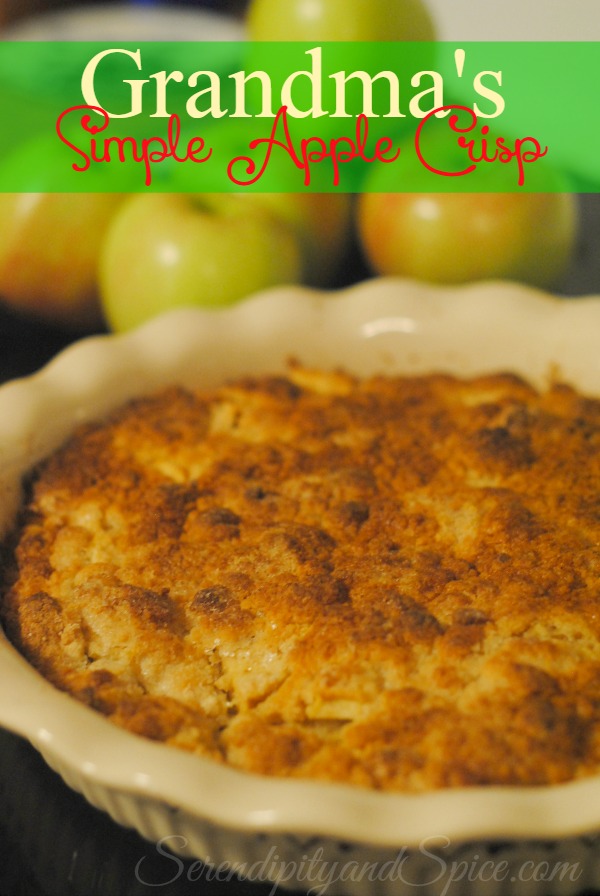 Grandma's Simple Apple Crisp Recipe
Cooking with Toddlers as Learning Development
One of my favorite things to do in the Fall is going to farms for "pick your own" days with Little Man.  Every year we go apple picking, pumpkin picking, strawberry picking, etc.  Apple picking is by far my favorite activity of all though!  I guess because it's the first signal of fall approaching and the weather is perfect….it's warm but with that cool under-current breeze that just cools the skin!
If you live in North Carolina then you must check out Sky Top Orchard…they have so much for the kids to do and it's all free!  You only pay for the apples you pick and those are charged by the pound…which is cheaper than what they charge at the grocery store!  So we always make a day of it and have a blast!
Little Man has REALLY gotten into helping out in the kitchen….I think I may have a budding chef on my hands! 🙂  I like to encourage his love of the kitchen by coming up with some simple recipes that we can make together.  It gives him such a major sense of accomplishment to create a full recipe from start to finish and it's a GREAT learning experience.  Now that he's about to be 3 he absorbs and understands so much that we talk about.
When we start off picking apples Hubs and I talk to Little Man about what we're going to make with the apples when we get home.  We talk about how the apples grow on the trees and then we pick them so we can have healthy food to eat.  At home we talk about how much fun it was to pick the apples and how we're now cleaning them to make a yummy treat.  Throughout the activity we talk and reiterate where the apples came from and what we're doing with the apples.  Before you know it he's remembering everything about the tasks involved from picking the apples to eating the apples.  We made this apple crisp using my grandma's recipe and he bragged to her about how he picked the apples at the farm and made the recipe all by himself (with a little help and guidance from Mom…of course ;)).

My grandma's simple apple crisp recipe is perfect for making with toddlers!  Besides cutting the apples and using the oven they are able to do all the other steps involved by themselves…with just a bit of guidance toddlers can play a chef for the day.

Grandma's Simple Apple Crisp Recipe:
Ingredients:
5-6 Medium Apples (peeled, cored, and sliced)
1 Cup of Flour
1 Cup of Sugar
2 TBS Cinnamon
1 TBS Nutmeg
1 Egg
1 Stick Butter
Vanilla Ice Cream for topping! 😉
Directions:
Preheat oven to 350 degrees.
Place sliced apples in bottom of pie plate.  Make sure you have several layers of apple slices.
Mix together flour, sugar, cinnamon, and nutmeg.
Add egg into flour mixture and stir until crumbling.
Sprinkle crumbling flour mixture on top of apple slices.
Melt stick of butter and drizzle over flour mixture…make sure that all of flour crumbles are lightly moistened with butter.
Bake at 350 degrees for 45 minutes.
Let cool and serve with ice cream.

Enjoy your farm to table creation!
How do you make cooking in the kitchen with kids fun?  Share in the comments below!
Thrive Market
- It's like the Costco of organics...this is where I get all of my sugar, flour, baking supplies, kids snacks, etc.
Zaycon Foods
- This is where I buy most of my meat products in bulk.  The quality is amazing and the prices just can't be beat!  I mean, $1.89 a pound for boneless all-natural chicken breasts!!  It is bulk but you can always split with a friend or make up a bunch of freezer meals like I do!