A simple and delicious chicken pot pie recipe that will have your family thinking you slaved away in the kitchen all day. This chicken pot pie recipe is just as delicious as the one grandma makes but so much easier! I love making one dish meals because it means less clean up and this chicken pot pie recipe is the perfect one dish meal on cold winter nights!
Semi-Homemade Chicken Pot Pie Recipe
A delicious one dish meal for a cold winter night!
As a kid I can remember my grandmother working in the kitchen for hours making everything to go into her scrumptious chicken pot pie recipe. She would start cooking right after lunch and the whole house would smell so wonderful! Now, I LOVE my grandmother and I LOVE her cooking and I LOVE her chicken pot pie…..BUT there is no way I'm going to spend HOURS in the kitchen making one for my family!
Don't get me wrong….I adore my family! I want them to eat the delicious food that I grew up eating…..I just don't have the time to spend HOURS in the kitchen cooking that meal! I guess times were simpler back then….I mean, bless my grandma….she really was a SuperMom…..I'll just have to settle for being a semi-Supermom. Which works out just fine because this is a semi-homemade chicken pot pie recipe that tastes almost just like my grandmas real chicken pot pie recipe! 😉 Hey, it's okay….we do what we can as moms and hope for the best!
Anyway, as you notice in the pictures I had to get a little creative because my pie crust fell apart on me…..so I did what any Disney fanatic mom would do….I embraced my Disney Side! I like to use refrigerated pre-made pie dough because it's oh so simple and I usually always have some on hand. I accidentally left it sitting out on the counter too long and even though the bottom unrolled just fine the top crust started tearing apart. So, I just rolled it all up and used my Mickey Mouse cookie cutter to cut out some fun Disney shapes…..Little Man LOVED it and it made dinner just a little bit more magical! 🙂
Alright, so are you ready for this super simple Chicken Pot Pie Recipe?!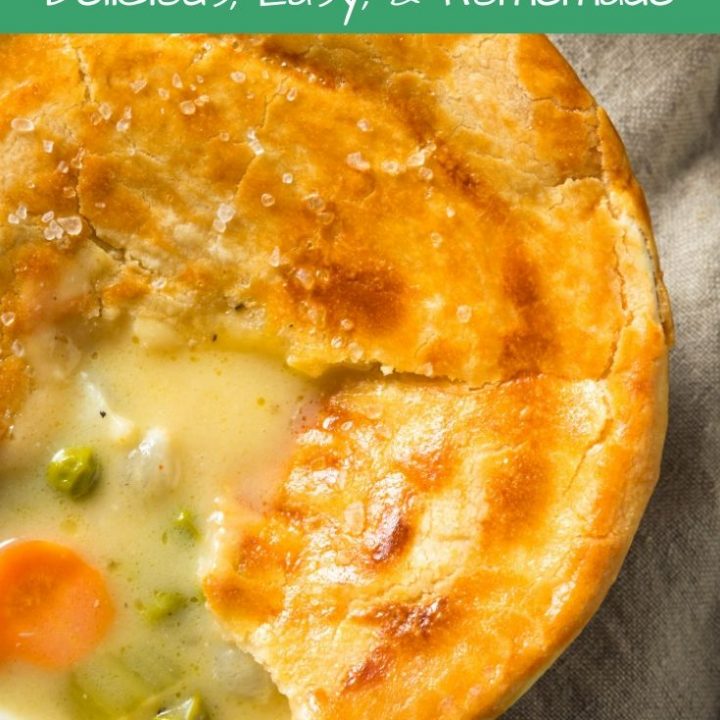 Easy Chicken Pot Pie Recipe
This easy chicken pot pie recipe is the perfect comfort food for those busy nights you're running like crazy!
Ingredients
1 Box Refrigerated Pie Crust (2 crusts)
3 TBS Butter
1 Onion chopped
1/2 cup Flour
Dash Salt
Dash of Pepper
2 Cups Chicken Broth
1/2 Cup Milk
1 Lb. Shredded Chicken (I boil mine, remove from water, shred with 2 forks)
1 Bag frozen mixed veggies (I like to get the Gumbo Mix...there's a fantastic assortment)
Egg Wash- 1 egg mixed with 1/4 cup of water
Instructions
Preheat oven to 400 degrees.
In a small sauce pan melt butter and sautee chopped onion.
Add in flour, salt, and pepper to make a roux...keep stirring so it doesn't scorch.
Stir in chicken broth.
Add in milk and cook about 10 minutes- stirring constantly.
Once sauce has thickened remove from heat.
Place pie crust in bottom of greased pie pan.
Put chicken and veggies into pie.
Pour creamy mixture over chicken and veggies.
Top with other pie crust.
Brush egg wash on top of pie crust.
Cut slits into pie crust to let steam escape.
Bake at 400 for 45 minutes or until pie crust is golden brown.
Recommended Products
As an Amazon Associate and member of other affiliate programs, I earn from qualifying purchases.
What's your favorite comfort food to make on cold nights? Share in the comments below!
Up Next:
OMG The BEST Crock Pot Chicken EVER!