Southern Style Beer Biscuit Recipe– good to the last bite!
Okay, so you know I love cooking with beer! If you missed it you gotta check out my Oktoberfest Chicken—BEST beer chicken ever and it's oh so simple! So, I got to thinking- if beer was so easily substituted for stock in my baked chicken recipe then could I achieve the same with biscuits?!?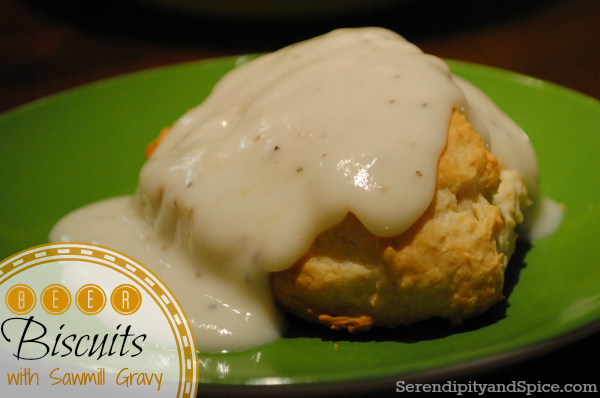 I mean- have you ever had beer bread?? It's AMAZING! So why not make beer biscuits?! Now, unlike the chicken- you have to actually like the taste of beer because you get a lot of the beer flavoring with this beer biscuit recipe. But they are oh sooooo good!
And you probably have everything you need to make this beer biscuit recipe in the pantry right now!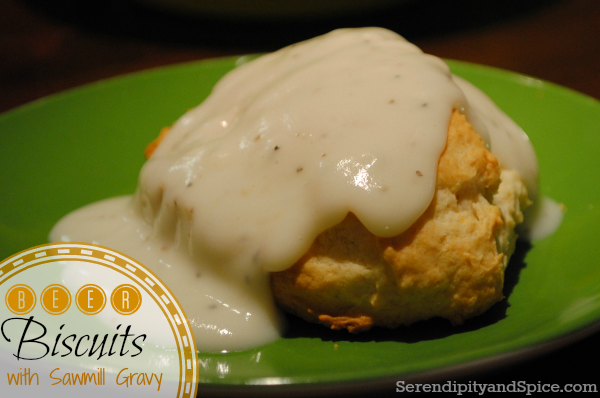 Yield: 4
Southern Beer Biscuit Recipe
Prep Time: 15 minutes

Cook Time: 15 minutes

Total Time: 30 minutes

These southern beer biscuits are fluffy, flaky, and perfect for breakfast or dinner!
Ingredients
Biscuit Ingredients:
2 Cups of Self Rising Flour
1 TBS Baking Powder
1 TBS Sugar
1 tsp Salt
1/3 cup Crisco shortening (you can also use butter for flakier biscuits)
8 oz of beer (your choice)
Gravy Ingredients:
2 TBS Bacon drippings
1/4 Cup Flour
1/2 tsp Salt
1 tsp Pepper
2 Cups of Buttermilk (you can use regular milk but it won't be as thick)
Instructions
Biscuits:
Mix together all DRY ingredients in a large bowl with a whisk.
Add in Crisco shortening and mix until lumpy.
Add in your beer and mix till all ingredients are combined.
Let batter stand for 10-15 minutes.
Preheat oven to 400 degrees.
On an ungreased cookie sheet drop spoonfulls of dough about 1 inch apart to form biscuits.
Bake for 15 minutes or until edges and tops of biscuits are golden brown.
Gravy:
Take 2 TBS of bacon/sausage drippings and cook on low in a small pot.
Whisk in the flour and cook for 3-5 minutes.
Add in milk- slowly and whisking constantly.
Add in salt and pepper.
Let the gravy simmer on the stove-top for 10-15 minutes or until gravy thickens.
Pour over biscuits and ENJOY!
Notes
When I'm being lazy I use the McCormick packaged gravy-- it's pretty good!

Now, here in the south, whenever we make bacon or sausage we take the grease and bits that fell off and save them! I will let the grease cool and then place it in an old plastic butter container and freeze it-- that way you always have it handy when a recipe calls for it and you don't want to fry up bacon or sausage. You can also use shortening, lard, or butter-- but know that it won't be nearly as flavorful.
Recommended Products
As an Amazon Associate and member of other affiliate programs, I earn from qualifying purchases.


Now, the true Southern biscuit is going to fall apart when you eat it—that's how us Southerners do it! ENJOY!!
What do you cook with beer?