Craving a comforting and delicious meal that will satisfy your taste buds? Look no further than this Smoked Gouda Mac and Cheese! This classic dish takes the timeless comfort of traditional mac and cheese and elevates it to new heights with the rich, smoky flavors of Gouda cheese.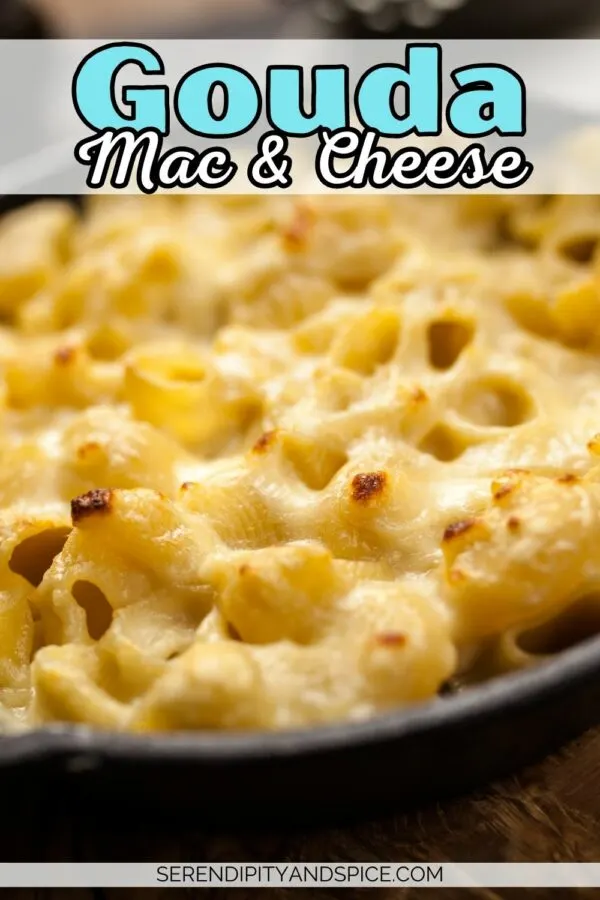 In this blog post, we'll explore the delightful combination of smoky Gouda and creamy macaroni, while also providing you with a simple yet mouthwatering recipe to recreate this culinary masterpiece at home. Get ready to embark on a cheese lover's journey!
So I LOVE mac and cheese! And I love mixing it up and cooking it in a variety of ways…check out this Ultimate Crock Pot Mac & Cheese Recipe I shared a while back.
Well, this is my other favorite Mac & Cheese recipe to make….Baked Smoked Gouda Mac and Cheese Recipe…it makes me feel so grown up! 😉
By changing out a few ingredients you take an ordinary classic dish and turn it into an amazing meal everyone will be raving about!
The key to making really flavorful mac & cheese is to buy the block of cheese and shred it yourself. It only takes a couple of extra minutes but the taste is undeniable! The reason for the difference is that pre-shredded cheese has a thin film on it that helps to preserve it.
Using Gouda in Your Mac & Cheese
Smoked Gouda cheese, known for its distinctive smoky and nutty taste, adds a captivating twist to the classic mac and cheese recipe. Made from cow's milk, this semi-soft cheese originates from the Netherlands and has gained popularity worldwide. The smoky notes are achieved by exposing the cheese to natural wood smoke during the aging process, resulting in a complex and irresistible flavor profile.
When incorporated into mac and cheese, the melted Gouda cheese infuses each noodle with its creamy, rich essence, creating a truly indulgent experience. The smokiness complements the familiar comfort of macaroni, adding a depth of flavor that will leave you wanting more. Smoked Gouda Mac and Cheese is a guaranteed crowd-pleaser at any gathering or a delightful treat for a cozy night at home.
Making Smoked Gouda Mac and Cheese
Ingredients:
8 ounces macaroni noodles
3 tablespoons butter
3 tablespoons all-purpose flour
2 cups milk
2 cups shredded smoked Gouda cheese
1/2 teaspoon salt
1/4 teaspoon black pepper
1/4 teaspoon paprika (optional, for an extra kick)
1/4 cup breadcrumbs (optional, for a crispy topping)
Cook the macaroni noodles according to the package instructions. Drain and set aside.
In a large saucepan, melt the butter over medium heat. Stir in the flour and cook for 1-2 minutes until it turns golden, whisking continuously.
Slowly pour in the milk while whisking to avoid lumps. Cook the mixture for about 5 minutes until it thickens.
Reduce the heat to low, and gradually add the shredded smoked Gouda cheese. Stir until the cheese melts completely and the sauce becomes smooth and creamy.
Season with salt, black pepper, and paprika (if desired), adjusting the flavors to your preference.
Add the cooked macaroni noodles to the cheese sauce, stirring until the noodles are evenly coated.
If you prefer a crispy topping, sprinkle breadcrumbs over the mac and cheese.
Preheat your oven to 350°F (175°C). Place the mac and cheese in an oven-safe dish and bake for 15-20 minutes or until the top is golden and bubbling.
Remove from the oven and let it cool for a few minutes before serving. Garnish with fresh herbs, such as chopped parsley or chives, for an extra touch of freshness.
Smoked Gouda Mac and Cheese is a delightful and comforting dish that combines the velvety richness of macaroni and cheese with the captivating smoky flavors of Gouda cheese. This indulgent creation begins with tender macaroni noodles, cooked to perfection and coated in a creamy sauce made with melted smoked Gouda cheese. The smokiness of the Gouda adds a distinct depth of flavor, perfectly complementing the creamy texture of the macaroni.
With each bite, you'll experience a symphony of flavors as the smooth and tangy Gouda cheese envelopes the pasta, creating a harmonious blend that melts in your mouth. The smokiness of the cheese lends a tantalizing complexity, elevating the traditional mac and cheese to a whole new level of deliciousness.
The dish can be customized to suit your preferences. Some variations may include a crispy breadcrumb topping for added texture and crunch, or the addition of spices like paprika for a hint of warmth and depth. Garnishing with fresh herbs, such as parsley or chives, adds a touch of freshness and visual appeal.
Smoked Gouda Mac and Cheese is a versatile dish that can be enjoyed as a comforting weeknight meal, a crowd-pleasing side dish at gatherings, or even as a standalone main course. Its creamy, smoky, and utterly satisfying flavors make it a true favorite among cheese lovers and comfort food enthusiasts alike.
While Smoked Gouda Mac and Cheese is a delightful dish on its own, you can enhance the experience by incorporating additional ingredients or serving it alongside complementary flavors. We've added sliced mushrooms to make this dish even more delectable!