This carrot muffin recipe from Progna at a Whiff of Spice will have your family loving eating healthy. Carrot Muffins make a perfect healthy snack for kids after school!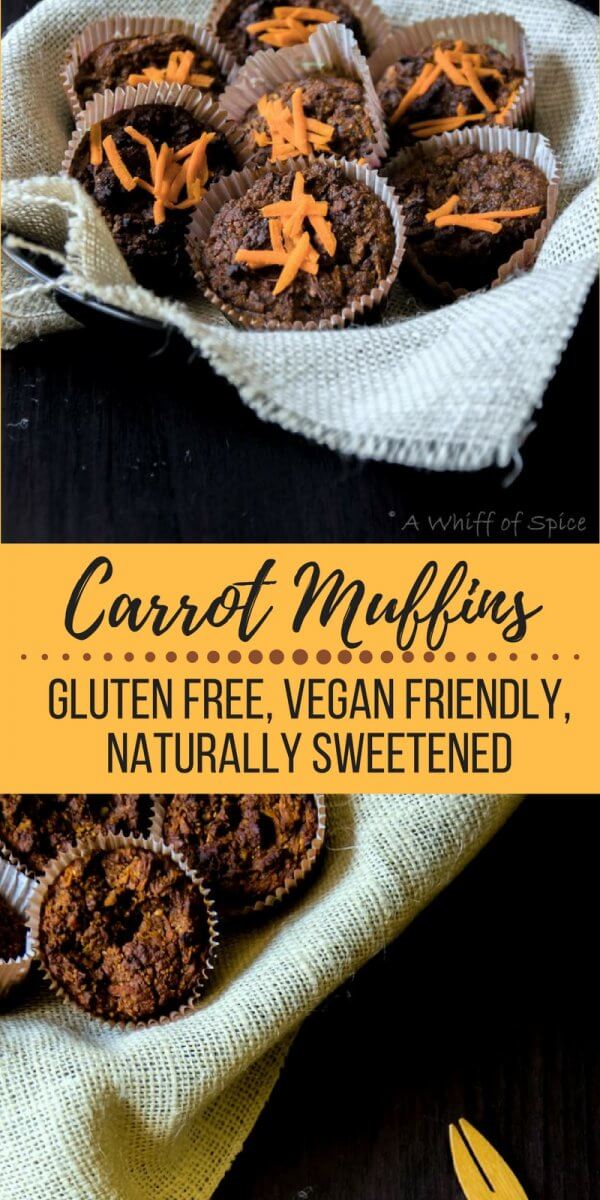 Carrot Muffins! Carrot Muffins!!
Oh! How my heart ached for some Carrot Muffins!
It was the officially the first day of Fall and there was a nip in the air. The dew drops on the grass shone like tiny jewels in the morning sun. I could already smell the Cinnamon and maybe a little Ginger.
Every time I inhaled the dew laced morning air, my heart pined for some warm Carrot Muffins.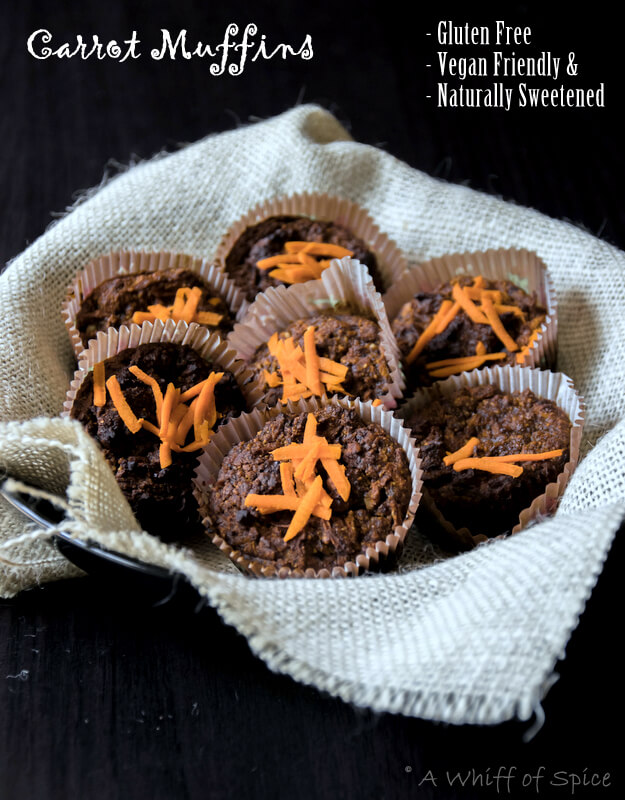 Carrot Muffin – Gluten Free, Vegan Friendly & Naturally Sweetened
You read it right! These Carrot Muffins are Naturally Sweetened with Date Puree. They are made with Gluten Free Oat and Almond Flour. And they are Dairy and Egg free too.
Hi! I'm Progna Ghosh Sengupta and I am thrilled to be a part of the Creative Team for Serendipity and Spice! I am not gluten intolerant, nor a vegan, but I'm a Type 1 Diabetic, with a sweet tooth. I am always on a lookout for low carb, gluten free sweet treat, that satiates my sugar craving, without shooting up my blood sugar over the roof.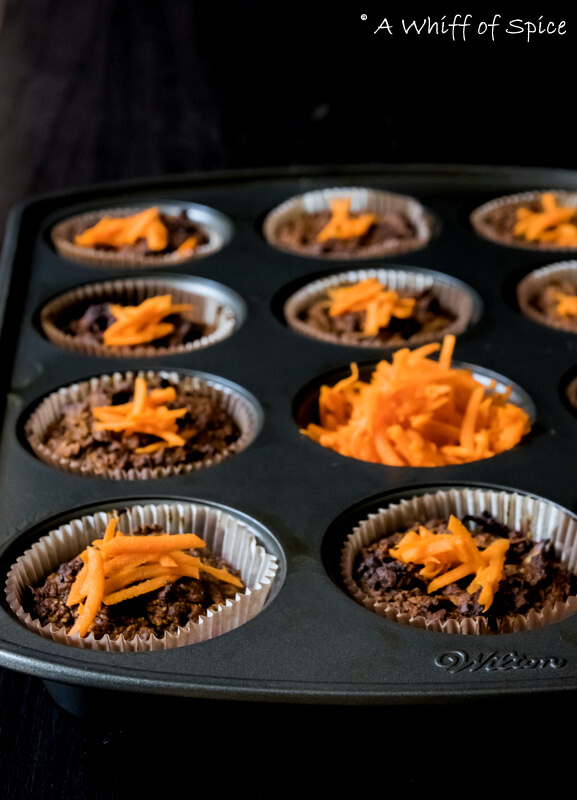 This Carrot Muffins recipe uses Oat and Almond Flour. If you have nut allergy, you can totally do all Oat Flour.
Don't favor Oats, try Coconut Flour instead! They make the muffin extra delicious. Carrots and Coconuts – just saying those two words makes my mouth water!
Note: Just increase the Almond Milk to 1.5 cups. Coconut flour needs a little more moisture to keep the muffin moist and tender. BTW, you can totally use All-purpose Flour or Whole Wheat Pastry Flour, instead of the gluten free blend.
I absolutely adore Almond Milk. If you don't, substitute any milk of choice. Coconut Milk, Cashew Milk, Soy Milk are all delicious alternatives. You can even use regular dairy too.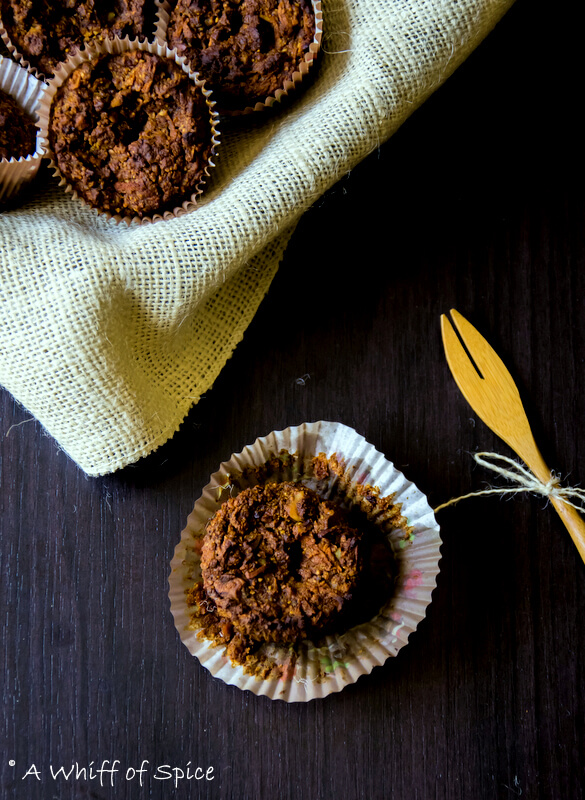 Make your Own Flour! It's super simple!!
I make my own Oat and Almond Flour. And you should do it too.
Because…
1. It is way cheaper than buying ready-made ones from the store
2. It is ridiculously simple to make them at home.
3. You know what you are getting and there is no fear of contamination.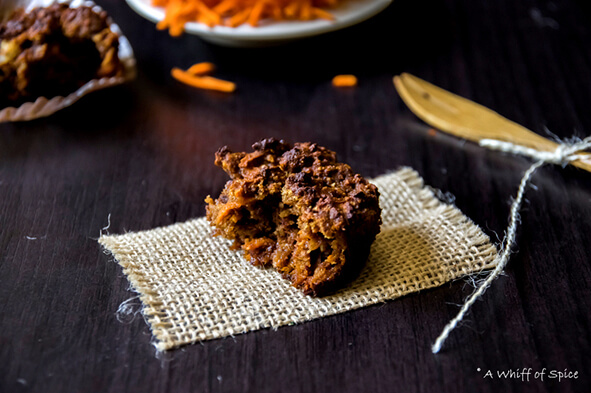 Carrot Muffins – Good to eat; Great for you too
These muffins are utterly delicious. Plus,they are packed with nutrients too.
First of all, it is considerably Low Carb, which is an excellent news for Diabetics like me.
Also, it is naturally sweetened with Low GI Date Puree. That means it won't give you a sugar high! Ditto for the Oat Flour. The slow absorbing carbs will ensure you don't have a sugar spike.
And, Almond Flour provides healthy fats, protein and other important minerals.
Do not to forget the star of the show: beta-carotene rich Carrots, that not only sweetens, but makes the muffins incredibly moist too.
These muffins also doesn't contain any added fat, in the form of oil or butter. I used Grated Apples, instead. You can even use Applesauce. They both serve the same purpose – to keep the muffins moist and tender. Plus, it brings some added vitamins and iron to the nutrient profile.
I also, tossed a handful of Walnuts for an extra dose of Omega 3.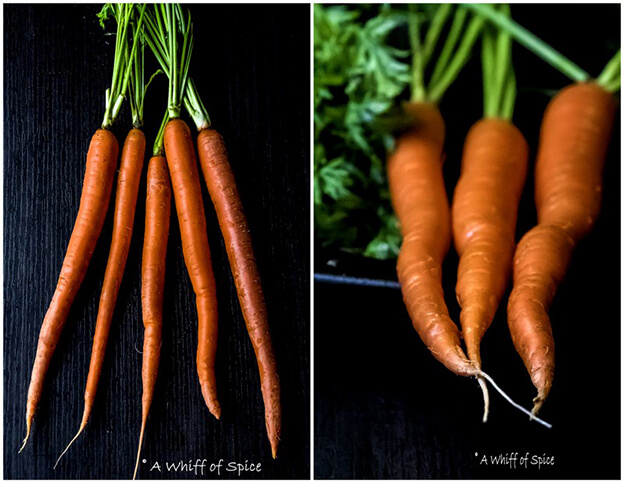 In India, Carrots were only available during the winter months. At least it used to be so. Thanks to modern preservation techniques, stuff aren't 'seasonal' anymore.
Growing up, winters were synonymous with a warm bowl of Gajar Halwa, a version of Carrot Fudge, where grated carrot is cooked in sweetened, thickened milk till is reaches a mushy, pudding like consistency and then garnished with fried almonds and pistachios. It is rich, decadent and plain delicious.
Even now, at the first hint of chill, my soul craves for something sweet, decadent and carroty. And these gluten-free, vegan, naturally sweetened Carrot Muffins fits the bill perfectly! Because of lack of gluten and eggs, there Carrot Muffins are dense and fudge-like and oh-so-decadent.
Unlike your traditional golden hued, specked with bright orange bits, these Carrot Muffins looks a little different. Since they are naturally sweetened with Date Puree, which is brown in color, and it further get caramelized in the oven, you get a richer, darker colored muffins, which are just as delicious.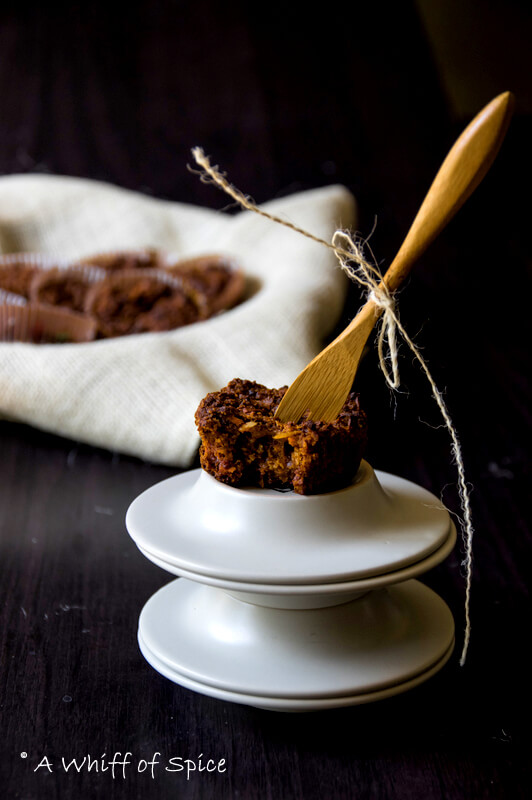 Now, I cannot imagine my Carrot Muffins without chopped Walnuts. But I hear, not everybody is a fan. So I have added a list of optional ingredient in the recipe, like Walnuts, Pecans, Golden Raisins, Shredded Coconut, diced Pineapples, Candied Ginger.
Whats is your favorite add-ins in a Carrot Muffins? Or do you prefer it without any add-ins?
[b]Carrot Muffins[br][/b]
Recipe Type
:
[b]Muffins[br][/b]
Cuisine:
[b]American[br][/b]
Author:
Gluten Free, Naturally Sweetened, Vegan Friendly, these Carrot Muffins are the perfect pick me up snack. These are decadent enough to pass off as a desert and healthy enough to be eaten for breakfast.[br]
Ingredients
Oat Flour – 1 cup ([url href="http://www.whiffofspice.com/2016/09/make-your-own-oat-flour.html"]make your own[/url])
Almond Flour – 0.5 cups ([url href="http://www.whiffofspice.com/2016/09/make-your-own-almond-flour.html"]make your own[/url])
Baking Soda – 1 tsp
Cinnamon Powder – 1.5 tsp
Ground Ginger – 1 tsp
a pinch of sea salt
Medjool Dates – 16 – 18 (large sized), pitted and roughly chopped
Carrots – 1 cup, shredded (about 3 medium sized whole carrots)
Apple – 0.5 cups, shredded (1 largish sized apple, cored but unpeeled)
Or Applesauce – 0.5 cup
Almond Milk (or any milk of choice) – 1 cup
[i]Optional mix-ins[/i]
Walnuts – 1/4 cup, chopped
or
Golden Raisins – 1/4 cup
Or
Crushed Pineapples – 1/4 cup, drained
or
Shredded Coconut – 1/4 cup[br][br]
Instructions
Warm a cup of Almond Milk for 2 minute in the microwave and soak the pitted and roughly chopped dates for 1 to 2 hours. Alternatively, you can also soak it overnight in cold milk, in the fridge.[br]
Preheat the oven to 375 F and line a 12 cup Muffin tin with silicone or paper liner. Lightly spray a non stick cooking spray on the paper lines, if using.[br]
In a larger bowl shift together the Oat Flour, Almond Flour, Baking Soda, Cinnamon Powder, Ground Ginger and a pinch of Sea Salt.[br]
Using a Food Processor or the largest holes of a Box Grater, grate the carrots till you get 1 packed cup of grated carrots.[br]
Repeat the same process with the apples too till you get about half a cup. Ignore this step if using Applesauce.[br]
In blender or food processor, puree the soaked dates along with the almond milk. Add the applesauce (if using) and blend again.[br]
Add the grated carrots and apples (if using) to the shifted flour and mix till the carrots and apples are coated with the flour.[br]
Add the date puree to the flour-carrot mix and mix gently. There shouldn't be any dry spot left. But do not over mix.[br]
Add your optional mix-ins. I added chopped walnuts.[br]
Divide the batter into the prepared 12 cup muffin pan. These muffins do not rise much. So you can fill up to 3/4 of the cavity. Bake at 375 F for 45 minutes or until a tester inserted in the middle comes out dry. Gluten free flour blends tends to take more baking time.[br]
Remove from the oven and let the muffins cool for 10 minutes in the pan. Take them out from the pan on to a cooling rack and let them cool completely.[br]
Once cooled keep them in a cover container or Ziploc bag at room temperature for 2-3 days. Or freeze them for up to 6 months.[br]
Notes
1. The gluten free blend of [i]Oat[/i] and [i]Almond Flour[/i] can be replaced by all [i]Oat [/i]or [i]Coconut Flour[/i]. Since [i]Coconut Flour[/i] absorbs more liquid increase the quantity of milk by 1/2 cup.[br][br]2.[i]Almond Milk[/i] can be replaced by any milk of choice,like [i]Soy Milk[/i], [i]Cashew Milk[/i] or [i]Coconut Milk[/i] or even regular dairy. However, it wont be vegan friendly anymore, if using cow milk.
3.3.3070
Find Progna on