There's something undeniably comforting about a hearty pasta dish, and when it's paired with a rich and creamy vodka sauce, it takes comfort food to a whole new level.
Today, we're diving into the world of culinary indulgence with a delightful recipe that combines tender chicken and a luscious vodka-infused tomato cream sauce. Get ready to embark on a gastronomic journey with this Vodka Sauce Chicken Pasta!
You know I LOVE chicken pasta dishes around here! Like my Crockpot Garlic Parmesan Chicken Pasta Recipe and the ever popular Buffalo Chicken Pasta Crock Pot Recipe. But, if you don't have time to let the chicken cook all day, then this recipe for chicken pasta with vodka sauce is the perfect alternative! You can have dinner ready in less than 30 minutes.
Table of Contents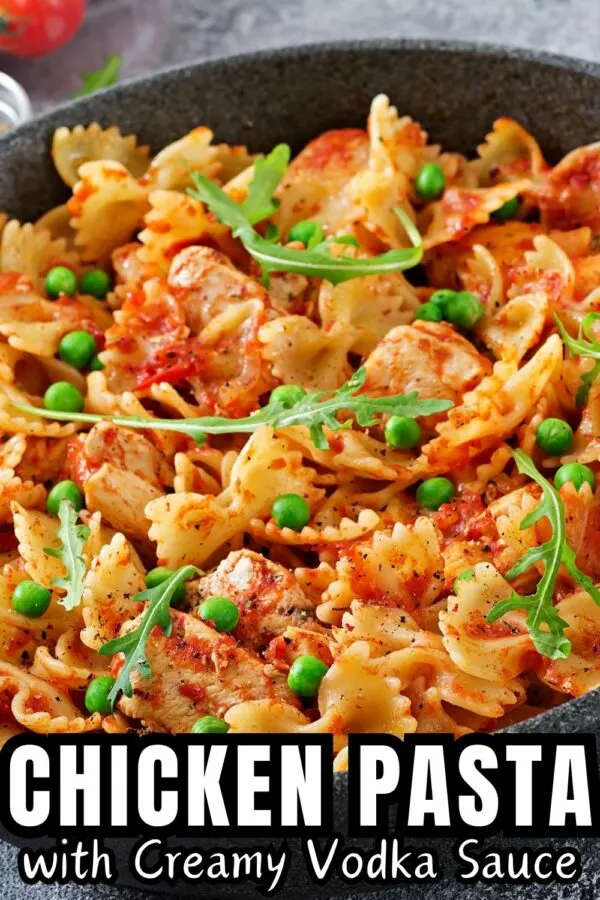 Ingredients for this Chicken Pasta with Creamy Vodka Sauce
Boneless, Skinless Chicken Breasts (1 lb):

This lean protein serves as the star of the dish. Thinly sliced chicken breasts are preferred for quick and even cooking.

Olive Oil (2 tbsp):

Used for sautéing the chicken and aromatics, olive oil adds a rich and savory flavor to the dish.

Onion (1, finely chopped):

The onion contributes aromatic sweetness to the sauce, creating a flavorful base.

Garlic (3 cloves, minced):

Garlic enhances the savory profile of the dish, providing depth and complexity to the flavor.

Vodka (1 cup):

Vodka serves a dual purpose in this recipe. It deglazes the pan, incorporating the delicious caramelized bits, and adds a unique, subtle flavor to the tomato cream sauce.

Crushed Tomatoes (1 can, 28 oz):

Crushed tomatoes form the base of the sauce, offering a robust, tangy tomato flavor and a thick, hearty consistency.

Heavy Cream (1 cup):

Heavy cream contributes richness and creaminess to the sauce, creating a velvety texture that complements the chicken and pasta.

Salt and Pepper (to taste):

Essential for seasoning, salt enhances the natural flavors of the ingredients, while pepper adds a subtle kick.

Red Pepper Flakes (1 tsp, optional):

For those who enjoy a bit of heat, red pepper flakes can be added to give the dish a spicy kick.

Pasta (1 lb):

Bowtie, penne, or corkscrew pastas are the ideal choices for this recipe. They provide the perfect vehicle for the creamy sauce, ensuring each bite is satisfying.

Fresh Basil or Parsley (for garnish):

Fresh herbs add a burst of freshness and a pop of color to the finished dish. Choose between basil and parsley based on your preference.

Grated Parmesan Cheese (optional):

For an extra layer of richness and a hint of saltiness, grated Parmesan cheese can be sprinkled over the finished dish before serving.
How to Make Chicken Pasta with Vodka Sauce
Prepare the Chicken:

Season the chicken slices with salt and pepper.
In a large skillet, heat olive oil over medium-high heat.
Add the chicken slices and cook until browned on both sides and cooked through.
Set aside.

Saute the Aromatics:

In the same skillet, add chopped onions and garlic.
Saute until the onions are translucent and the garlic is fragrant.

Deglaze with Vodka:

Pour in the vodka, scraping the bottom of the pan to incorporate the flavorful bits.
Allow the vodka to simmer for a few minutes, reducing by half.

Add Crushed Tomatoes:

Pour in the crushed tomatoes, stirring well to combine.
Simmer the sauce over medium heat for about 15-20 minutes, allowing it to thicken.

Incorporate Heavy Cream:

Reduce the heat to low and pour in the heavy cream.
Stir until the sauce is smooth and well combined.

Season and Spice:

Season the sauce with salt, pepper, and red pepper flakes (if using).
Adjust the seasoning to suit your taste.

Combine with Chicken:

Add the cooked chicken back into the sauce, letting it simmer for an additional 5-10 minutes.

Cook the Pasta:

Meanwhile, cook the penne pasta according to package instructions.
Drain and add the pasta to the sauce, tossing to coat each piece evenly.

Serve and Garnish:

Dish up the Vodka Sauce Chicken Pasta onto plates.
Garnish with fresh basil or parsley and grated Parmesan cheese if desired.
With its velvety vodka-infused tomato cream sauce and succulent slices of chicken, this Vodka Sauce Chicken Pasta recipe is a culinary masterpiece that will undoubtedly become a household favorite.
Whether you're cooking for a special occasion or simply craving a comforting meal, this dish delivers a perfect balance of flavors and textures. So, gather your ingredients, put on your apron, and get ready to savor the deliciousness of this indulgent pasta creation!
Printable Recipe: Vodka Sauce Chicken Pasta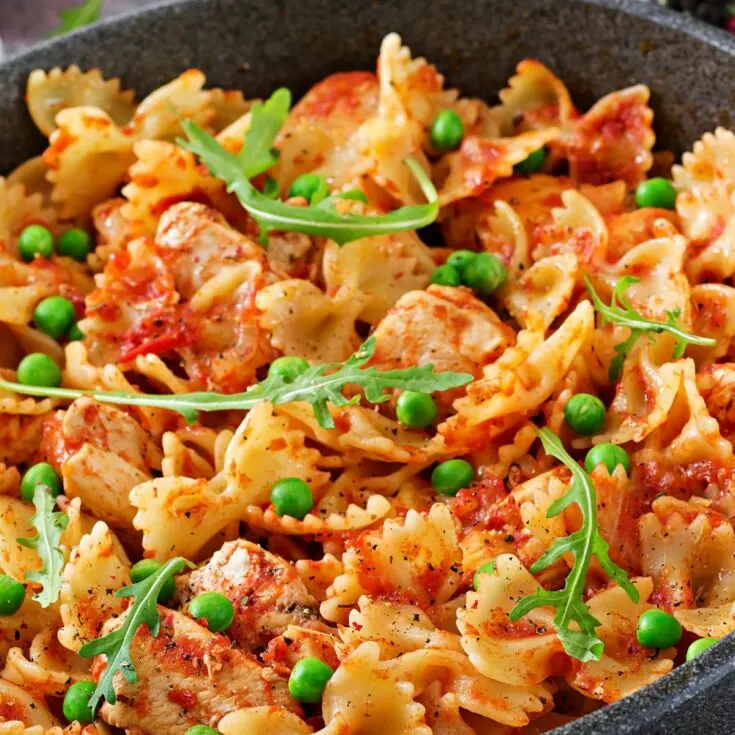 Yield:

4
Vodka Sauce Chicken Pasta
Add a bag of frozen peas for the last 5 minutes of cooking your pasta to add a extra veggies to this delicious Vodka Sauce Chicken Pasta recipe.
Ingredients
1 lb boneless, skinless chicken breasts, thinly sliced
2 tbsp olive oil
1 onion, finely chopped
3 cloves garlic, minced
1 cup vodka
1 can (28 oz) crushed tomatoes
1 cup heavy cream
Salt and pepper to taste
1 tsp red pepper flakes (optional, for a kick)
1 lb penne pasta
Fresh basil or parsley for garnish
Grated Parmesan cheese (optional)
Instructions
Season and cook chicken in olive oil until browned. Set aside.
Saute onions and garlic in the same skillet until translucent.
Deglaze with vodka, simmer for a few minutes.
Add crushed tomatoes, simmer for 15-20 minutes.
Pour in heavy cream, stir until smooth.
Season with salt, pepper, and red pepper flakes (optional).
Add cooked chicken, simmer for 5-10 minutes.
Cook penne pasta according to package instructions.
Drain and add pasta to the sauce, tossing to coat.
Serve, garnish with fresh herbs, and optionally top with grated Parmesan cheese.
Notes
I like to add in vegetables like peas, carrots, broccoli, spinach, or green beans. Just grab a frozen bag that can be steamed in the microwave. Just toss the vegetables in with your pasta for a one dish meal everyone will love!
More Delicious Chicken Pasta Recipes to Try