If you're in search of a flavorful and effortless meal that tantalizes your taste buds, look no further than this delectable Slow Cooker Honey Bourbon Chicken recipe.
Combining the rich and smoky flavors of bourbon with the sweetness of honey, this dish is a perfect harmony of tastes. Plus, it's made in a slow cooker, ensuring minimal effort and maximum taste.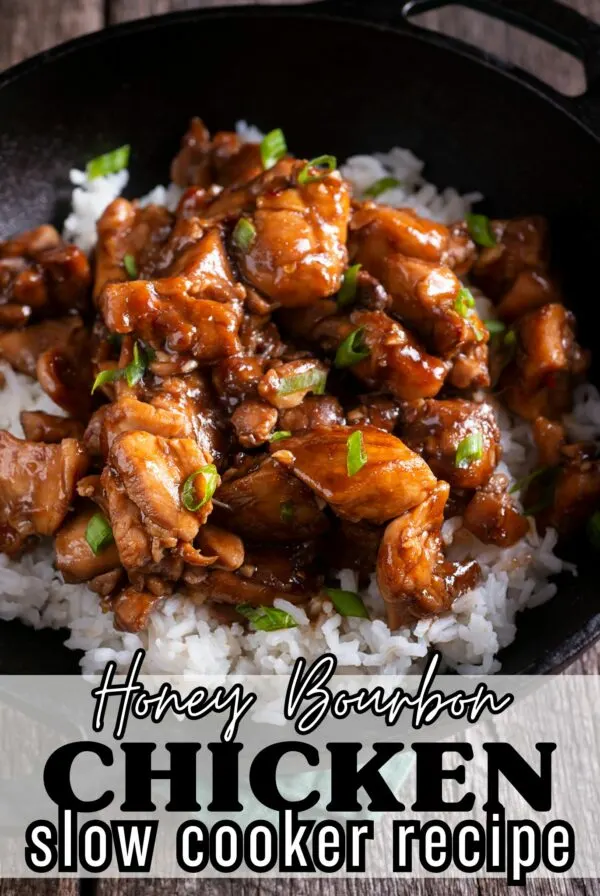 Table of Contents
Why Use a Slow Cooker?
Using a slow cooker for the Honey Bourbon Chicken recipe offers several advantages that enhance the flavors, convenience, and ease of preparation. This is my favorite slow cooker for making dinner easy!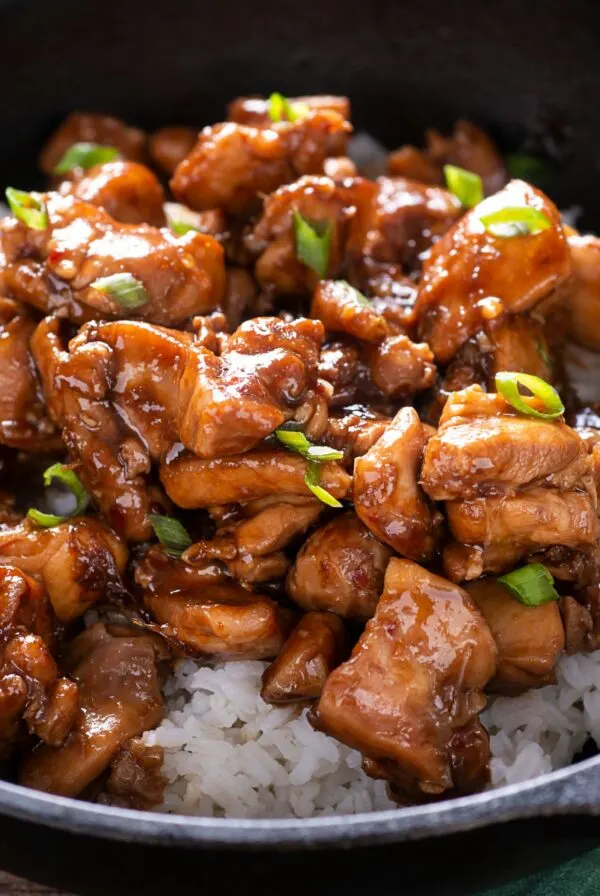 Flavor Infusion:

Slow cooking allows the chicken to marinate and soak up the flavors of the honey, bourbon, soy sauce, and other ingredients.
The low and slow cooking process tenderizes the meat and allows the sauce to penetrate the chicken, resulting in a more flavorful and succulent dish.

Tender and Juicy Chicken:

Slow cooking ensures the chicken is cooked slowly and evenly, resulting in tender and juicy meat.
The extended cooking time at a low temperature breaks down the connective tissues in the chicken, making it incredibly tender.

Effortless Preparation:

Using a slow cooker is incredibly convenient. After initial preparation, you can simply set it and forget it.
There's no need to constantly monitor the cooking process, making it perfect for busy days or when you have other tasks to attend to.

Time-Saving:

While the slow cooker does its magic, you have the freedom to attend to other tasks, whether it's work, chores, or spending time with your family.
It eliminates the need for constant attention, making it a time-saving cooking method.

Hands-Off Cooking:

The slow cooker does the cooking for you, requiring minimal intervention.
This hands-off approach means you can prep the ingredients, set the cooker, and walk away, allowing you to come back to a delicious, ready-to-eat meal.

Retains Nutritional Value:

Slow cooking at low temperatures helps retain the nutritional value of the ingredients.
It preserves the vitamins, minerals, and other nutrients present in the chicken and sauce, ensuring you're still getting a wholesome meal.

Versatility:

Slow cookers are versatile appliances that can handle a variety of recipes.
They allow you to cook a wide range of dishes, from soups and stews to roasts and, of course, this Honey Bourbon Chicken recipe.
Overall, the slow cooker simplifies the cooking process, enriches the flavors, and guarantees a tender, mouthwatering result, making it an excellent choice for preparing this Honey Bourbon Chicken recipe.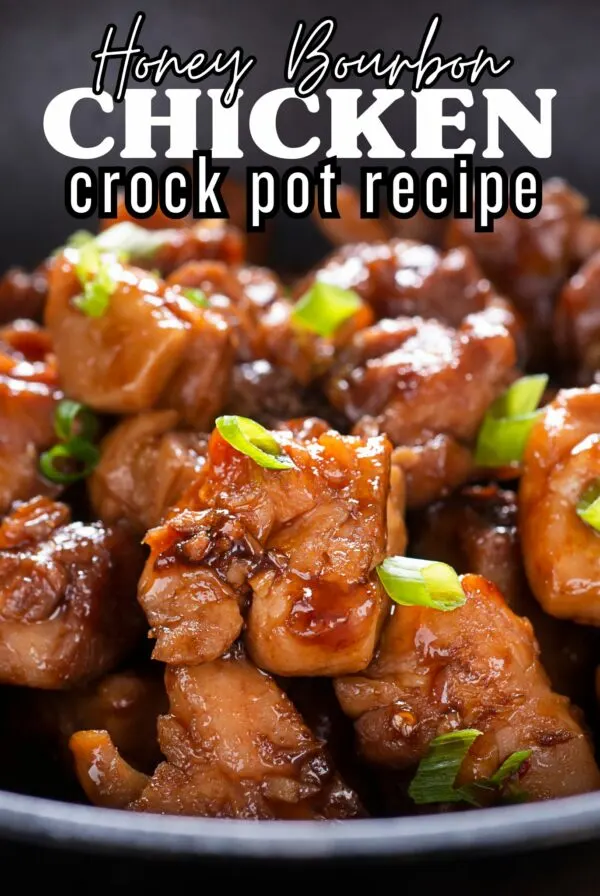 FAQs for Honey Bourbon Chicken in the Crock Pot
Can I use a different type of alcohol instead of bourbon?
Yes, you can substitute bourbon with whiskey or even non-alcoholic alternatives like apple juice or apple cider for a similar sweet flavor without the alcohol.
Can I make this recipe without a slow cooker?
Absolutely! If you don't have a slow cooker, you can prepare this recipe on the stovetop or in the oven. Simply follow the same steps for preparing the sauce and chicken, and then cook it in a covered pot or baking dish at a low temperature (around 325°F or 163°C) until the chicken is cooked through and tender.
Can I use frozen chicken for this recipe?
It's best to use thawed chicken for this recipe, as it ensures even cooking and absorption of flavors. If you use frozen chicken, make sure to adjust the cooking time accordingly and ensure the chicken reaches a safe internal temperature of 165°F (74°C).
What sides pair well with Honey Bourbon Chicken?
Steamed white or brown rice is a popular choice to serve with this dish. You can also serve it with garlic parmesan quinoa, crack green beans, noodles, or a fresh salad for a balanced meal. Don't forget to garnish with sesame seeds and green onions for added flavor and presentation.
Tips and Variations:
Feel free to adjust the sweetness and spiciness according to your preference by altering the amount of honey and red pepper flakes.
For a healthier option, you can use chicken thighs instead of chicken breasts.
Experiment with adding vegetables like bell peppers, broccoli, or snap peas for added nutrition and flavor.
Printable Recipe: Honey Bourbon Chicken Slow Cooker Recipe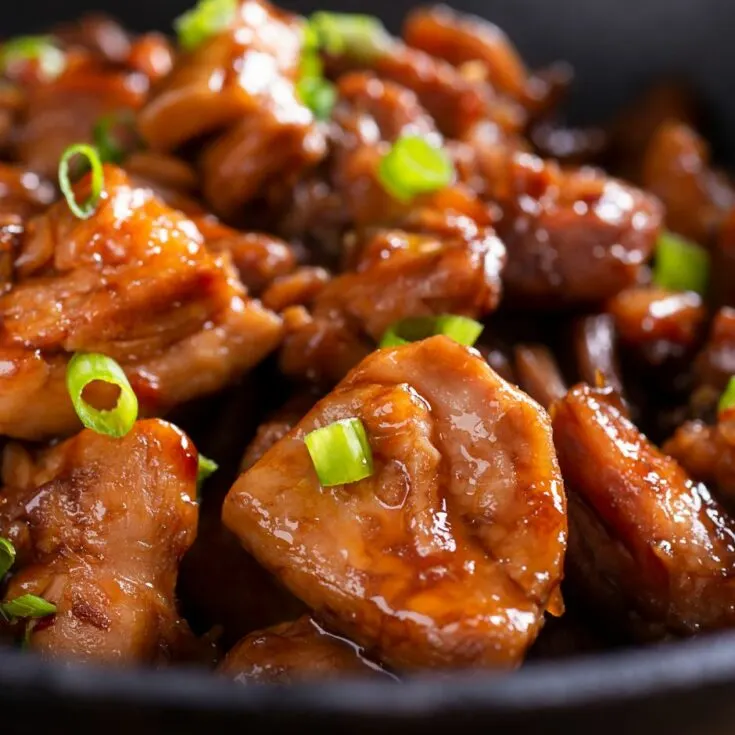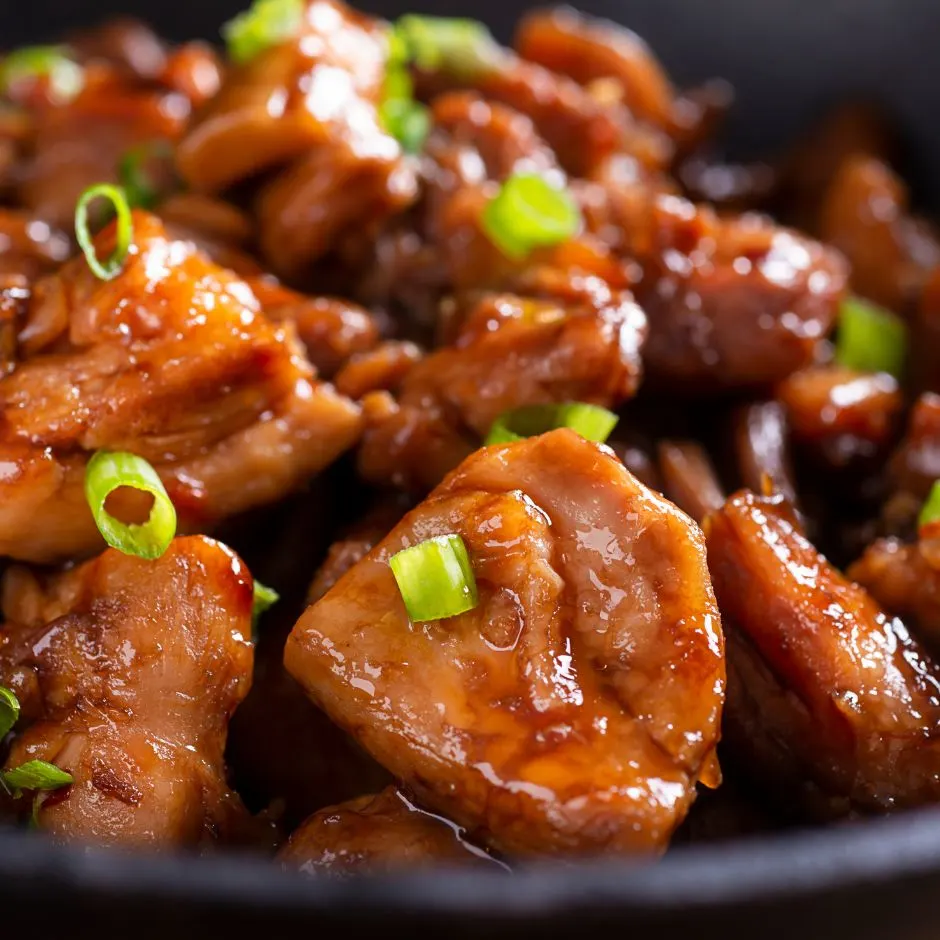 Yield:

4
Honey Bourbon Chicken
Indulge in the exquisite flavors of Slow Cooker Honey Bourbon Chicken—a perfect harmony of sweet honey, smoky bourbon, and succulent chicken. Effortlessly prepared, this recipe yields tender, juicy bites infused with rich, enticing taste. Discover the convenience and flavors of slow cooking—try it now!
Ingredients
2 pounds boneless, skinless chicken breasts, cut into bite-sized pieces
1/2 cup honey
1/2 cup bourbon
1/4 cup soy sauce
1/4 cup ketchup
2 cloves garlic, minced
1 tablespoon grated fresh ginger
1 tablespoon olive oil
1/2 teaspoon red pepper flakes (adjust to taste)
2 tablespoons cornstarch (optional, for thickening)
Sesame seeds and chopped green onions for garnish
Instructions
Prepare the Chicken:
Start by cutting the chicken breasts into bite-sized pieces. This ensures that the chicken cooks evenly and absorbs the flavors well.
Prepare the Sauce:
In a bowl, whisk together honey, bourbon, soy sauce, ketchup, minced garlic, grated ginger, and red pepper flakes. This sauce will be the key to the fantastic flavors of the dish.
Sear the Chicken:
Heat olive oil in a pan over medium-high heat. Add the chicken pieces and sear them until they're lightly browned on all sides. This step helps to lock in the juices and enhances the flavor.
Combine and Transfer to Slow Cooker:
Place the seared chicken in the slow cooker and pour the prepared sauce over it. Gently toss to ensure the chicken is evenly coated.
Slow Cook to Perfection:
Set the slow cooker to low and cook for 4-5 hours, or until the chicken is tender and cooked through. The slow cooking process allows the chicken to absorb the sweet and savory flavors of the sauce.
Optional Thickening:
About 30 minutes before serving, you can thicken the sauce. Mix 2 tablespoons of cornstarch with a little water to form a slurry. Stir it into the slow cooker and let it cook for an additional 30 minutes, or until the sauce thickens to your liking.
Serve and Garnish:
Serve the Honey Bourbon Chicken over steamed rice or with a side of vegetables. Garnish with sesame seeds and chopped green onions for a pop of color and extra flavor.
Enjoy!
Sit back, relax, and savor the delightful flavors of this Honey Bourbon Chicken. It's a perfect balance of sweetness and savoriness that will surely please your taste buds.
Recommended Products
As an Amazon Associate and member of other affiliate programs, I earn from qualifying purchases.
More Delicious Crock Pot Chicken Recipes to Try