This stuffed zucchini boats recipe is a simple healthy meal that hides a lot of veggies….it's perfect for picky eaters.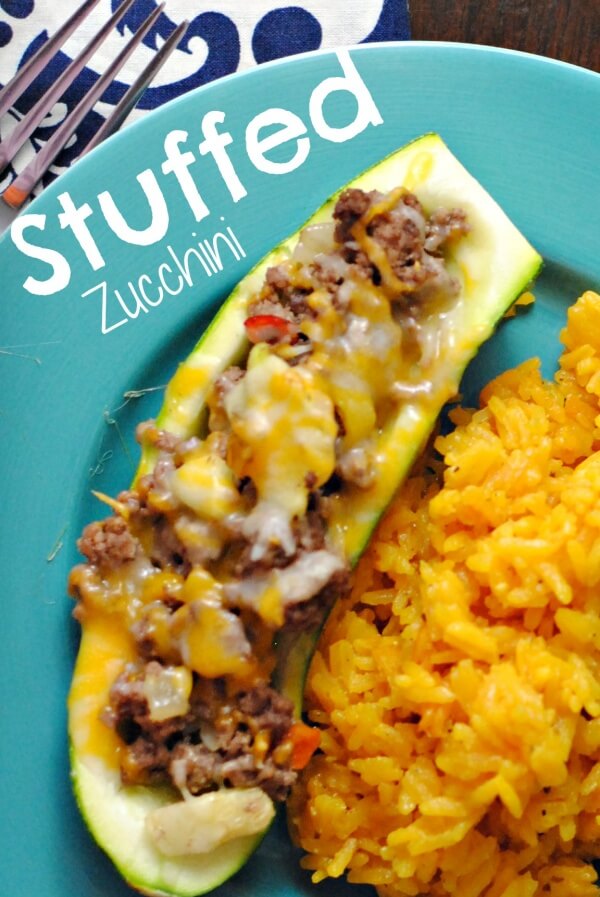 Stuffed Zucchini Boats Recipe
A delicious and easy meal that hides veggies for picky eaters!
The year of 2016 is all about taking simple and affordable steps toward natural living and healthy eating. Well, this Zucchini Boats Recipe is a delicious step in that direction. I prefer to buy the vegetables at our local farmer's market because even though their veggies aren't "certified organic" they are very close. Read more about where I shop and learn some tricks for how to make affordable steps to natural living.
Anyway, with it being winter, our farmer's market is currently closed so I took a little trip over to Whole Foods. I know, you're thinking "how is shopping at Whole Foods an AFFORDABLE way to eat organic?". Well, Whole Foods is actually quite affordable if you shop it correctly.
During the winter months I like to buy my veggies at Whole Foods because they offer a large selection at decent prices. Now here's your tip for shopping affordably at Whole Foods– DON'T GO HUNGRY! I know, seems pretty obvious, we're always told not to go grocery shopping when we're hungry. But seriously, DO NOT go to Whole Foods hungry! They have a hot bar that smells so good it will lure you even if you've just eaten. Not to mention the aisles of organic snacks to try and deliciousness around every corner.
When I go to Whole Foods, Earth Fare, Healthy Home Market, etc. I always go with a specific list and I do not deviate what so ever. That's how you shop at these stores affordably!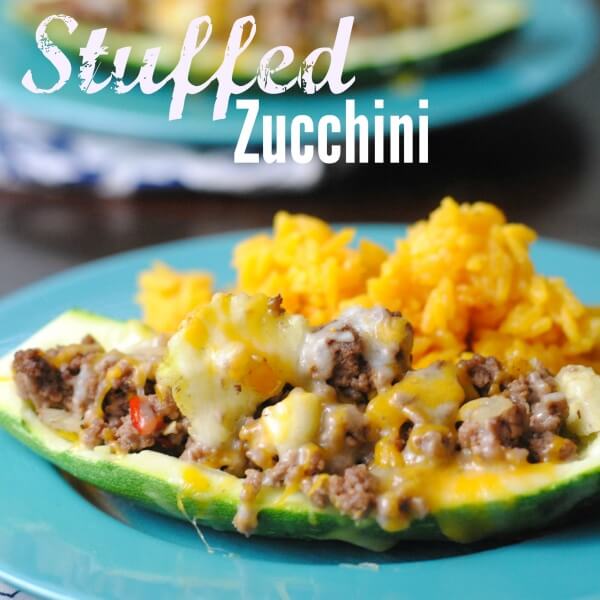 Stuffed Zucchini Boats Recipe Author: Melissa Llado Prep time: 5 mins Cook time: 25 mins Total time: 30 mins Serves: 4 Ingredients
1 TBS Olive Oil
1 cup red and yellow peppers diced (about 5 small peppers)
1 medium Vidalia onion diced (about 1 cup)
1 pound ground beef
4 Medium Zucchinis
1/4 cup shredded Monterrey Jack Cheese
Instructions
Preheat oven to 350 degrees.
Heat olive oil in a skillet on medium heat.
Sautee peppers and onion for 5 minutes.
Add in ground beef and brown.
While ground beef is cooking wash and slice the zucchini in half.
Scoop out inside flesh of zucchini to create boats.
Chop up zucchini flesh that you removed and add to ground beef mixture.
Spray cookie sheet with olive oil.
Place zucchini boats on cookie sheet.
Fill zucchini boats with beef mixture.
Top with shredded cheese.
Bake at 350 degrees for 15 minutes.
3.3.3070
After you make this Zucchini Boats Recipe make sure you come back and let us know how you liked it!
You May Also Like:
Three Bean Turkey Chili Recipe
Chicken and Apple Baked Polenta Recipe
Roasted Garlic Parmesan Simple Quinoa Recipe