Manic Monday Linky Party
Hundreds of crafts, recipes, DIY tutorials, family fun, and more!
I hope everyone has had a FANTASTIC summer!! If you're a Manic Monday regular then you know I've taken the summer off and now I'm back to it and better than ever! This has been one CRAZY summer but it's finally calming down and I'm super excited about all I have instore for you this Fall!
First off, the pregnancy nausea has finally passed! YEAH!!! Hopefully now it'll be smooth sailing until Christmas when the little Jellybean is due! I've put together quite an exciting posting calendar that I think you all are going to LOVE…I'm quite in love with it and am feeling so productive! So, here's the line up of what to expect every week:
Sundays: Recipe Day
Mondays: The Manic Monday Linky Party (Sensational Post Shout Outs throughout the week on Social Media)
I even made up a super cute little button if you get a shout out! Feel free to add it to your post if you get a Sensational Post Shout Out: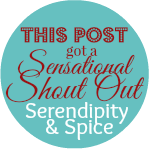 Tuesdays: Super Tip Tuesday…I'll be sharing all sorts of simple life hacks that will make you go "why didn't I think of that"!
Wednesdays: Crafty Fun
Thursdays: Round Ups Galore…. featuring some of your links from the Manic Monday Linky Party!
Fridays: The Weekly Bumpdate and Pregnancy Tips
Saturdays: Surprising Fun Saturday….who knows it could be a recipe, craft, blogging tip, Manic Monday Linky Party features….it'll be a surprise every week!
Don't forget the weekly newsletter still goes out every Monday at 9am….so make sure you get signed up so you'll get the reminder to stop by the Manic Monday Linky Party! Don't worry, you won't get a ton of emails from me….just one a week! 🙂
Alright, so now for the party!!
The rules are simple….
1. If you link up then go visit the person linked up before you and at least 2 others and give them some comment love (do this for each post you link up)! We're here to share the love so please don't link and run!
2. Following me would be awesome…that way you can see if you get a shout out or are featured. Plus, it will help you to remember when/where the party. You can find me on Facebook, Twitter, Pinterest, Google+, BlogLovin, and the weekly newsletter. Send me a note when you follow me and I'll follow you back as well! 🙂
3. Grab a button! Linking back is not required but is always appreciated! By linking back either by text link or with the sidebar button it helps others find this party and gets everyone more exposure!
4. Share on social media if you have a moment. It would be awesome if you'd share this party with a tweet, FB shout out, Pin, or whatever!
5. Have FUN!! Find some new friends, yummy recipes, and awesome projects!