Discover the secrets to baking the perfect chocolate chip marshmallow cookies. Follow our step-by-step guide that's sure to become your new go-to cookie recipe! These chocolate chip marshmallow cookies are ooey gooey and the perfect twist on a classic favorite!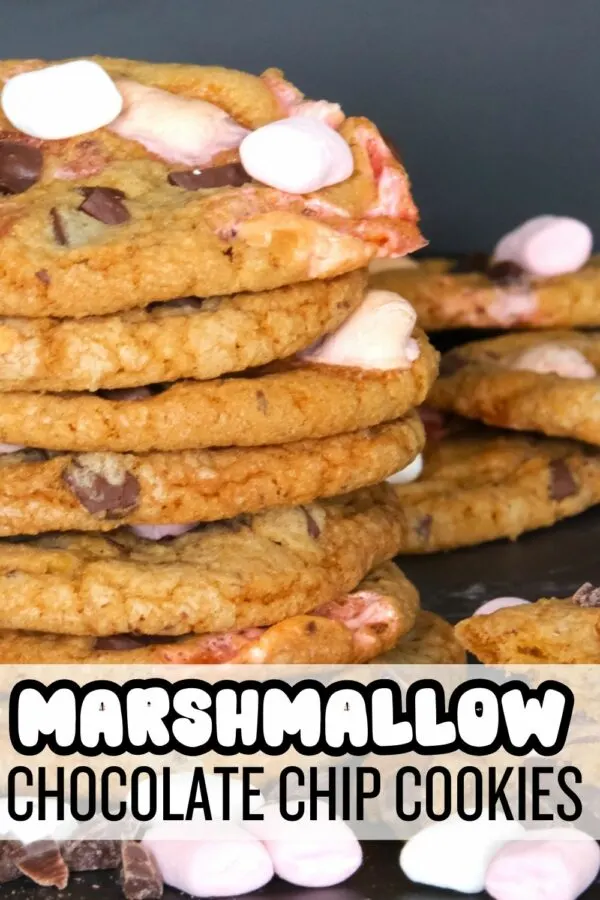 Table of Contents
Creating the Perfect Cookie Recipe
When it comes to creating the perfect cookie recipe, the secret lies in understanding the harmony between the ingredients.
The dough forms the base that holds everything together.
The chocolate chips add a delicious and irresistible richness.
And the marshmallows?
They provide that unique, gooey texture that elevates these cookies from "good" to "heavenly."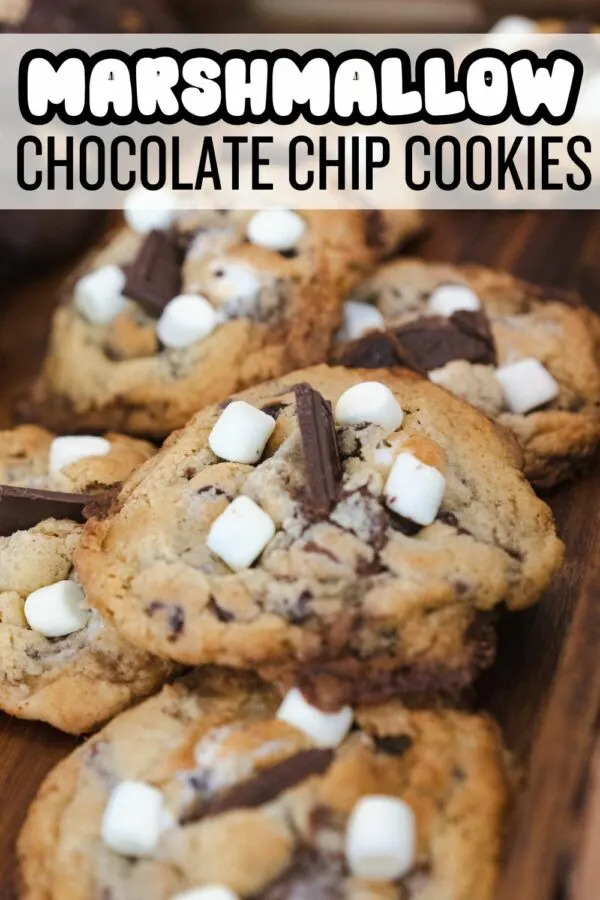 Chocolate Chip Marshmallow Cookies FAQs
Can I use a different type of chocolate in this recipe?
Absolutely! While we've suggested semisweet and/or milk chocolate chips, you can use dark chocolate, white chocolate, or a combination of your favorites.
Experimenting with different types of chocolate can lead to a delightful surprise in flavor profiles!
And, mixing different styles of chocolate can add to the depth of flavors in this chocolate chip marshmallow cookie recipe.
Sometimes I'll add in chocolate chunks for a richer cookie!
I'm out of brown sugar. Can I substitute it with white sugar?
While you can substitute brown sugar with white sugar, bear in mind that brown sugar contains molasses, which gives the cookies a distinctive flavor and chewy texture.
If you only have white sugar, you can add a tablespoon of molasses or maple syrup for every cup of sugar to mimic the flavor of brown sugar.
How can I store these cookies, and how long will they last?
Store the cooled cookies in an airtight container at room temperature. They will last for about a week. For a longer shelf life, you can freeze them already cooked. Just make sure to thaw them at room temperature before eating.
Can I freeze the cookie dough for later use?
Yes, you can! After preparing the dough, shape it into balls and freeze them on a baking sheet. Once they're frozen, transfer them to a freezer bag or airtight container and store them in the freezer.
Why did my cookies spread out too much?
There could be several reasons for this. Your butter might have been too soft or melted, the dough might not have been chilled long enough, or there could have been too much sugar.
Always ensure your butter is at room temperature (not melted), and if your kitchen is warm, consider chilling the dough for 30 minutes before baking.
I also like to have one of these baking mats when making cookies. I feel like it keeps them from spreading too much.
Why are my chocolate chip marshmallow cookies too hard?
This usually happens if the cookies are overbaked. The cookies will continue to cook on the hot baking sheet even after you take them out of the oven, so it's best to remove them when they are just lightly golden on the edges but still soft in the middle.
Why did my marshmallows dissolve during baking?
Marshmallows tend to hold a lot of moisture inside of them and that moisture is released when they're heated. You may notice your marshmallows ballooning up in the oven and then disappearing. This is the sugars evaporating with the moisture from inside the marshamallow.
To avoid this, I like to use stale marshmallows or leave them sitting on the counter overnight so that some of the moisture escapes. If those options don't thrill you, then I would recommend buying dehydrated marshmallows so they'll stay put when baked.
Can I add nuts or other ingredients to this recipe?
Yes, this recipe is quite versatile. You can add chopped nuts, dried fruit, or different types of chips (like butterscotch or peanut butter chips) for variety.
However, keep the total amount of additions (chocolate chips + marshmallows + any extra ingredients) the same as in the original recipe to keep the dough-to-additions ratio balanced.
Printable Chocolate Chip Marshmallow Cookies Recipe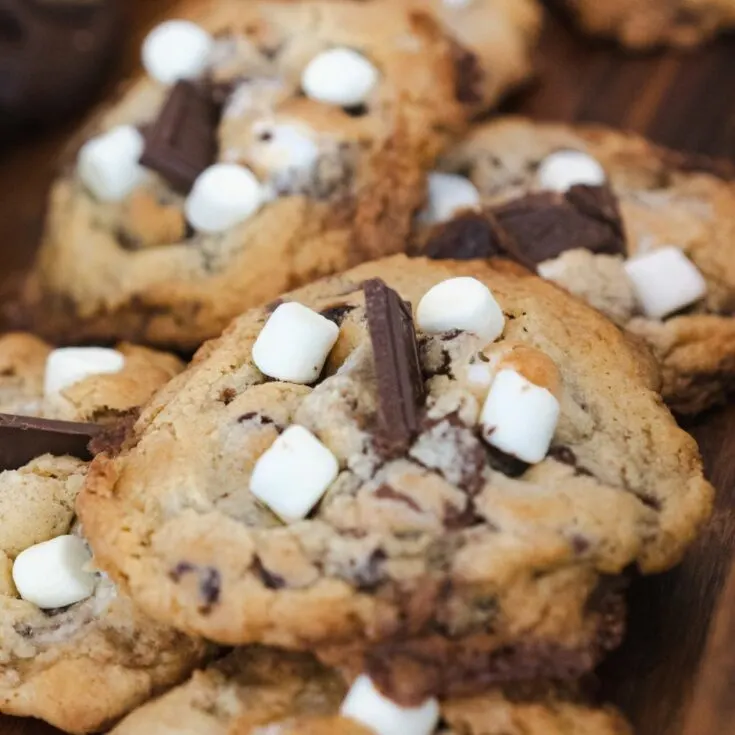 Yield:

15
Chocolate Chip Marshmallow Cookies
Indulge in the ultimate cookie experience with our gooey Chocolate Chip Marshmallow Cookies! There's nothing better than the irresistible combination of melting chocolate chips and chewy marshmallows in every bite. Bake, enjoy, and let the cookie comfort begin!
Ingredients
2 1/4 cups all-purpose flour
1/2 teaspoon baking soda
1 cup unsalted butter, room temperature
1/2 cup granulated sugar
1 cup packed light-brown sugar
1 teaspoon salt
2 teaspoons pure vanilla extract
2 large eggs
2 cups (about 12 ounces) semisweet and/or milk chocolate chips or chunks
1 1/2 cups mini marshmallows (dehydrated marshmallows work best)
Instructions
Preheat your oven to 350 degrees. In a small bowl, whisk together the flour and baking soda; set aside.
In the bowl of an electric mixer fitted with the paddle attachment, combine the butter with both sugars; beat on medium speed until light and fluffy.
Reduce speed to low; add the salt, vanilla, and eggs. Beat until well mixed, about 1 minute.
Add flour mixture; mix until just combined. Stir in the chocolate chips and marshmallows.
Drop heaping tablespoon-size balls of dough about 2 inches apart on baking sheets lined with parchment paper.
Bake until cookies are golden around the edges, but still soft in the center, 8 to 10 minutes.
Remove from oven, and let cool on baking sheet 1 to 2 minutes. Transfer to a wire rack, and let cool completely.
Recommended Products
As an Amazon Associate and member of other affiliate programs, I earn from qualifying purchases.
Try These Delicious & Unique Cookie Recipes Too!