Creamy, Crunchy, Savory, Salty….all of these describe this super delicious Queso Potato Chip Oven Fried Chicken Recipe. A copy cat version of Chuy's Elvis Green Chile Fried Chicken!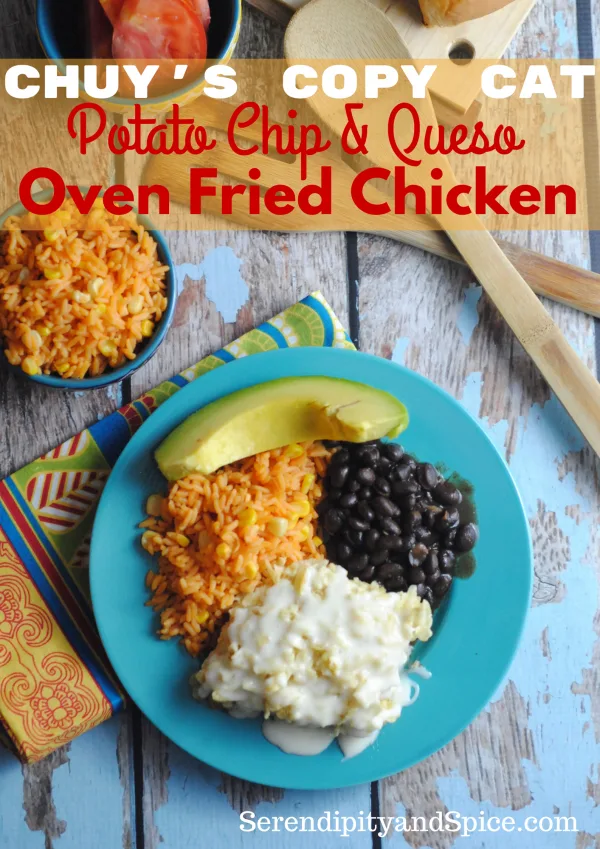 Queso Potato Chip Oven Fried Chicken Recipe
Before you scrunch up your nose and think "seriously, Melissa has lost her mind" just try this Queso Potato Chip Chicken Recipe….you'll become addicted like me!
I have to admit….this is not my recipe at all! It's Hubs' recipe. The day he told me about it I scrunched up my nose and thought "seriously, Hubs has lost his mind"! But boy was I wrong! This Queso Potato Chip Chicken is so delicious….it's the perfect combo of salty, crunchy, and creamy all melded together! The flavor is out of this world incredible!
He got the idea from the Mexican restaurant Chuy's. It's more Tex-Mex instead of what I call Mex-Mex…. You know…the American chain style Mexican that's oh so yummy but not really Mexican. Anyway, the problem with the Potato Chip Chicken at Chuy's is that there's not one near us and I just can't handle the heat….it's not even that spicy but I just can't do it….motherhood has weakened me in the spicy foods department. Anyway, when Hubs mentioned this meal to me I never expected that it would be THIS good!
Now this isn't the type of meal you should be eating every night because it is quite rich and filling (calories don't count on nights I make this 😉 )but it's perfect every once in awhile as a special treat! I try to make it a little bit better by not frying it…I bake it instead and it's just as yummy…I can't handle all of the grease from frying!
Queso Potato Chip Baked Chicken Recipe
I love to serve this with some black beans and rice to make a super yummy meal.
Queso Potato Chip Oven Fried Chicken Recipe
Author:
Prep time:
Cook time:
Total time:
Ingredients
3 boneless skinless chicken breasts
2 cups crushed ruffled potato chips
2 eggs
1/2 cup water
1 cup melted Queso dip
1 avocado
1 tomato
Instructions
Preheat oven to 350 degrees.
Cut the chicken breasts into tenders.
Combine eggs and water to make an egg wash.
Dip chicken in egg wash and coat with crushed potato chips.
Place coated chicken on baking sheet.
Bake for 30 minutes or until chicken is cooked all the way through.
Remove chicken from oven and drizzle with Queso dip.
Garnish with slices of tomato and avocado.
Tip- make sure you use the ruffled potato chips so they don't get soggy while baking. I also use the less salt ones to cut back the sodium in this dish.
Are you like me and always on the hunt for deliciously simple recipes that your family will love? Here's a free printable for my 5 FAVORITE one dish meals– they're perfect for busy nights when you don't have a ton of time and don't want to clean a bunch of dishes!
Other EASY & DELICIOUS recipes you should try:
Perfectly Glazed Slow Cooker Chicken
ULTIMATE Slow Cooker Mac & Cheese