This is the BEST sirloin tip roast crock pot recipe. Make this slow cooker sirloin tip roast recipe on busy days and come home to a complete meal!
Are you craving a juicy and flavorful roast without the hassle of cooking it all day? Look no further!
In this blog post, we will guide you through the art of creating a scrumptious Sirloin Tip Roast in the Crock Pot using two secret ingredients – cream of mushroom soup and dry onion soup mix. This delectable combination will transform an ordinary roast into a savory masterpiece that will leave your taste buds craving for more.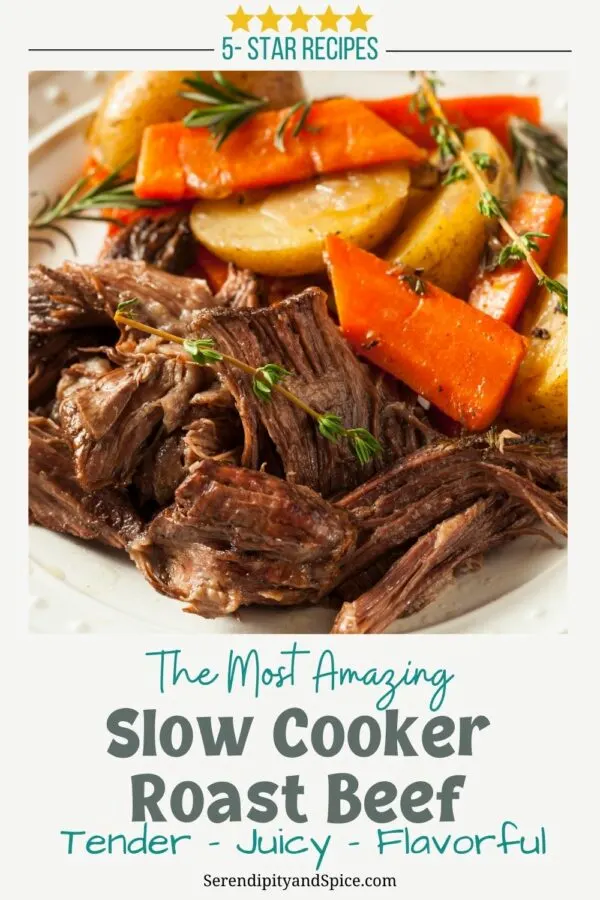 Table of Contents
Why Use a Crock Pot?
The Crock Pot, also known as a slow cooker, is a versatile kitchen appliance that has become a favorite for busy individuals who still want to enjoy home-cooked meals. It allows you to tenderize tough cuts of meat like sirloin tip roast and infuse them with mouthwatering flavors while you focus on other tasks. This method of cooking ensures the meat remains moist, tender, and full of deliciousness.
FAQs for Sirloin Tip Roast in the Crock Pot
Can I use other cuts of beef for this recipe?
While the Sirloin Tip Roast is recommended for its tenderness and flavor, you can try this recipe with other beef cuts suitable for slow cooking, such as chuck roast or bottom round roast. However, keep in mind that the cooking times may vary depending on the cut you choose.
Can I use homemade cream of mushroom soup?
Absolutely! If you prefer using homemade cream of mushroom soup instead of the canned version, it will add an even fresher taste to the roast.
Simply replace the canned soup with an equivalent amount of your homemade version in the recipe. This is my favorite homemade mushroom soup to use in this recipe.
Can I adjust the seasoning to my taste?
Certainly! The recipe provides a basic seasoning profile using dry onion soup mix. However, you can customize the flavors by adding your favorite herbs and spices, such as thyme, rosemary, or garlic powder, to suit your preferences.
Do I need to sear the roast before placing it in the Crock Pot?
While searing the roast before slow cooking can enhance the flavor, it is not necessary for this recipe. The long cooking time in the Crock Pot will still infuse the meat with plenty of delicious taste.
Can I cook the roast on high heat for a shorter time?
The slow cooking process on low heat is ideal for achieving a tender and juicy roast. While it's possible to cook the roast on high heat for a shorter duration, it may not result in the same level of tenderness.
How do I know when the roast is fully cooked?
The Sirloin Tip Roast is ready when it becomes fork-tender and can be easily pulled apart. Cooking times may vary depending on your Crock Pot model and the size of the roast, but 8-10 hours on low heat is generally sufficient.
Can I add other vegetables to the Crock Pot?
Absolutely! Feel free to experiment with various vegetables like bell peppers, celery, or mushrooms to complement the roast's flavors. Ensure the vegetables are cut into large chunks to prevent them from overcooking during the long cooking process.
Can I prepare this recipe in advance and refrigerate it?
Yes, you can prepare the roast by seasoning it and placing it in the Crock Pot the night before. Keep the Crock Pot covered in the refrigerator and simply set it to cook in the morning for a delicious dinner.
Can I use frozen meat for this recipe?
It's not recommended to use frozen meat for slow cooking in a Crock Pot. Thaw the meat completely before starting the recipe to ensure even cooking and proper food safety.
How should I store the leftovers?
If you have any leftovers, let the roast cool before transferring it to an airtight container. Store it in the refrigerator for up to 3-4 days or freeze it for longer storage. Reheat the leftovers in the microwave or on the stove until thoroughly heated.
Printable Sirloin Tip Roast Crock Pot Recipe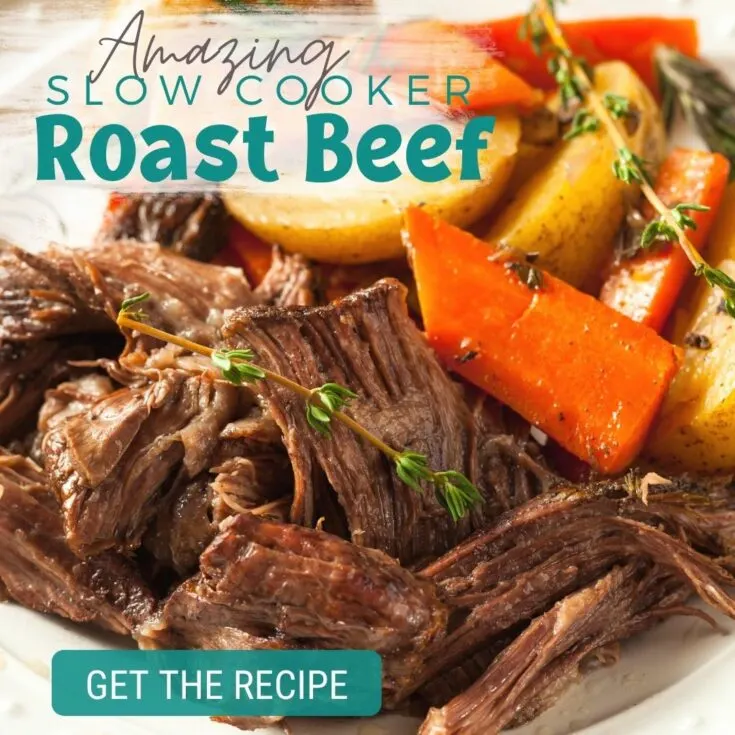 Yield:

4
Slow Cooker Sirloin Tip Roast Beef Recipe
Total Time:
6 hours
5 minutes
Deliciously Tender Sirloin Tip Roast in the Crock Pot: A Mouthwatering Recipe with Cream of Mushroom Soup and Dry Onion Soup Mix
Ingredients
4 lb. sirloin tip roast
1 can cream of mushroom soup
1 pkg dry onion soup mix
1/2 cup water
6 small red potatoes, scrubbed
1 small onion, sliced
1 package of mini carrots
2 TBS Butter
Dash salt and pepper
Instructions
Step 1: Prepare the Crock Pot
Start by placing your Crock Pot on a clean and level surface. Ensure it is clean and dry before proceeding.
Step 2: Season the Sirloin Tip Roast
Rub freshly ground black pepper all over the sirloin tip roast to your desired taste. The dry onion soup mix contains sodium, so you won't need additional salt.
Step 3: Add the Cream of Mushroom Soup
Open the can of cream of mushroom soup and spread it evenly over the roast. The creamy texture of the soup will keep the roast moist during the slow cooking process and contribute a delightful mushroom flavor.
Step 4: Incorporate the Dry Onion Soup Mix
Now, sprinkle the dry onion soup mix evenly over the cream of mushroom soup layer. The oniony essence will infuse the roast with a rich, comforting taste.
Step 5: Add Water
Pour half a cup of water around the edges of the roast. This step ensures the Crock Pot has enough moisture to create steam, further enhancing the roast's tenderness.
Step 6: Optional: Add Vegetables
For an extra burst of flavor and nutrition, consider adding vegetables such as carrots, potatoes, and onions around the roast. These will absorb the delicious juices as they cook, becoming the perfect accompaniment to the roast.
Step 7: Set the Crock Pot
Place the lid on the Crock Pot and set it to cook on low heat. Slow cook the roast for approximately 8-10 hours or until the meat is fork-tender and easily pulls apart.
Step 8: Serve and Enjoy!
Once the cooking time is up, carefully remove the roast from the Crock Pot, allowing it to rest for a few minutes before slicing. Serve it alongside the cooked vegetables and enjoy a delectable Sirloin Tip Roast that will impress everyone at the dinner table.
Recommended Products
As an Amazon Associate and member of other affiliate programs, I earn from qualifying purchases.
Slow Cooker Options
If you don't have a slow cooker yet then definitely check out these options…I have each one and love them all!
Top of the Line– All-Clad Slow Cooker
Moderately Priced– Crock Pot Cook and Carry Programmable Slow Cooker
Bargain Priced– Crock Pot Manual Slow Cooker
More Delicious Slow Cooker Recipes