Strawberry Shortcake Parfait Recipe is a delicious and fun treat for the spring…a total flip on my strawberry chocolate s'mores parfait cups…but just as yummy! This strawberry shortcake parfait recipe is a delicious dessert the whole family loves. Easily adapt the recipe to make a large dish for potlucks or Easter dinner.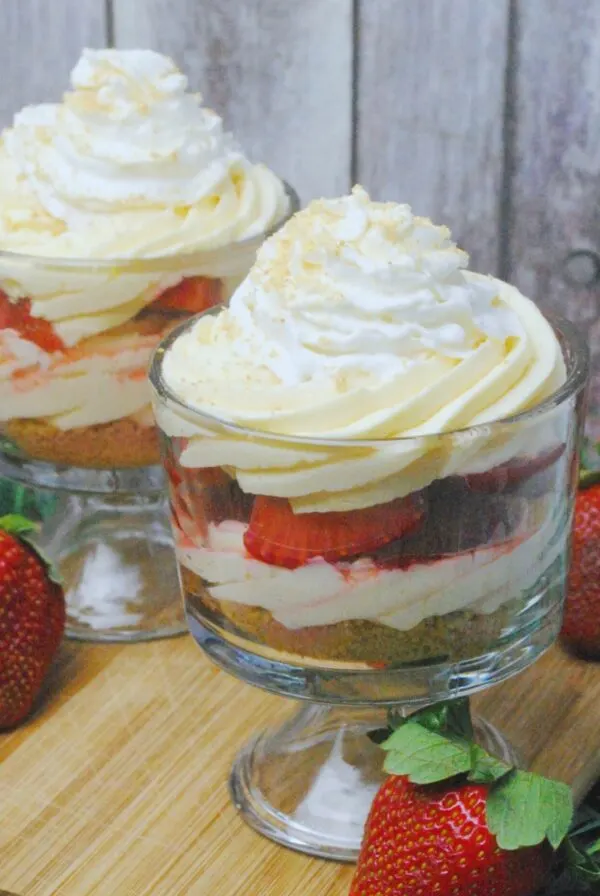 Strawberry Shortcake Parfait Recipe
A Delicious Spring Dessert Recipe
Y'all know I LOVE my strawberry recipes…there's just something so delicious about using fresh strawberries in recipes. They're like the perfect mixture of sweet and tart…I find that frozen strawberries are too sweet for most recipes so when strawberries are in season I go nuts cooking with them!
And I've found that mixing strawberries with other fruit just brings out the sweet and tart flavor even more. Like mixing with bananas in my Strawberry Banana Bread Recipe…mmmm….just spread a little butter on top while it's still hot and you've got a loaf of bread that will be gone in no time!
Or, mix with chocolate to create my Homemade Chocolate Pudding Strawberry Smores Parfait for a dish the kids will be begging for! Or, go a bit healthier with my Strawberry Vinaigarette Salad Dressing Recipe for a delicious and nutritious lunch!
In fact, create the strawberry salad dressing for lunch and follow it up with this Strawberry Shortcake Parfait Recipe as a nice little treat for eating that salad!
This strawberry shortcake parfait recipe is a simple dessert that I can throw together in no time and the whole family loves! Instead of making these in individual dessert cups, make this strawberry shortcake parfait recipe in a large casserole dish and take it to family gatherings, potlucks, or any group event.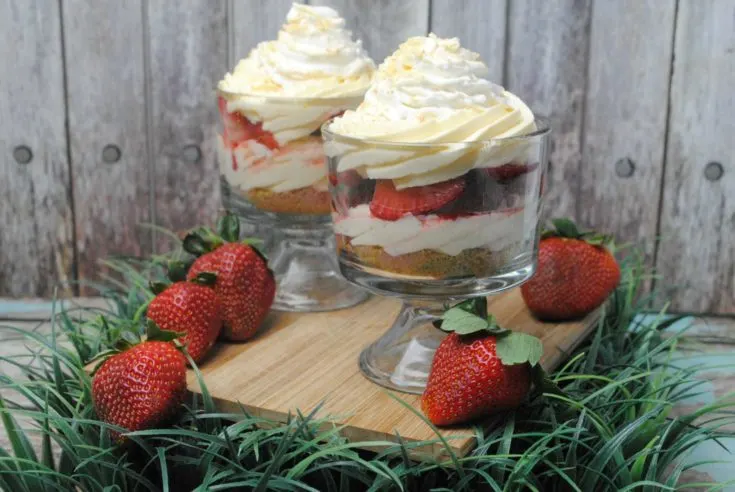 Yield:

4
Strawberry Shortcake Parfait Recipe
This strawberry shortcake parfait recipe is so simple to make and a total hit with the family! Whip it up for a delicious dessert on busy nights.
Ingredients
1 package of graham crackers
1 oz cream cheese
1/4 C sugar
2 TBS whole milk
1 tsp lemon juice and zest
1 container of strawberries, sliced.
1 container of whip cream
Instructions
Place graham crackers in a ziplock bag and using a rolling pin,smash the graham crackers set top the side
In a large bowl add cream cheese, sugar, whole milk and lemon zest and mix using a hand mixer on medium for 23 minutes or until all lumps are gone and it is well blended
Wash and clean your strawberries
In each cup the bottom layer is graham cracker about 1/4 of the way
Next add the cheesecake by scooping it or using a pastry bag to fill - fill to the 1/2 way mark
Your 3rd layer is fresh cut strawberries layer till right below the 3/4 mark
Repeat process if possible
Top with whip cream
What's your favorite dessert recipe for spring?
More Delicious Strawberry Recipes to Try