If you're a fan of hearty and comforting soups, then you're in for a treat!
Today, I'll be sharing a mouthwatering recipe for Crock-Pot Sausage Tortellini Soup that's guaranteed to warm you up on chilly days. There's nothing better than a delicious soup during cooler months, like my Pumpkin Sweet Potato Soup Recipe or this amazing 3 Ingredient Butternut Squash Soup.
This savory and satisfying soup is a perfect blend of Italian flavors, and the best part is that it's incredibly easy to make.
So, grab your Crock-Pot and let's get cooking!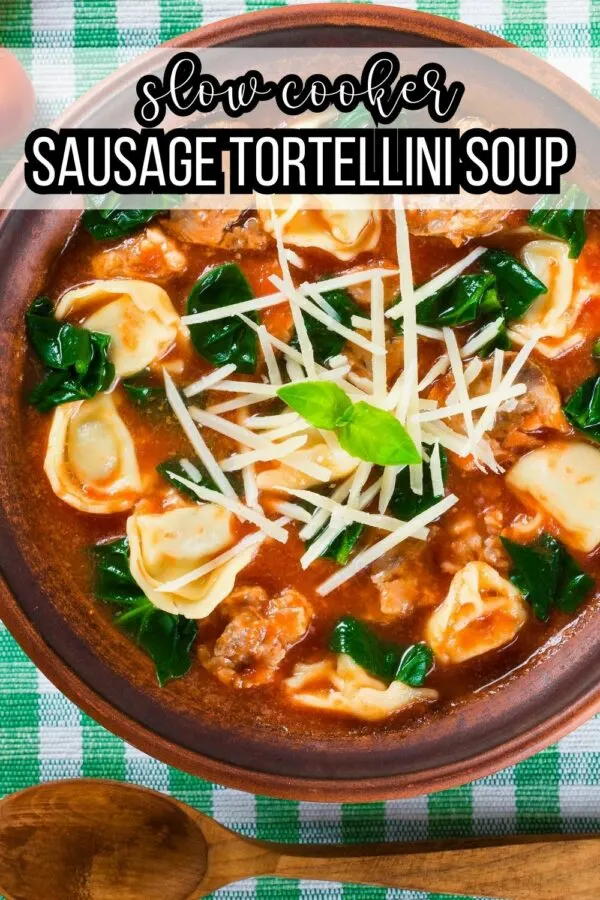 Table of Contents
Why Slow Cooker Sausage Tortellini Soup?
Using a Crock-Pot for this recipe not only saves you time but also enhances the flavors of the ingredients. Slow cooking allows all the spices and aromatics to meld together, resulting in a deeply flavorful broth that complements the sausage and tortellini beautifully.
Plus, you can set it and forget it, making it an ideal option for busy weeknights or lazy weekends.
FAQs (Frequently Asked Questions) for Crock-Pot Sausage Tortellini Soup
Can I use a different type of sausage in this recipe?
Absolutely! While the traditional Italian sausage adds wonderful flavors, you can substitute it with other sausages like turkey sausage, chicken sausage, or even a plant-based alternative for a lighter version.
Can I make this soup on the stovetop instead of a Crock-Pot?
Yes, you can! To adapt this recipe for stovetop cooking, follow the same instructions for sautéing the sausage and vegetables in a large pot. Then, add the remaining ingredients, bring the soup to a boil, and let it simmer on low heat until the tortellini is cooked through.
Can I use frozen tortellini instead of refrigerated tortellini?
Absolutely! Frozen tortellini works well too. Just add it to the Crock-Pot or stovetop during the last 20-30 minutes of cooking, or as per the package instructions.
How can I make the soup spicier or milder?
Adjust the level of spiciness by modifying the amount of crushed red pepper flakes. If you prefer a milder taste, reduce the amount or omit it altogether. For those who enjoy more heat, feel free to increase the quantity to suit your preference.
Can I freeze the leftovers?
Yes, this soup freezes well! Allow the soup to cool completely before transferring it to airtight containers or freezer bags. Make sure to leave some space at the top to account for expansion. Frozen soup can be stored for up to 3 months. To reheat, thaw it overnight in the refrigerator and warm it up on the stovetop or microwave.
Can I add other vegetables to the soup?
Of course! This soup is quite versatile, and you can add your favorite vegetables to enhance its nutritional value. Bell peppers, zucchini, or even mushrooms are excellent additions.
Can I substitute heavy cream with a healthier alternative?
If you prefer a lighter version, you can replace heavy cream with half-and-half or whole milk. Alternatively, you can use coconut milk for a dairy-free option, which also adds a delightful tropical twist to the flavors.
Can I use fresh tomatoes instead of canned tomatoes?
Yes, fresh tomatoes can be used in place of canned tomatoes. Use about 2 cups of diced fresh tomatoes and add some extra chicken broth to maintain the soup's consistency.
How long does the soup last in the refrigerator?
Once cooked, the soup can be stored in the refrigerator for 3-4 days. Reheat it on the stovetop or microwave before serving.
Can I use vegetable broth instead of chicken broth for a vegetarian version?
Absolutely! Vegetable broth works perfectly, making the soup entirely vegetarian while maintaining its delicious flavors.
Enjoy your Crock-Pot Sausage Tortellini Soup and feel free to get creative with the ingredients to suit your taste preferences!
Printable Crock Pot Sausage Tortellini Soup Recipe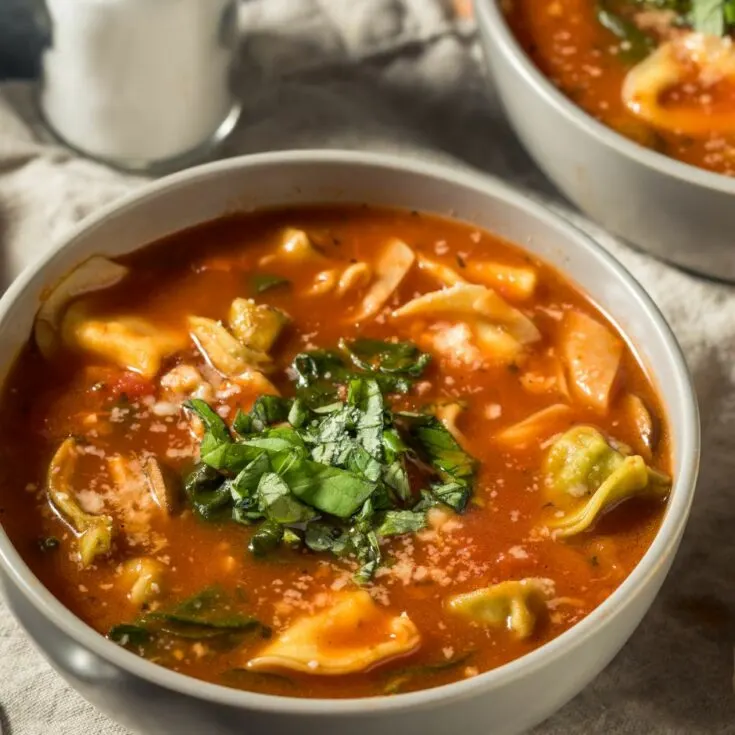 Yield:

4
Crock Pot Sausage Tortellini Soup
Indulge in the ultimate comfort food with this mouthwatering Crock-Pot Sausage Tortellini Soup recipe. This hearty Italian-inspired dish features savory sausage, tender tortellini, and a rich broth, slow-cooked to perfection. Warm up your taste buds with every spoonful. Try it now!
Ingredients
1 lb Italian sausage, casings removed
1 small onion, finely chopped
3 cloves garlic, minced
1 medium carrot, diced
1 celery stalk, diced
1 can (14 oz) diced tomatoes, undrained
1 can (8 oz) tomato sauce
4 cups chicken broth
1 teaspoon dried oregano
1 teaspoon dried basil
1/2 teaspoon crushed red pepper flakes (adjust to taste)
Salt and pepper to taste
1 package (9 oz) refrigerated cheese tortellini
2 cups fresh spinach, chopped
1/2 cup heavy cream
Grated Parmesan cheese for garnish
Fresh basil leaves for garnish
Instructions
In a large skillet, brown the Italian sausage over medium-high heat, breaking it up into crumbles as it cooks. Once fully cooked, drain the excess fat and transfer the sausage to your Crock-Pot.
In the same skillet, sauté the chopped onion, garlic, carrot, and celery until softened. This will take about 3-4 minutes. Add the sautéed vegetables to the Crock-Pot with the cooked sausage.
Now, add the diced tomatoes, tomato sauce, chicken broth, dried oregano, dried basil, crushed red pepper flakes, salt, and pepper to the Crock-Pot. Stir everything together to combine the flavors.
Cover the Crock-Pot and cook on low for 6-8 hours or on high for 3-4 hours. This slow cooking process will allow the flavors to meld together, resulting in a rich and flavorful broth.
About 15 minutes before serving, add the refrigerated cheese tortellini and chopped spinach to the Crock-Pot. Stir in the heavy cream, and let everything cook until the tortellini is tender and cooked through.
Once the tortellini is cooked, taste the soup and adjust the seasonings if needed.
Recommended Products
As an Amazon Associate and member of other affiliate programs, I earn from qualifying purchases.
More Easy and Delicious Soup Recipes