Yes you can make money blogging! In fact, I've replaced my full time income through blogging. It takes a lot of hard work and dedication but the rewards are well worth it! Keep reading to find out how to make money blogging!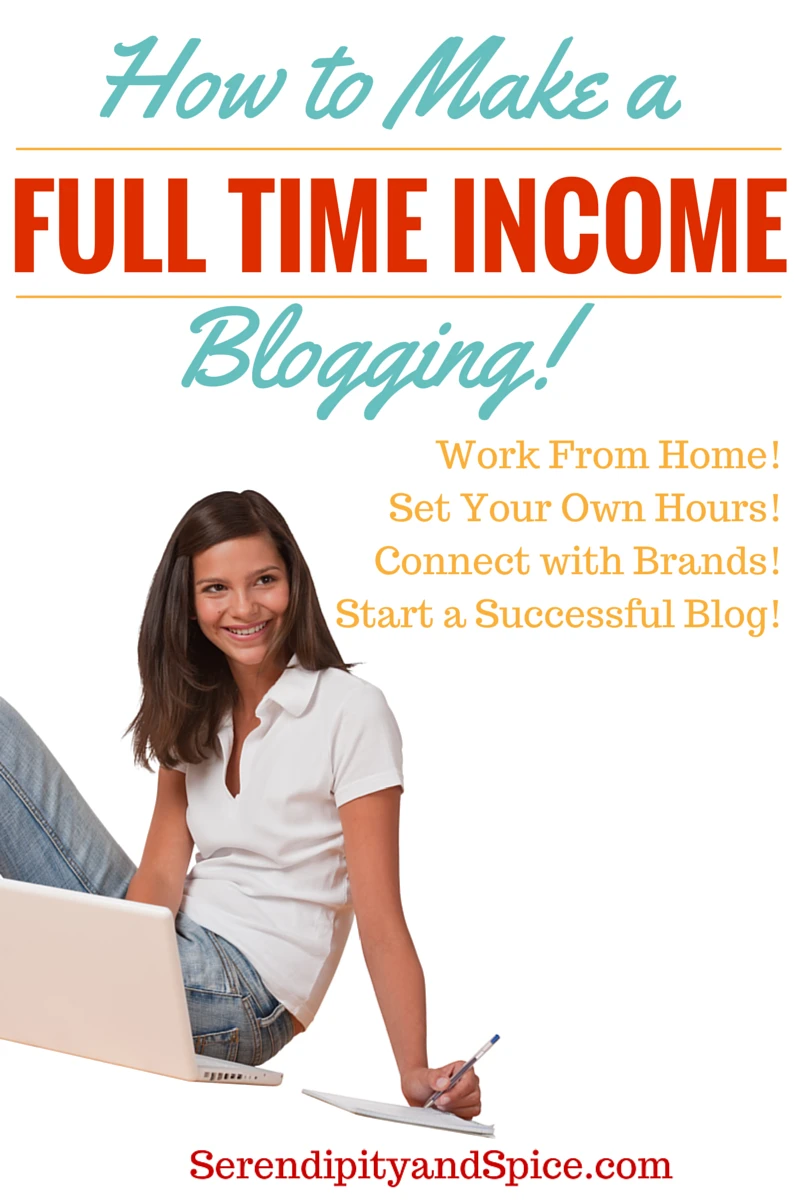 So, tell the truth….are you thinking about starting a blog for the money and free stuff? As I've preached throughout this series….blogging is not all about making money and getting free stuff….but it is a nice perk!
In this post I'm going to teach you how to make money blogging. You may not start out replacing a full time income but with dedication and perseverance you can get to a full time income. The nice thing about blogging is that you get what you put into it.
What you will learn:
Top networks that connect bloggers with brands….that pay you to write!
How to set up ads for the most return.
Other avenues to make money blogging.
How to Make Money Blogging
I'm at a point now where I feel like Serendipity and Spice officially qualifies as a successful blog. I've replaced my full time income as a retail manager and it keeps growing every month! Now this has taken 3 years of devotion and dedication….there were many times where I just felt like quitting because I wasn't seeing the return I wanted but then as if a light switch was flipped….everything changed and Serendipity and Spice just exploded into a successful blog! Seriously, I felt like overnight it just took off….so just keep plugging away and one day it will happen!
Over the past few months I've been asked over and over again from friends, family, and readers "how do I start a blog?". Make sure you check out the how to build a successful blog series….it'll walk you through all of the important steps to take!
Networks to Join
Ad Networks
There seems to be a split among bloggers about Ad Networks….you either LOVE them or HATE them. I personally LOVE them….I mean it's income that I don't have to do anything to make. So many websites have ads now that I don't think it really takes away from my users' experiences….but I do try to make sure that my ads aren't too intrusive or annoying.
Now, there are TONS of Ad Networks out there….just Google "Ad Network" and you'll be given pages and pages of results. I'm just going to share with you the ad networks that I have personally used and know the most about.
Google Adsense– Google Adsense is probably what you're going to use when starting out…they accept everyone! That's because Google Ads will run but you only get paid on clicks. NOW….do NOT click your own ads or get family/friends to constantly click your ads because Google Ads will ban you and take away all of your revenue. You do have to reach $100 before Google Ads will pay out….which sometimes can take many months.
Meridian….formerly Sovrn….formerly Lijit– I loved this network when I was with them…they would payout faster than Google Adsense and I would always make more money. These ads are based on CPM- that's tech talk for views.
Rivit– this is a great ad network for DIY sites. I was only with Rivit for a short time but they would payout every month just like clockwork!
Media.net this site I only used for a few months before joining The Blogger Network. They had some really great ads that look more natural on your site…you're able to customize text ads to match your theme. The payout was definitely higher than my adsense ads!
The Blogger Network– You have to have at least 80,000 pageviews a month to join The Blogger Network but they handle setting up DFP and backfill and try to maximize your ad revenue. So far they have done an amazing job and I love not having to think about my ads at all! The customer service is fantastic too. I simply email my account manager if there's something I want to change or categories I want to exclude. They take a percentage of your revenue (as all networks do…they're just more transparent about it) and work to optimize your ads.
PadSquad for Mobile- this is my mobile ad network and I LOVE LOVE LOVE them! Once I signed on with PadSquad they optimized my mobile site so now people stay on the site longer….my bounce rate is now about 25%! And my ad revenue tripled the first month!
Affiliate Networks
It took me awhile to figure out how to make money with affiliate networks. I mean Amazon is super easy but when dealing with other affiliate networks you have to very strategic in how you use affiliates to make money. But once you hit on something that works it can really pay off! For example, this post just took off on Pinterest and now I average about $700 a month in affiliate sales from this one post! I'll take that any day over a sponsored post that only pays me once!
Centerpoint Media –>this one seems to be the highest paying
Amazon— we all know about Amazon…and this is where I get a majority of my affiliate product links. It's so simple to use and you can find just about anything you want to link to….not to mention that Amazon is a highly trusted site so people you refer are more likely to make the purchase.
Panthera Network – Lots of high paying affiliate offers.
Other Ways to Make Money Blogging
Write & Sell an E-book
Sell a Product
Open an Etsy Store
I know I've just barely scratched the surface of making money with your blog….there are numerous opportunities if you're willing to get out there and work for it. Make your own opportunities by selling ads on your site, working out advertising with local businesses, approaching companies on your own….there's a slew of ways to monetize your blog.
Now for a word of caution:
ALWAYS use no-follow links when linking outside of your blog! Advertisers can be sneaky people and want you to not use no-follow links and they will pay for you to not use no-follow links BUT you WILL regret it. Here's the deal about no-follow links. To you and me it sounds bad, at first I though no-follow meant I wouldn't get credit for people using my links in sponsored posts or I wouldn't get paid on affiliate links because it wouldn't track. That is NOT the case.
No-follow links simply contain a code that tells Search Engines not to follow the link because it's not part of your website. These companies that don't want you to use no-follow links want to steal your Google PR juice and are hoping you're too naive to realize it. If Google catches you not using no-follow links for sponsored posts or affiliate links they will take away your Google Page Rank and then you won't be worth anything to any advertiser! So just don't do it- I always stand my ground to these sketchy PR people who contact me wanting to do a free "Guest Post with a link to their site" or tell me that I can't use no-follow links. I simply decline the offer….it's not worth losing everything I've worked so hard for!
One more thing….. there is a HUGE difference in accepting a guest post from a fellow blogger trying to build their site and one of these sketchy companies trying to build their business links.
If a blogger in the same niche as me reaches out to do a guest post I will usually accept as long as their content is new, original, and for the sole purpose of trying to gain new readers. However, if you are approached by a poorly written email stating they love your site and would love to publish an article then make sure:
You CHARGE them for it!
You let them know up front that you ALWAYS use no-follow links.
Don't ever post an article for FREE (unless it's a fellow blogger)….these people are taking advantage of new bloggers and I HATE seeing this happen…it infuriates me….if you couldn't tell. 🙂
So there you have it….how to make money blogging and earn free stuff!
What networks are you a part of? Share in the comments below!