Experience the sublime blend of flavors with our easy-to-follow recipe for Red Velvet Brownies with cake mix. This decadent dessert offers a moist, velvety texture with a hint of chocolate flavor, heightened by the vibrant, signature red color.
Each brownie square is then luxuriously topped with a creamy, tangy cream cheese frosting, creating a taste sensation that strikes the perfect balance between sweet and tart.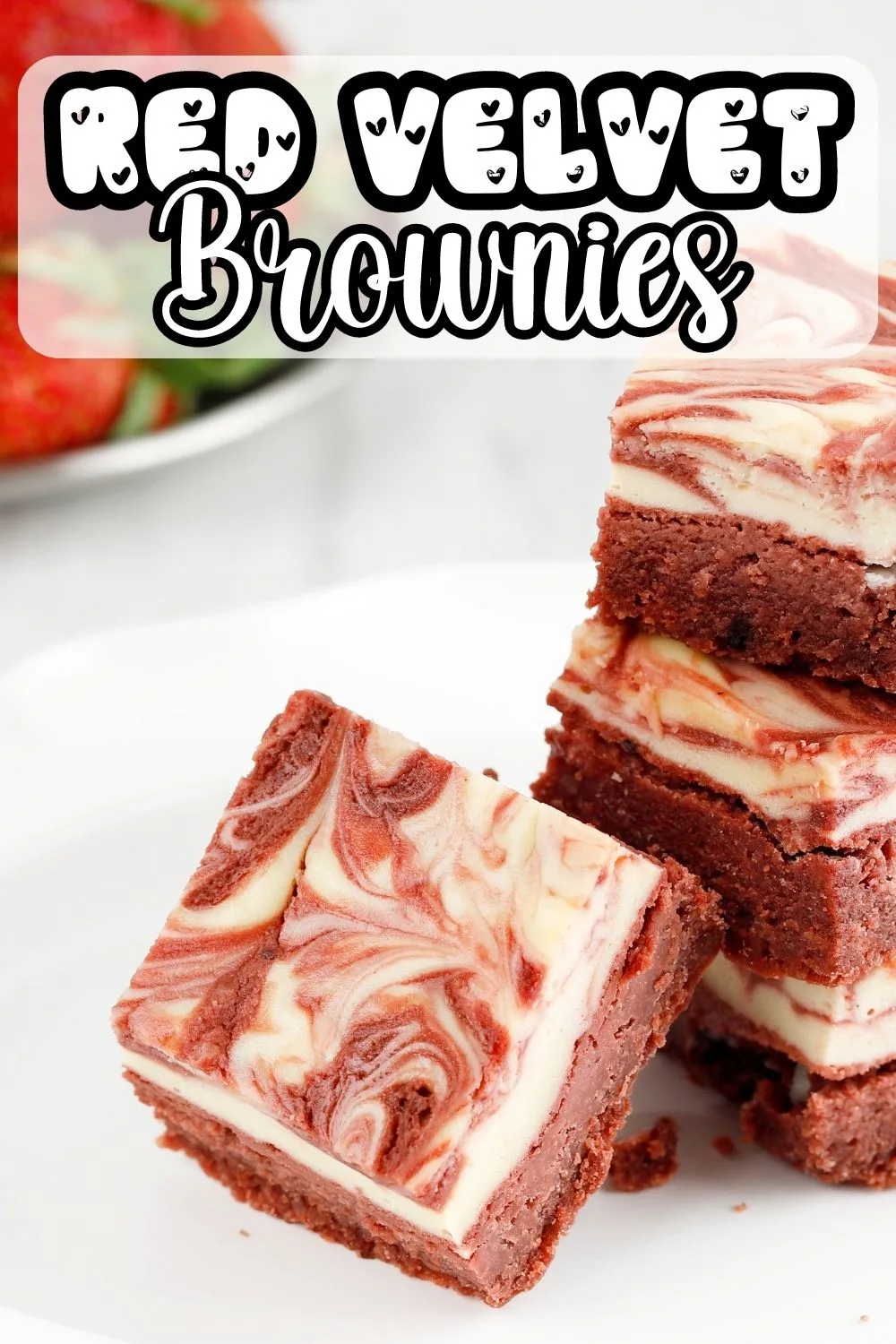 Table of Contents
All About Red Velvet Brownies with Cake Mix
If you're a fan of sweet treats, then you've probably tasted the velvety smooth, lightly chocolatey delight of red velvet desserts. These decadent treats have taken the dessert world by storm, and one of their finest iterations is the Red Velvet Brownie.
And if you've been around here much, you know I'm a fan of hacking recipes by using box cake mix to make life a little easier! Remember these Pumpkin Spice Cake Mix Muffins, and who could miss these delectable Lemon Cake Mix Cookies!
Now, imagine combining the ease of box cake mix with the deliciousness of red velvet brownies!!!
Then topping off these sumptuous squares of heaven with a layer of creamy, rich, cream cheese frosting. Sounds like a dream, right?
In this blog post, I will guide you on how to make delicious red velvet brownies with cake mix topped with a silky cream cheese frosting. Prepare to indulge in the marriage of moist brownies and tangy cream cheese frosting that you can make right in your kitchen.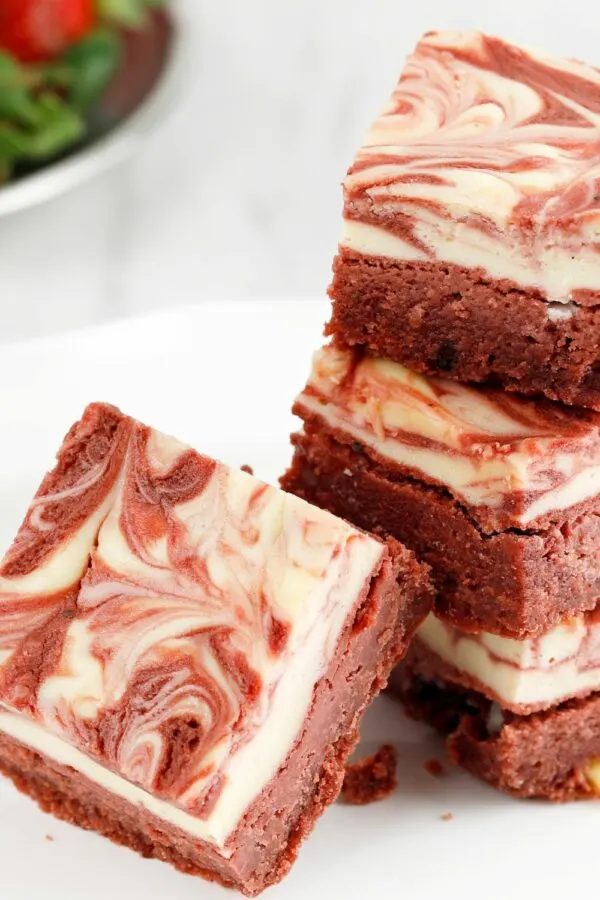 The secret to these easy, peasy, and delightful red velvet brownies lies in the cake mix. Using cake mix not only speeds up the process but also ensures that you get that perfect velvety texture and a delicious taste that's hard to resist.
Red velvet brownies with cake mix are all about convenience. It's for those days when you want to enjoy a gourmet dessert at home but don't want to deal with a long list of ingredients or complicated steps.
Cream Cheese Frosting: The Icing on the Brownie
The cream cheese frosting on top brings an element of tanginess, balancing out the sweetness of the brownies. It's creamy, it's dreamy, and it makes these brownies even more special.
Plus, who can resist the classic combination of red velvet and cream cheese frosting?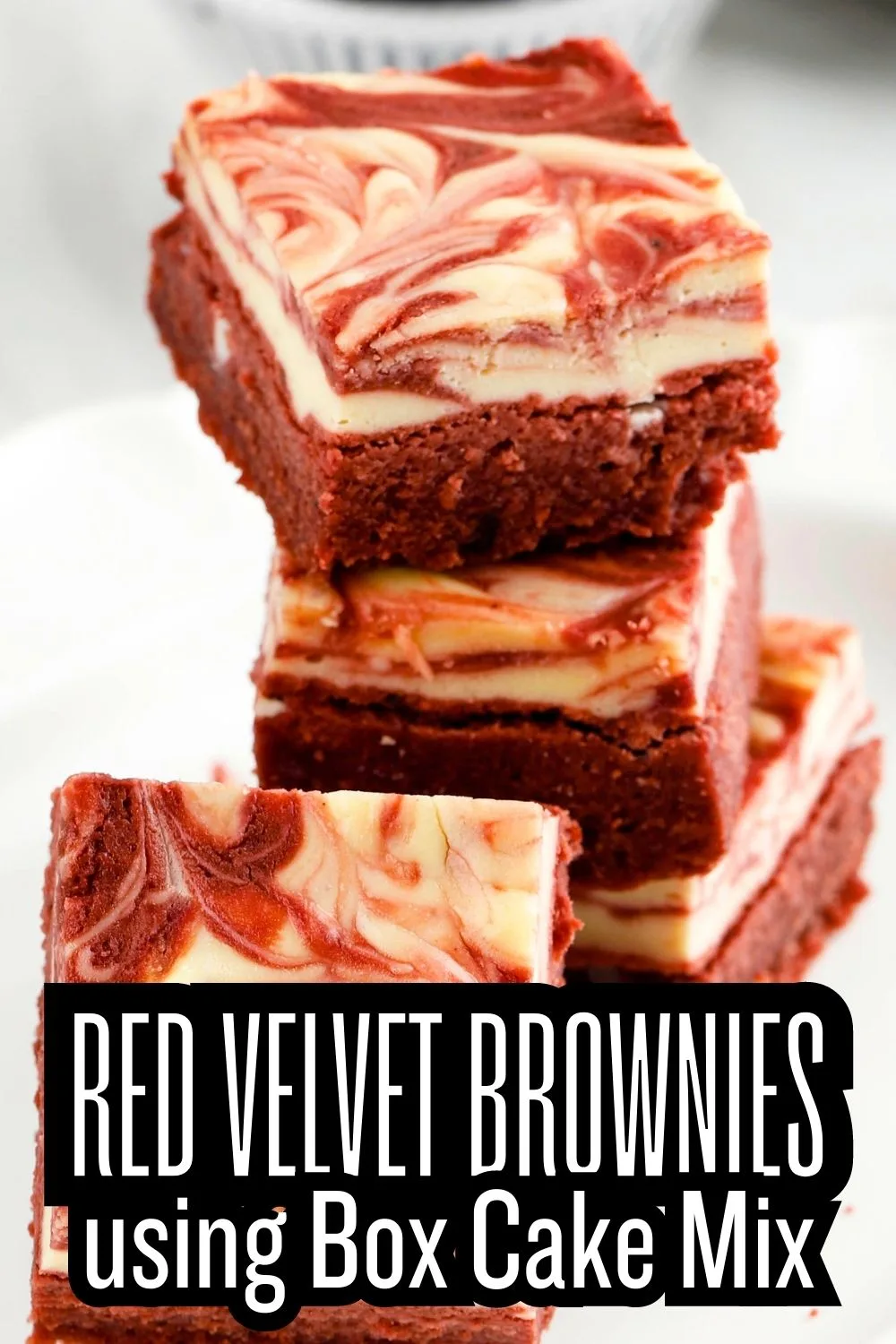 FAQs about Red Velvet Brownies with Cake Mix
Over time, we've received many questions about our Red Velvet Brownies with Cake Mix and Cream Cheese Frosting recipe. Here are some of the most common questions and our answers to them:
Can I use a different flavor of cake mix?
While you can technically use any flavor of cake mix, using a different flavor will alter the taste and color of the brownies. For instance, a chocolate cake mix will produce brownies that taste more like traditional chocolate brownies rather than red velvet. The distinct flavor and color of red velvet brownies come from the red velvet cake mix.
Can I make this recipe without the cream cheese frosting?
Absolutely! The red velvet brownies taste wonderful on their own. However, the cream cheese frosting adds a rich and tangy element that complements the sweet, chocolatey flavor of the brownies. But if you're not a fan of cream cheese frosting, feel free to leave it out or replace it with a frosting of your choice.
Can I make these brownies gluten-free?
Yes, you can make these brownies gluten-free by using a gluten-free red velvet cake mix. Just make sure all the other ingredients, including the frosting, are also gluten-free.
How should I store these brownies?
You should store these brownies in an airtight container in the refrigerator. Because of the cream cheese frosting, they need to be kept cool. They will stay fresh for up to a week when stored properly.
Can I freeze these brownies for later use?
Yes, these red velvet brownies freeze well. After they have completely cooled, place them in a freezer-safe container separated by wax paper to prevent them from sticking together. When you're ready to eat them, allow them to thaw in the refrigerator.
My brownies turned out a bit dry. What did I do wrong?
Overbaking is often the culprit when brownies turn out dry. Make sure to start checking for doneness around the 20-minute mark. A toothpick inserted in the center should come out with a few moist crumbs, but not raw batter.
Printable Recipe for Red Velvet Brownies from Cake Mix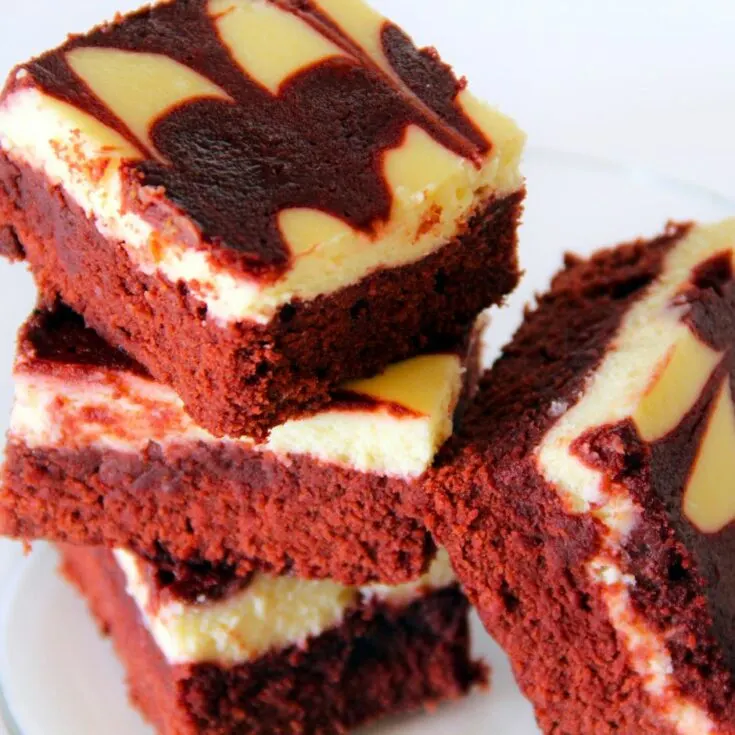 Yield:

8
Red Velvet Brownies from Cake Mix
Discover how to make heavenly Red Velvet Brownies with Cake Mix and Cream Cheese Frosting with our easy, step-by-step recipe. Enjoy the perfect blend of moist, chocolatey brownie and tangy cream cheese frosting. A guaranteed hit for any dessert lover!
Ingredients
For the Red Velvet Brownies:
1 box red velvet cake mix
1/2 cup unsalted butter, melted
2 large eggs
1 teaspoon vanilla extract
For the Cream Cheese Frosting:
8 ounces cream cheese, at room temperature
1/4 cup unsalted butter, at room temperature
2 cups powdered sugar
1 teaspoon vanilla extract
Optional: Red Food Coloring
Instructions
To make the Red Velvet Brownies:
Preheat your oven to 350°F (175°C) and lightly grease a 9x9-inch baking pan.
In a large bowl, combine the red velvet cake mix, melted butter, eggs, and vanilla extract. Mix until well combined.
Spread the batter evenly in the prepared baking pan.
Bake for 20-25 minutes, or until a toothpick inserted into the center comes out clean.
Allow the brownies to cool completely in the pan.
To make the Cream Cheese Frosting:
In a medium bowl, beat together the cream cheese and butter until smooth.
Gradually add in the powdered sugar and vanilla extract, continue beating until well incorporated and smooth.
Once the brownies are cooled, spread the cream cheese frosting evenly on top.
Add a few drops of food coloring to the cream cheese frosting and lightly stir to make a little design.
Notes
If you're a fan of nuts, feel free to add about 1/2 to 1 cup of your favorite nuts to the batter. Chopped pecans, walnuts, or even almonds would make excellent choices. You could also sprinkle a few on top of the cream cheese frosting for an added touch. Just remember to thoroughly mix them into the batter to ensure they're evenly distributed.
More Delicious Desserts Using Box Cake Mix: