Searching for a plant-based alternative that doesn't skimp on flavor? Look no further. Our Vegetarian Stuffed Roasted Poblano Peppers recipe delivers a world of flavor in a healthy and satisfying dish.
Poblano peppers are a popular staple in Mexican cuisine, boasting mild heat and smoky notes, making them the perfect vessel for a hearty vegetarian stuffing.
Let's dive right in and discover how to create this mouthwatering, meat-free masterpiece!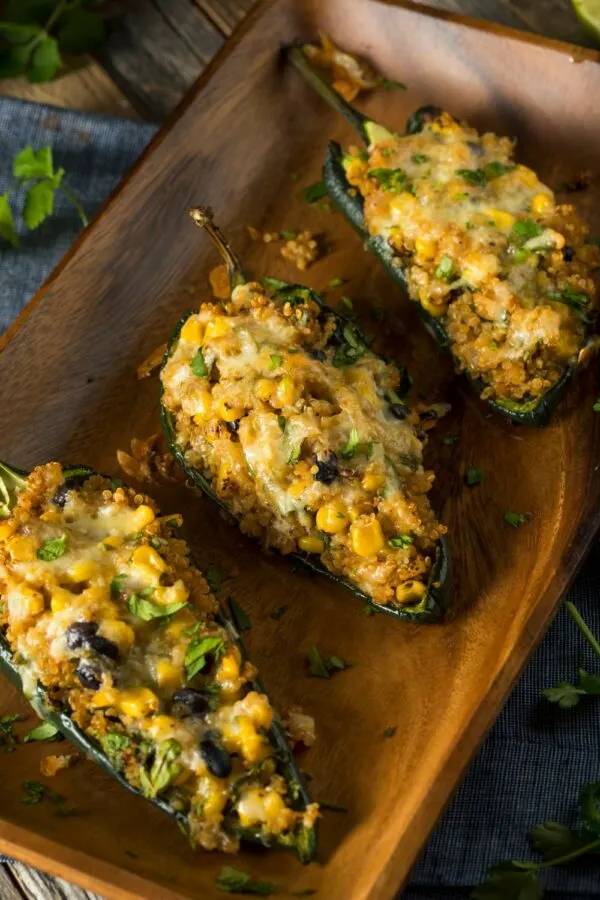 Table of Contents
The Versatility of Stuffed Roasted Poblano Peppers
The beauty of these Vegetarian Stuffed Poblano Peppers recipe lies in its incredible versatility. This mouthwatering dish is more than just a sum of its parts—it's a culinary canvas waiting to be customized to your preferences. Let's explore the myriad ways you can adapt this recipe to fit your taste buds or dietary requirements.
Dietary Adaptations
This recipe is naturally vegetarian, but it can easily be vegan by swapping the cheese for a plant-based alternative or omitting it altogether. If you're following a gluten-free diet, rejoice! This recipe is inherently gluten-free.
Flavor Variations
These Vegetarian Stuffed Roasted Poblano Peppers can be transformed with the use of different spices and ingredients. Love a little heat? Add chopped jalapenos or a dash of hot sauce to the mix.
If you prefer Mediterranean flavors, substitute the cumin and chili powder with oregano and basil, and add some diced tomatoes and olives to the filling.
Protein Variations
While this recipe calls for black beans, feel free to substitute or add different protein sources. Chickpeas, lentils, or tofu would all be excellent alternatives.
For pescatarians, adding some cooked shrimp to the stuffing could offer a tasty twist.
Grain Variations
The stuffing in this recipe uses quinoa, a complete protein grain. However, you can replace it with other grains like brown rice, farro, or bulgur for a different texture and flavor. Even cauliflower rice would work for a lower-carb option.
Serving Suggestions
These Vegetarian Stuffed Roasted Poblano Peppers can take center stage as a main dish or play a supporting role as a side. They pair wonderfully with a simple green salad, grilled vegetables, or a hearty Mexican-style rice. You could also slice the cooked stuffed peppers and use them as a filling for tacos or burritos.
In essence, this Vegetarian Stuffed Roasted Poblano Peppers recipe serves as a starting point for endless culinary creativity. With a bit of imagination, you can transform this dish to suit any dietary preference or craving, making it a favorite go-to recipe for any home cook.
FAQs for this Vegetarian Stuffed Roasted Poblano Peppers Recipe
Can I make these Stuffed Poblano Peppers vegan?
Absolutely! To make this recipe vegan, you can omit the cheese or replace it with a vegan cheese alternative.
What if I can't find poblano peppers?
If you can't find poblano peppers, you can substitute them with bell peppers. They have a different flavor profile but are a delicious alternative.
How do I store and reheat leftovers?
Store any leftovers in an airtight container in the refrigerator for up to 3-4 days. To reheat, place in a preheated oven at 350°F (175°C) for about 10-15 minutes or until heated through.
Can I freeze the stuffed peppers?
Yes, these stuffed peppers freeze well. After baking, let them cool completely, then place in a freezer-safe container. They can be frozen for up to 3 months. Thaw in the refrigerator overnight before reheating in the oven.
Can I add meat to this recipe?
Of course! While this is a vegetarian recipe, it can easily be made with meat. Ground beef, ground turkey, shredded chicken, or diced pork would all work well.
Are poblano peppers spicy?
Poblano peppers are mild in terms of heat. They have a Scoville rating of 1,000-2,000, making them less spicy than a jalapeño.
Printable Recipe: Vegetarian Stuffed Roasted Poblano Peppers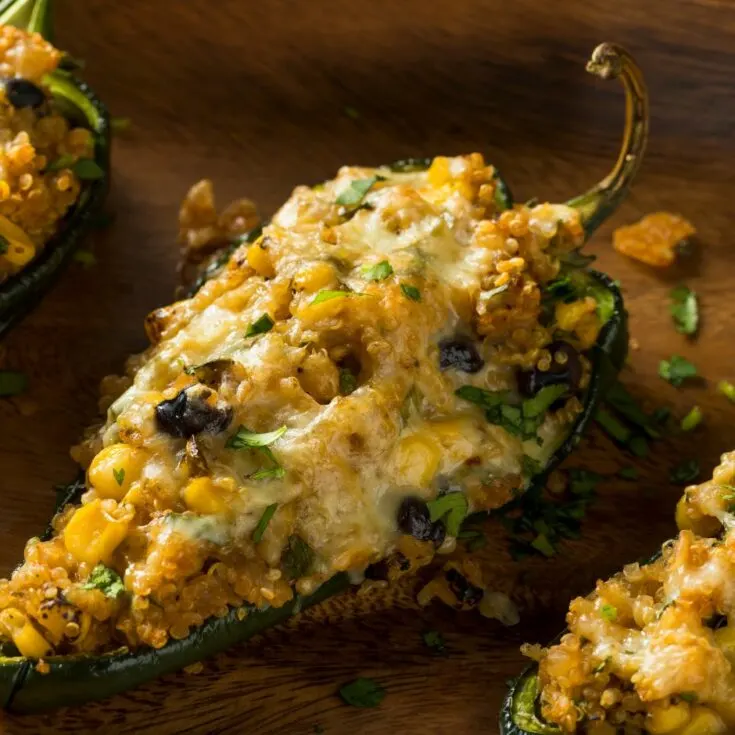 Yield:

4
Vegetarian Stuffed Roasted Poblano Peppers
Discover the joys of cooking plant-based meals with our simple yet flavorful Vegetarian Stuffed Roasted Poblano Peppers recipe.
Whether you're a vegetarian, flexitarian, or just trying to incorporate more meatless meals into your diet, this recipe is a delicious and satisfying choice.
Ingredients
4 poblano peppers
1 cup quinoa, cooked
1 can black beans, drained and rinsed
1 cup corn (fresh, canned, or frozen)
1 red bell pepper, finely diced
1/2 cup red onion, finely chopped
1 cup shredded cheese (like cheddar or Mexican blend)
1 teaspoon cumin
1 teaspoon chili powder
Salt and pepper to taste
2 tablespoons olive oil
Instructions
Preheat the oven - Preheat your oven to 375°F (190°C). This is a vital step for the roasting process.
Prepare the peppers - Rinse your poblano peppers and pat them dry. Cut a slit lengthwise in each pepper, and carefully remove the seeds and membranes.
Roast the peppers - Brush the peppers with olive oil, place them on a lined baking sheet, and roast in the oven for about 15-20 minutes, or until they are soft and slightly charred.
Prepare the filling - While the peppers are roasting, combine cooked quinoa, black beans, corn, red bell pepper, red onion, cheese, cumin, chili powder, and salt and pepper in a bowl.
Stuff the peppers - Once the peppers are roasted, carefully stuff them with the quinoa and vegetable mixture. Return the stuffed peppers to the oven and bake for another 15-20 minutes.
Serve - Serve the Vegetarian Stuffed Roasted Poblano Peppers hot, garnished with fresh herbs, avocado, or a dollop of sour cream if desired.
Notes
The versatility of this Vegetarian Stuffed Roasted Poblano Peppers recipe allows for numerous variations. You can add or substitute ingredients based on your preferences. Swap quinoa for rice, or black beans for chickpeas.
Spice it up with jalapenos or keep it simple with just a hint of fresh cilantro. The possibilities are endless!
More Delicious Recipes to Try