Are you looking for a hassle-free dinner option that's both delicious and convenient? Look no further than this Chicken and Rice Crockpot recipe! This mouthwatering dish not only offers incredible flavors but also saves you valuable time in the kitchen.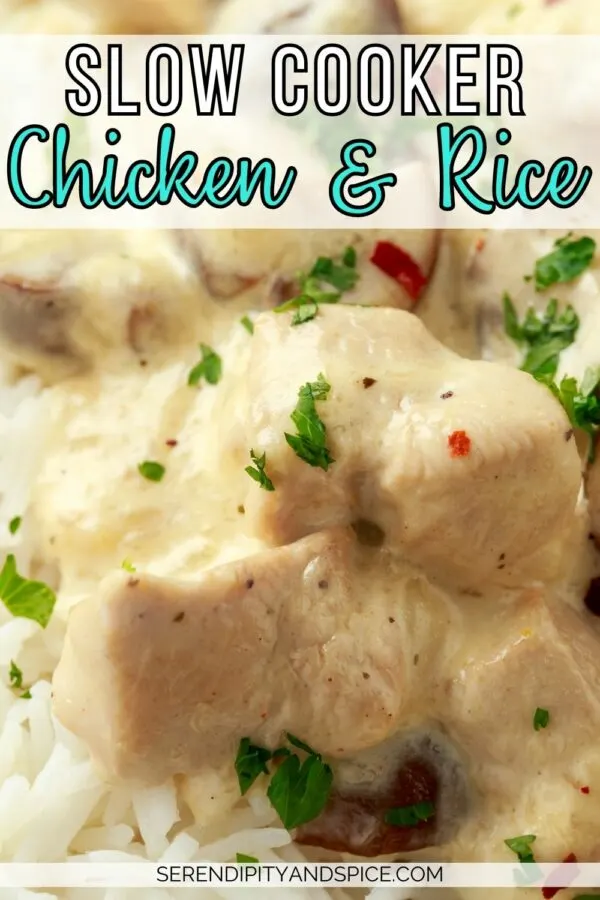 Nothing's better on a cold Winter day than some good ol' fashion comfort food…chicken and rice to be exact! I mean it's like chicken soup but so much heartier and perfect for when you're in need of that home cooked meal that makes you feel all warm and cozy.
I keep the ingredients for this Chicken and Rice Crockpot recipe on hand at all times…because it's oh so simple to just toss it all in the crock-pot in the morning and you'll have a delicious dinner with very little effort!
Crock Pot Chicken and Rice Recipe
Why Choose a Chicken and Rice Crockpot Recipe for Busy Nights
In today's fast-paced world, finding time to prepare a wholesome meal can be challenging. However, the Chicken and Rice Crockpot recipe offers a solution to this problem. Here's why it's an ideal choice for busy nights:
Time-saving: With a crockpot, you can simply toss in the ingredients, set the timer, and forget about it until it's time to eat. This hands-off approach allows you to focus on other important tasks while the flavors meld together perfectly.
Minimal effort: The simplicity of this recipe means you don't have to be a culinary expert to achieve mouthwatering results. Even if you're a beginner, you can effortlessly whip up a satisfying meal without spending hours in the kitchen.
Versatile ingredients: The combination of tender chicken and flavorful rice offers a versatile base that can be customized to suit your preferences. You can easily experiment with spices, herbs, and additional vegetables to create your own signature twist.
Using Brown Rice Instead of White Rice
While both brown rice and white rice can be cooked in a crockpot, brown rice is often preferred due to several reasons:
Nutritional Value: Brown rice is a whole grain that undergoes minimal processing, retaining its bran and germ layers. These layers contain essential nutrients such as fiber, vitamins, and minerals. White rice, on the other hand, has been processed and stripped of these beneficial components, resulting in a lower nutritional value.

Fiber Content: Brown rice is significantly higher in fiber compared to white rice. Fiber aids digestion, promotes satiety, and helps regulate blood sugar levels. This makes brown rice a healthier choice, especially for individuals aiming to maintain a balanced diet.

Longer Cooking Time: Brown rice generally requires a longer cooking time than white rice due to its higher fiber content and tougher outer layers. The slow cooking process in a crockpot allows the brown rice to soften and become tender without becoming mushy or overcooked like white rice typically does.

Texture and Flavor: Brown rice has a slightly chewier texture and a nuttier flavor compared to white rice. This texture holds up well during the slow cooking process in a crockpot, resulting in a satisfying and hearty dish.

Blood Sugar Regulation: Due to its higher fiber content, brown rice has a lower glycemic index compared to white rice. This means it is digested more slowly, resulting in a gradual release of glucose into the bloodstream. This can help regulate blood sugar levels and provide a sustained feeling of fullness.

Overall Health Benefits: Incorporating brown rice into your diet has been associated with several health benefits, including reduced risk of heart disease, improved digestion, and better weight management.
Chicken and Rice Crockpot Recipe
To prepare this scrumptious Chicken and Rice Crockpot recipe, you'll need the following ingredients:
4 boneless, skinless chicken breasts
1 cup of brown rice
1 ½ cups of chicken broth
1 can cream of chicken soup
1 cup of diced vegetables (e.g., carrots, peas, mushrooms, bell peppers)
1 teaspoon of garlic powder
1 teaspoon of onion powder
1 teaspoon of paprika
1 teaspoon of red pepper flakes
Salt and pepper to taste
Now that we have all the ingredients ready, let's dive into the step-by-step preparation process:
Step 1: Season the chicken breasts with garlic powder, onion powder, paprika, salt, and pepper. Ensure they are evenly coated.
Step 2: In your crockpot, combine the rice, chicken broth, red pepper flakes, and diced vegetables. Mix them well to distribute the ingredients evenly.
Step 3: Place the seasoned chicken breasts on top of the rice and vegetables mixture.
Step 4: Pour can of Cream of Chicken over the seasoned chicken breasts.
Step 5: Set the crockpot to low heat and cook for 6-8 hours or on high heat for 3-4 hours. Ensure the chicken is cooked through and the rice is tender.
Step 6: Once cooked, use a fork to shred the chicken into smaller pieces. Stir everything together, allowing the flavors to blend.
Step 7: Adjust the seasoning according to your taste preferences. You can add more salt, pepper, or spices if desired.
Step 8: Serve the Chicken and Rice dish hot and garnish with fresh herbs if desired.