These peppermint chocolate chip cookies are a delicious holiday spin on a classic cookie recipe. Add a little Christmas cheer with these peppermint chocolate chip cookies!
Find more delicious Easy Christmas Cookie Recipes to Make This Year
If you haven't already noticed, I LOVE peppermint during the holidays! Especially in cookies!! I mean, you can basically take ANY classic cookie and turn it into a delectable Christmas cookie recipe just by adding bits of peppermint to the recipe.
Seriously, if you love peppermint cookies then check out these other yummy recipes like my Peppermint Kiss Blossom Cookies without Peanut Butter, or Santa's favorite cookie the Bourbon Glazed Peppermint Cookie Recipe, or how about the amazing Chocolate Peppermint Cookies Recipe, and another fun classic cookie twist with my Double Chocolate Mocha Peppermint Cookie Recipe…. they're all so delicious and perfect for any holiday party!
Since I make so many cookies with peppermint chunks added, I just buy a bag of crushed peppermint every year. If you're only making one batch then you can crush up candy canes…but if you're making a platter of cookies then go with the crushed peppermint. Candy Canes are harder to crush than you realize…although it's a fun activity to give the kids!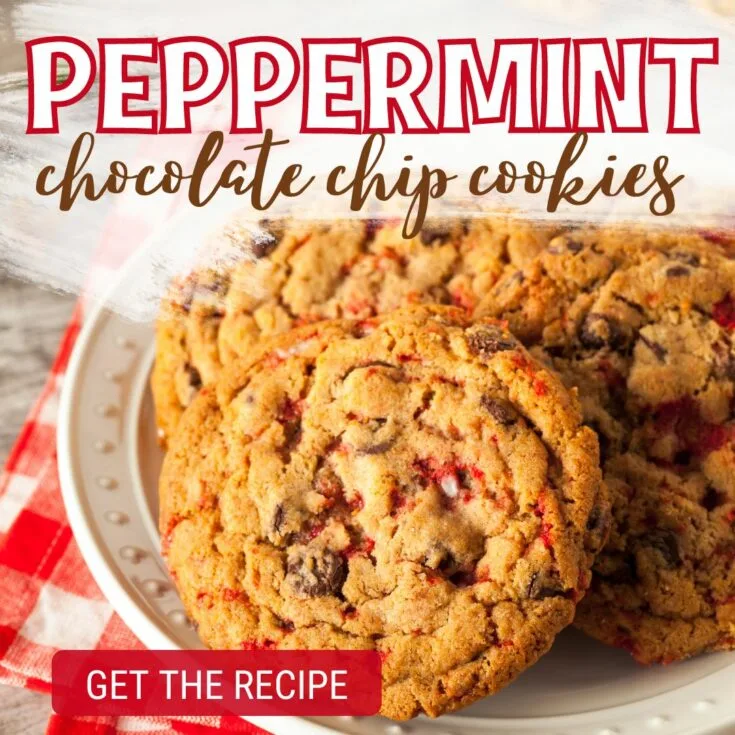 Peppermint Chocolate Chip Cookies Recipe
These peppermint chocolate chip cookies make the perfect Christmas cookie for giving friends and family!
Ingredients
1 Cup Softened Salted Butter
1 Cup Granulated Sugar
1 Cup Brown Sugar
3 tsp Vanilla Extract
2 Eggs
3 Cups Flour (All Purpose)
1/2 tsp Baking Powder
1/2 tsp Cream of Tartar (optional for chewiness)
2 Cups Chocolate Chips
1 Cup Crushed Peppermint
Instructions
Preheat oven to 350 degrees.
Blend together butter, granulated sugar, brown sugar, vanilla extract, and eggs until well blended.
In a separate bowl, gently mix together flour, baking powder, and cream of tartar.
Slowly add flour mixture into sugar mixture and blend completely.
Once the dough is completely combined, add in chocolate chips and crushed peppermint.
Spoon 2-3 TBS of cookie dough into balls (depending on the size you want your cookies) and place on a baking sheet.
Note: I like these silicone baking mats for easy cleanup.
Bake at 350 degrees for 8-10 minutes...you want cookies to be barely brown. It's important, if you want chewy cookies, to not overcook your peppermint chocolate chip cookies.
Recommended Products
As an Amazon Associate and member of other affiliate programs, I earn from qualifying purchases.