If you're a barbecue enthusiast, and you love the tender, succulent taste of pulled chicken, then you're in for a treat! Today, I'm sharing a mouthwatering BBQ Pulled Chicken Dutch Oven Recipe that will leave your taste buds dancing with delight.
This easy-to-follow recipe combines the convenience of a Dutch oven with the irresistible flavors of slow-cooked, tangy BBQ sauce and tender chicken. Whether you're hosting a backyard cookout or simply craving some comfort food, this recipe is sure to be a hit. Let's dive in!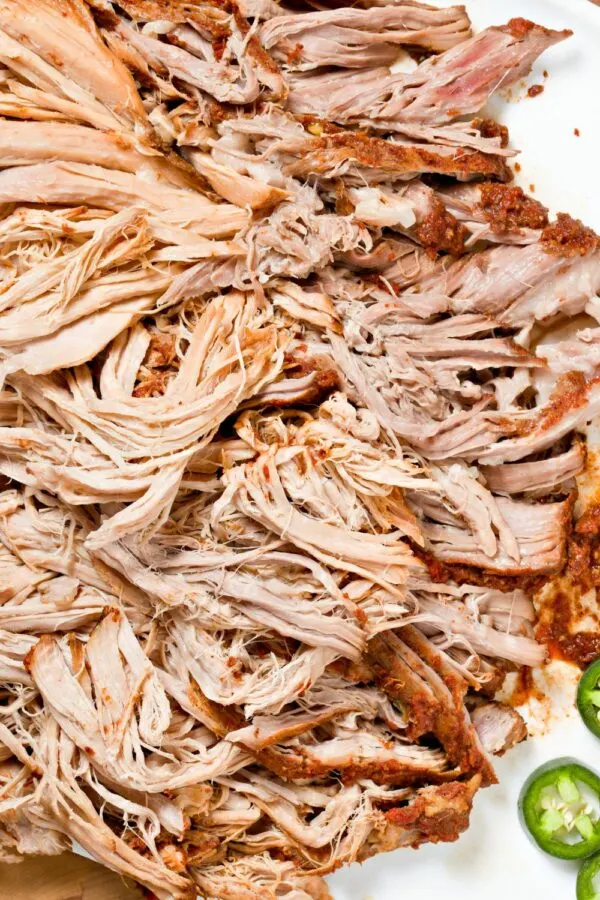 Table of Contents
Why Use a Dutch Oven for BBQ Pulled Chicken
Using a Dutch oven for BBQ Pulled Chicken offers several advantages that contribute to the overall success of the recipe and enhance the flavors of the dish. Here are some key reasons why a Dutch oven is the ideal choice for preparing BBQ Pulled Chicken:
Even Heat Distribution:

Dutch ovens are made of heavy, thick materials like cast iron, which ensures even distribution of heat. This feature allows the chicken to cook evenly and consistently, preventing any hot spots that could lead to uneven cooking or burning.

Excellent Heat Retention:

The thick walls and tight-fitting lid of a Dutch oven help retain heat effectively. This is particularly beneficial for slow-cooking dishes like BBQ Pulled Chicken, as it allows the meat to cook slowly and at a consistent temperature, resulting in tender, succulent chicken.

Versatility:

Dutch ovens are incredibly versatile and can be used on various heat sources, including stovetops, ovens, and even campfires. This versatility makes it a great option for cooking the chicken indoors or outdoors, depending on your preference.

One-Pot Cooking:

The Dutch oven's large capacity allows you to cook the chicken and the BBQ sauce in the same pot. This not only saves time and effort but also enhances the flavors as the chicken cooks in the sauce, absorbing all the delicious BBQ flavors.

Sealing in Moisture:

The tight-fitting lid of the Dutch oven traps steam and moisture inside the pot, preventing the chicken from drying out during the cooking process. As a result, the chicken remains tender and juicy.

Enhancing Flavors:

Dutch ovens, especially those made of cast iron, impart a unique flavor to the food, enriching the taste of the BBQ Pulled Chicken. Additionally, the slow-cooking process allows the chicken to absorb the flavors of the BBQ sauce fully.

Easy to Use and Clean:

Dutch ovens are user-friendly and require minimal attention once the ingredients are added and the lid is secured. After cooking, the durable and non-stick surface of the Dutch oven makes cleaning a breeze.

Durability:

Dutch ovens are built to last. With proper care, they can withstand high temperatures and retain their cooking properties for generations.
FAQs for BBQ Pulled Chicken Dutch Oven Recipe
Can I use bone-in chicken for this recipe?
Yes, you can use bone-in chicken for this recipe. However, boneless, skinless chicken breasts are recommended as they are easier to shred after cooking. If you prefer bone-in chicken, adjust the cooking time accordingly to ensure the meat is thoroughly cooked and tender.
Can I use a different type of BBQ sauce?
Absolutely! You can use your favorite store-bought BBQ sauce or even try making your own homemade version. The choice of BBQ sauce will impact the overall flavor of the dish, so feel free to experiment with different flavors and levels of sweetness to suit your taste.
How do I store leftovers?
Allow the pulled chicken to cool to room temperature before transferring it to an airtight container. Refrigerate the leftovers for up to 3-4 days. You can also freeze the pulled chicken in freezer-safe containers for up to 2-3 months. Thaw in the refrigerator overnight before reheating.
Can I use a slow cooker instead of a Dutch oven?
Yes, you can use a slow cooker for this recipe. Simply follow the same steps to sauté the onions and garlic in a skillet before transferring everything, including the chicken and BBQ sauce, to the slow cooker. Cook on low heat for 6-8 hours or on high heat for 3-4 hours, until the chicken is tender and easily shredded.
Can I adjust the spiciness of the BBQ sauce?
Absolutely! If you prefer a spicier pulled chicken, add a dash of hot sauce, red pepper flakes, or a pinch of cayenne pepper to the BBQ sauce. For a milder version, reduce or omit any spicy ingredients.
Can I use other meats for this recipe?
Yes! This recipe is also delicious with a pork tenderloin or beef tenderloin.
My Favorite Dutch Oven for Cooking
This enameled Dutch oven is my favorite!
First and foremost, its durable construction using high-quality cast iron ensures excellent heat distribution and retention, allowing for even cooking and eliminating hotspots. This feature is especially valuable when preparing slow-cooked dishes like the BBQ Pulled Chicken Dutch Oven Recipe, as it guarantees tender and succulent results every time.
Additionally, the enameled coating not only enhances the Dutch oven's aesthetic appeal with its vibrant color but also serves practical purposes. The enamel prevents the cast iron from reacting with acidic ingredients, such as the vinegar and tomatoes in BBQ sauce, ensuring that the flavors remain pure and unaltered.
Furthermore, the non-reactive surface makes it easy to clean and maintain, making it a kitchen companion that stands the test of time. With the added convenience of sturdy handles and a versatile braiser design, this Dutch oven is perfect for seamlessly transitioning from stovetop to oven.
Plus, I'm a sucker for anything aqua colored!
Printable Recipe for Dutch Oven BBQ Pulled Chicken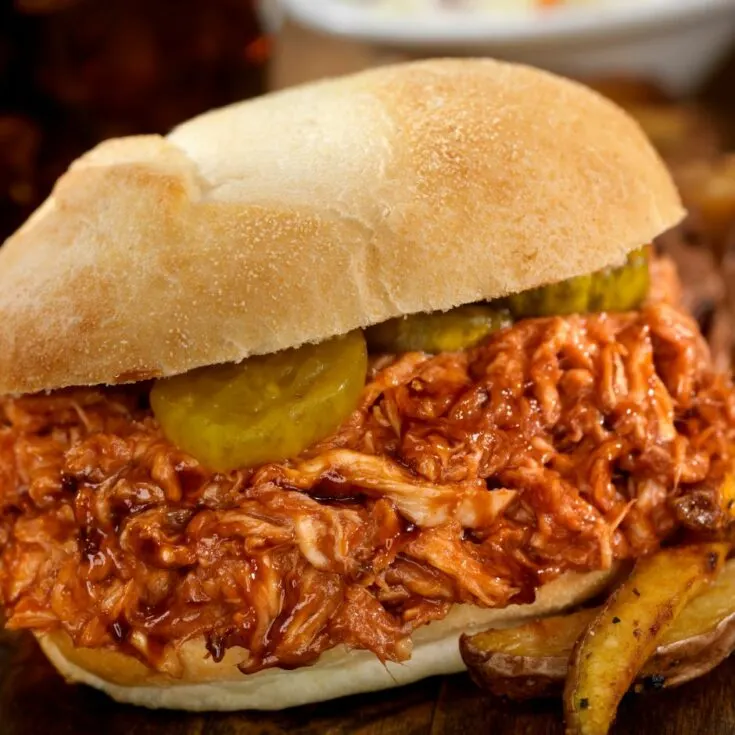 Yield:

6
BBQ Pulled Chicken Dutch Oven Recipe
Total Time:
2 hours
10 minutes
Indulge in BBQ bliss with this mouthwatering Pulled Chicken Dutch Oven Recipe! 🍗🔥 The perfect harmony of tender chicken, tangy BBQ sauce, and the convenience of a versatile Dutch oven makes this dish an absolute crowd-pleaser.
Ingredients
2 lbs boneless, skinless chicken breasts
1 large onion, finely chopped
3 cloves of garlic, minced
1 cup BBQ sauce (use your favorite brand or homemade)
1/2 cup ketchup
1/4 cup apple cider vinegar
2 tablespoons brown sugar
1 tablespoon Worcestershire sauce
1 tablespoon olive oil
1 teaspoon smoked paprika
1/2 teaspoon ground cumin
Salt and pepper to taste
Fresh buns or rolls for serving
Instructions
Step 1: Prepare the Dutch Oven
Place your Dutch oven on the stovetop over medium heat and add the olive oil. Once the oil is heated, add the chopped onions and sauté until they become translucent. Then, toss in the minced garlic and continue cooking for another minute or until you get a delightful aroma.
Step 2: Add the Chicken
Carefully place the chicken breasts into the Dutch oven, ensuring they are in a single layer. Season with salt, pepper, smoked paprika, and ground cumin. Allow the chicken to cook for 2-3 minutes on each side, just until they get a slight golden-brown color.
Step 3: Prepare the BBQ Sauce
While the chicken is searing, it's time to whip up the luscious BBQ sauce. In a mixing bowl, combine the BBQ sauce, ketchup, apple cider vinegar, brown sugar, and Worcestershire sauce. Mix everything well until you get a smooth, consistent sauce.
Step 4: Pour in the BBQ Sauce
Once the chicken has been seared, pour the prepared BBQ sauce over the chicken in the Dutch oven. Ensure the sauce covers the chicken evenly. Now, reduce the heat to low, cover the Dutch oven with its lid, and let it simmer for about 1.5 to 2 hours, or until the chicken becomes tender and easy to pull apart.
Step 5: Shred the Chicken
Using two forks, gently shred the tender chicken directly in the Dutch oven. The meat should effortlessly fall apart, soaking up all those delightful BBQ flavors.
Step 6: Thicken the Sauce
At this point, if the sauce appears too thin, increase the heat to medium and let it cook for a few more minutes uncovered. This will help thicken the sauce to your desired consistency.
Step 7: Serve and Enjoy
Now comes the most rewarding part - serving and savoring your BBQ Pulled Chicken! Load up some fresh buns or rolls with the delectable chicken mixture, and perhaps add some coleslaw for an extra crunch. Each bite will be a taste sensation that's sure to make your mouth water for more.
Recommended Products
As an Amazon Associate and member of other affiliate programs, I earn from qualifying purchases.
More Delicious Recipes to Try