This Southern Style Skillet Cornbread Recipe is absolutely delicious! It's not your typical sweet yellow cornbread recipe…oh no this is a delicious and savory white cornbread recipe that pairs perfectly with chilis and soups!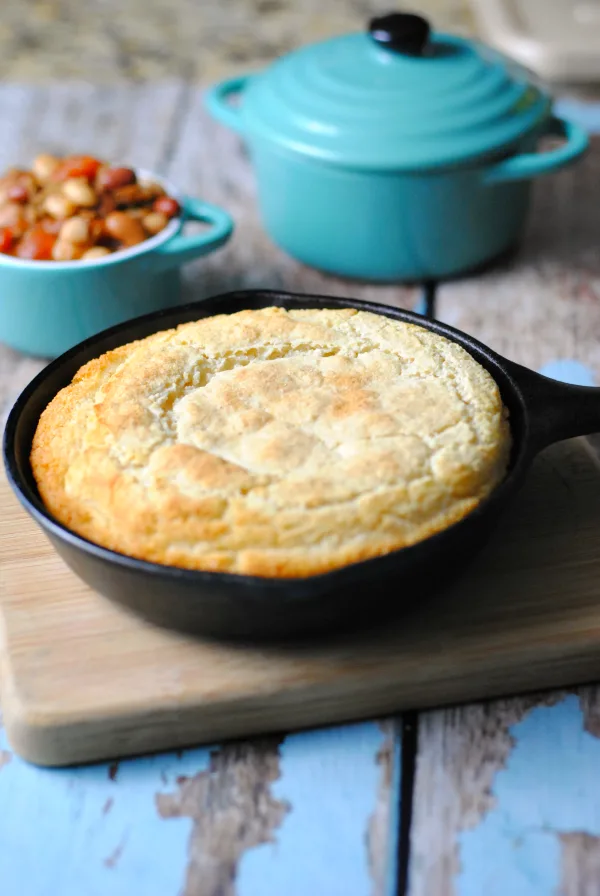 Southern Style Skillet Cornbread Recipe
A Savory White Cornmeal Cornbread Recipe that's 100% Southern Goodness!
Nothing says outdoor weather like chili and cornbread! Did you miss my One Dish 30 Minute Turkey Chili Recipe I shared yesterday? Make sure you check it out- it's a great way to use up some left-over turkey and goes perfect with this Southern Style Skillet Cornbread Recipe!
So yeah, I am a Southern Girl! I grew up on cornbread….. when I was a kid my grandmother would make a HUGE batch of vegetable soup and cornbread. We would devour it like there was no tomorrow! I wish she still made vegetable soup like she used to– I've tried to replicate it and I'm close…just not quite there yet– and of course, like most grandmothers she just threw some of this and some of that in there with no recipe.
Luckily I did learn how to make her delicious skillet cornbread! And now I make it all the time because it's so easy and delicious!
Well, first, there's a secret! In order to properly make Southern Skillet Cornbread you MUST have a properly seasoned cast iron frying pan. To properly season a cast iron frying pan check out this quick tutorial.
Now, got your properly seasoned cast iron frying pan?
Great! Here is the SUPER SIMPLE recipe:
[amd-yrecipe-recipe:3]
Tip: You can only get buttermilk in a quart or larger container. But, you can freeze it! I just pour it into ice cube trays and pop it in the freezer. Once frozen just transfer the cubes to a freezer bag– then you always have buttermilk when you get a hankering for Southern Style Skillet Cornbread! 🙂 Just know, the buttermilk will separate when frozen but once you defrost it just stir it up. I would only use frozen buttermilk for baking though…otherwise it can have an odd consistency.
What did you think? Share in the comments below! And don't forget to "Yum" this recipe!
Are you like me and always on the hunt for deliciously simple recipes that your family will love? Here's a free printable for my 5 FAVORITE one dish meals– they're perfect for busy nights when you don't have a ton of time and don't want to clean a bunch of dishes!
Other DELICIOUS recipes you should try:
Perfectly Glazed Slow Cooker Chicken
ULTIMATE Slow Cooker Mac & Cheese
Ultimate BBQ Oven Grilled Chicken