This Slow Cooker Corned Beef Recipe is the BEST corned beef recipe I've ever eaten! It's so tender, flavorful, and perfect for Saint Patrick's Day!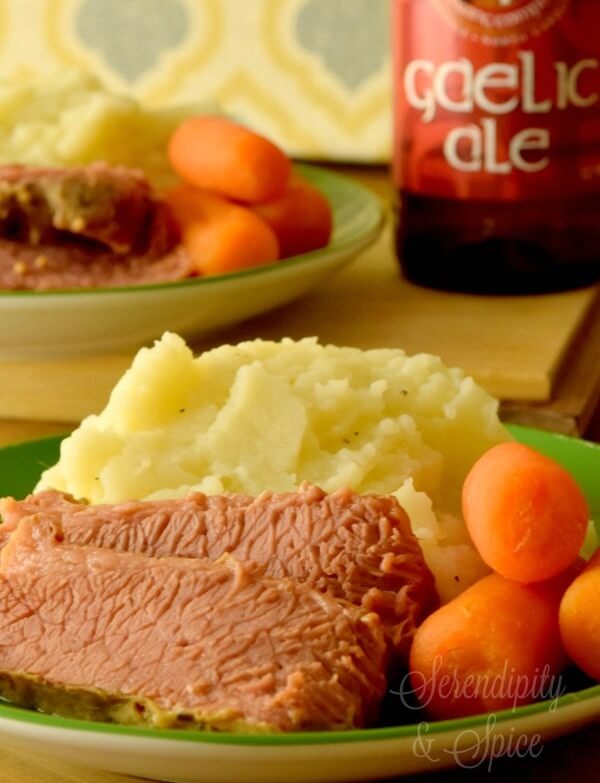 Slow Cooker Corned Beef Recipe
The most tender corned beef recipe ever!
If you've ever cooked corned beef before then you know– it's a seriously TOUGH cut of beef! For years I tried making corned beef for Saint Patrick's Day and I would ultimately toss it out and we'd head to a restaurant for take-out.
I mean, corned beef is THE quintessential Irish dish for St. Patty's day! But I finally gave up because no matter what recipe I tried it would fail miserably. Then, after developing my Oktoberfest Baked Chicken I thought about giving corned beef another go…..and by applying some of the same principles that I used in the chicken I developed the same tender juiciness in the corned beef.
I've become a HUGE fan of cooking with beer!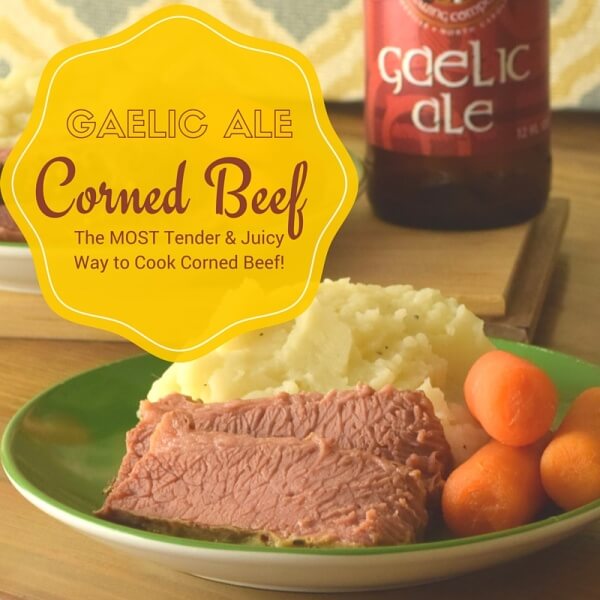 Not because of the taste…many times there's not a strong beer taste. But because beer helps break down some proteins in the meat and can take a super tough piece of beef and make it melt in your mouth tender. So I paired my new found love of cooking with beer with my ageless love of cooking with the slow cooker— voila, the most tender and delicious slow cooker corned beef recipe ever!
You can use any kind of beer because it doesn't really affect the flavor very much. Really all the flavor that's left after cooking all day is the undertones of the beer….so use a good beer. I'm usually not a big fan of Guinness straight but it makes this corned beef recipe AMAZING! My favorite is Highland's Brewery Gaelic Ale…that's the beer I used for this slow cooker corned beef recipe…it's local to us and soooooo good.
The other key to creating a super tender corned beef is cooking it low and slow. That's why the slow cooker is the perfect option. I simply toss in the corned beef, top it with peppercorns, and pour a bottle of beer over it– then just set it on the lowest setting and let it cook all day. So simple!
The BEST Slow Cooker Corned Beef Recipe
Author:
Prep time:
Cook time:
Total time:
The most tender corned beef you'll ever make! This gaelic ale slow cooker corned beef recipe is easy to make and fall apart delicious!
Ingredients
2 lb. Corned Beef Roast
1 TBS Peppercorns (usually comes with the corned beef)
1 bottle of beer– I prefer Highlands Gaelic Ale
Instructions
Place corned beef roast in slow cooker.
Top roast with peppercorns.
Pour beer over the roast.
Set on low and cook in slow cooker for 8-10 hours.
I serve this slow cooker corned beef recipe with mashed potatoes and carrots…cabbage is another good Irish choice as well. If you're looking for other delicious Irish recipes then check out my simple Cobbler Pie Recipe…it's my lighter version of a shepherd's pie. Don't miss out on all of the savory recipes using Guinness.
What's your favorite Irish inspired recipe for St. Patty's day? Share in the comments below!