If you're a fan of hearty and flavorful dishes, look no further than this delicious Slow Cooker Corned Beef Hash recipe. Packed with tender corned beef, golden potatoes, and a medley of aromatic vegetables, this comforting dish is perfect for any time of the day.
The best part? It's incredibly easy to make!
In this blog post, we'll guide you through the steps of creating a mouthwatering Slow Cooker Corned Beef Hash that will leave your taste buds begging for more.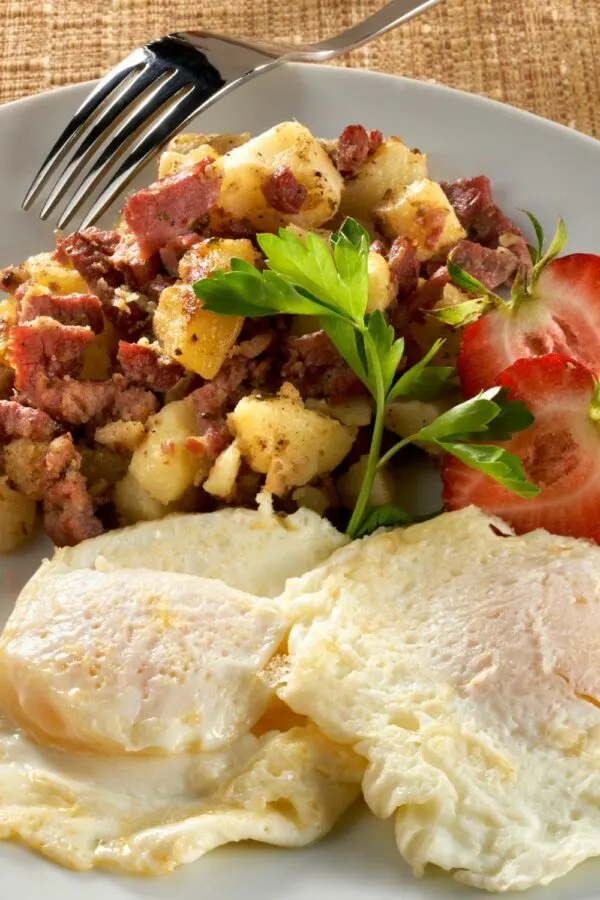 Table of Contents
Why Slow Cooker Corned Beef Hash?
Using a slow cooker for this recipe is a game-changer.
Not only does it save you time and effort, but it also allows the flavors to meld together perfectly, resulting in a dish that is rich and savory. The slow cooking process ensures that the corned beef becomes incredibly tender and infused with the essence of the spices, while the potatoes absorb all the delicious juices.
This is my favorite slow cooker because I can set it and forget it, clean-up is a breeze, and it always cooks perfectly even! And don't forget to grab a pair of these reusable liners…they make clean up even easier because NOTHING sticks to the food grade silicone lining!
How to Serve Slow Cooker Corned Beef Hash
Slow Cooker Corned Beef Hash is a versatile dish that can be enjoyed in various ways:
Classic Breakfast: Serve it with a fried or poached egg on top for a classic and satisfying breakfast.
Brunch Favorite: Pair it with some crusty bread or toast for a delicious brunch.
Dinner Delight: Make it a complete meal by adding some steamed vegetables or a side salad.
FAQs- Corned Beef Hash in the Crock Pot
Can I use uncooked corned beef in this recipe?
It's best to use cooked corned beef for this slow cooker recipe. Cooking the corned beef in advance ensures it becomes tender and allows the flavors to develop fully during the slow cooking process.
You can use leftover corned beef from a previous meal or cook it specifically for this recipe.
Or, you can cook the corned beef in the slow cooker and add in the other ingredients once the corned beef is fully cooked. Simply toss the corned beef in the slow cooker with 12-16oz of liquid.
Can I use different vegetables in this hash?
Absolutely! While the recipe suggests using potatoes, onions, and bell peppers, you can get creative with the vegetables you add. Carrots, sweet potatoes, and even mushrooms can make excellent additions to the dish. Feel free to personalize the recipe based on your preferences.
How do I store the leftovers?
If you have any leftovers, allow the Slow Cooker Corned Beef Hash to cool before transferring it to an airtight container. Store it in the refrigerator for up to 3-4 days. When reheating, add a splash of beef broth or water to maintain its moisture and prevent it from drying out.
Can I freeze this dish?
Yes, you can freeze Slow Cooker Corned Beef Hash. Once the dish has cooled completely, transfer it to a freezer-safe container or resealable freezer bags. Label the container with the date and store it in the freezer for up to 2-3 months. Thaw the hash in the refrigerator overnight before reheating it on the stovetop or in the microwave.
Can I add cheese to the hash?
Certainly! If you're a cheese lover, you can add shredded cheese, such as cheddar or Swiss, to the Slow Cooker Corned Beef Hash before serving. Simply sprinkle the cheese on top of the hot hash and cover it for a minute or two until the cheese melts.
Can I cook this recipe on high heat only?
While the low and slow cooking method allows the flavors to develop and the corned beef to become tender, you can cook the hash on high heat for a shorter time if you're in a rush. Keep in mind that the flavors might not meld together as well as they would with the low heat method.
Is it necessary to use beef broth?
Beef broth adds extra flavor and moisture to the dish, but if you prefer a less moist hash, you can skip it altogether. The natural juices from the vegetables and corned beef will still provide sufficient moisture during the cooking process. Or you can switch out the beef broth for vegetable broth.
What should I do if the hash is too dry?
If you find the Slow Cooker Corned Beef Hash to be too dry, you can add a little beef broth or water and mix it in gently before serving. This will help moisten the dish and enhance its flavors.
Printable Recipe: Slow Cooker Corned Beef Hash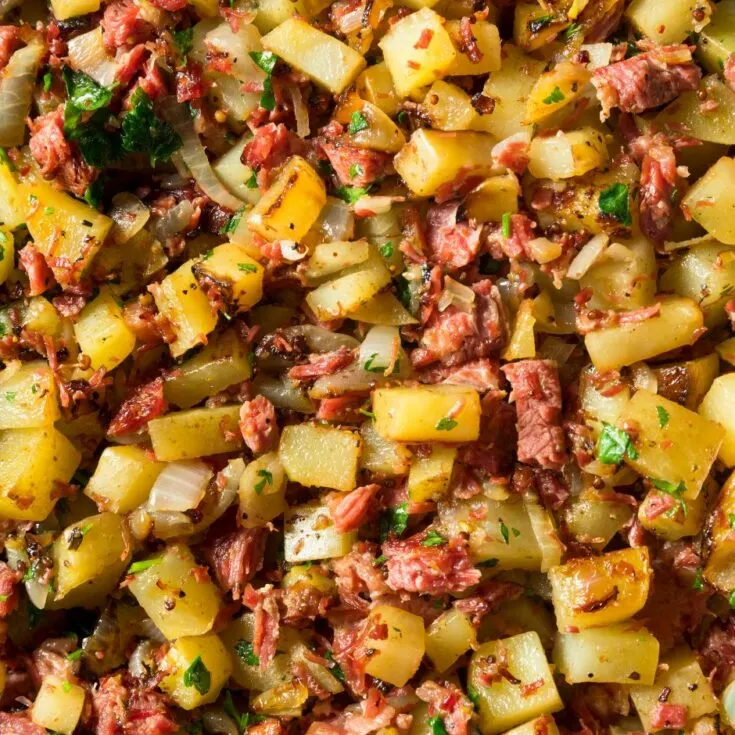 Yield:

4
Slow Cooker Corned Beef Hash
Total Time:
4 hours
5 minutes
With minimal prep work and a slow cooker doing all the hard work, you can enjoy this scrumptious meal any time of the day. So, gather the ingredients, set up your slow cooker, and indulge in the heartwarming goodness of this Slow Cooker Corned Beef Hash!
Ingredients
1 pound of cooked corned beef, shredded or diced
4 large potatoes, peeled and cubed
1 onion, finely chopped
2 cloves of garlic, minced
1 red bell pepper, diced
1 green bell pepper, diced
1 teaspoon of dried thyme
Salt and pepper to taste
2 tablespoons of olive oil
1/2 cup of beef broth
Fresh parsley for garnish (optional)
Instructions
Prepare the Slow Cooker: Start by greasing the interior of your slow cooker with a little cooking spray or oil to prevent sticking.
Combine Ingredients: Place the shredded or diced corned beef, cubed potatoes, chopped onion, minced garlic, diced red and green bell peppers, and dried thyme into the slow cooker. Gently mix the ingredients to evenly distribute the flavors.
Seasoning: Drizzle the olive oil over the mixture and season with salt and pepper according to your taste preference. Remember that the corned beef may already be seasoned, so adjust the salt accordingly.
Add Beef Broth: Pour the beef broth into the slow cooker to keep the ingredients moist throughout the cooking process.
Cooking Time: Cover the slow cooker and cook the mixture on low heat for 6-8 hours or on high heat for 3-4 hours. The longer cooking time allows the flavors to meld together beautifully.
Garnish and Serve: Once the corned beef hash is cooked to perfection, garnish it with fresh parsley for a burst of color and added freshness. Serve the dish hot, and enjoy the delightful medley of flavors!
Recommended Products
As an Amazon Associate and member of other affiliate programs, I earn from qualifying purchases.
More Delicious Slow Cooker Recipes to Try