Nothing says delicious quite like Honey Lemon Pepper Wings. These sweet, tangy, and slightly spicy morsels are a hit at any gathering, whether it's a family dinner, a game night, or a picnic in the park. If you're a fan of flavors that pack a punch, you're in the right place….these honey lemon pepper chicken wings are incredible!
Today, I'm going to guide you through an easy, step-by-step recipe to prepare these irresistible wings at home.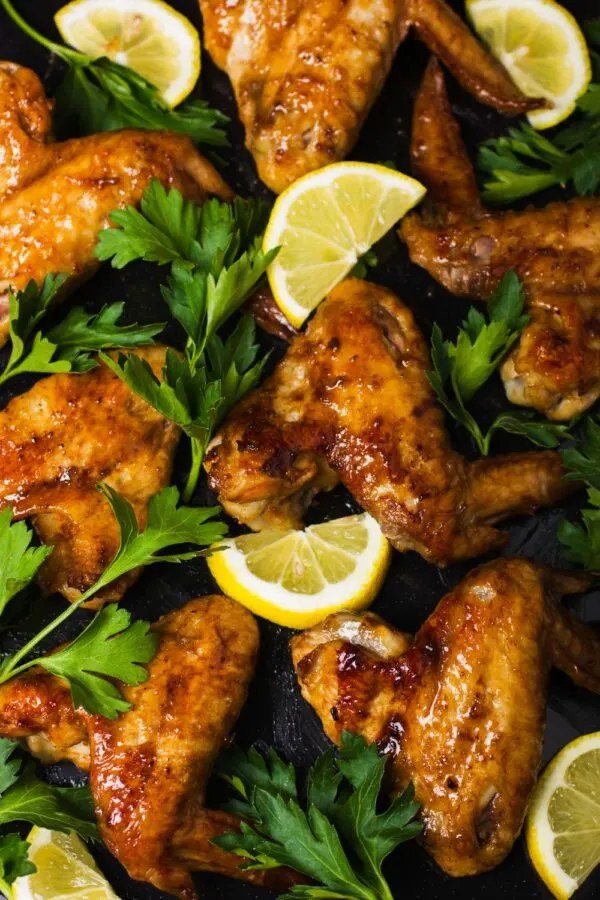 Table of Contents
What Makes Honey Lemon Pepper Wings So Special?
The magic behind Honey Lemon Pepper Chicken Wings lies in the harmony of flavors – the sweetness of honey, the tanginess of lemon, and the bold kick of pepper. These three simple, yet powerful ingredients create an explosion of taste that leaves you craving for more.
The Star Ingredients: Honey, Lemon, and Pepper
Honey
The natural sweetness of honey gives our wings a delightful sugary touch that complements the savory chicken. Not only does honey provide a unique flavor, but it also caramelizes during baking, giving the wings a beautiful golden-brown color.
Lemon
Lemons introduce a refreshing citrusy tang that cuts through the sweetness of the honey, creating a balanced flavor profile. Additionally, lemon juice helps tenderize the chicken wings, making them extra juicy and delicious.
Pepper
Pepper adds the zing to our Honey Lemon Pepper Wings. It offers a subtle heat that dances on your tongue, providing a nice contrast to the sweet and sour flavors.
FAQs for Honey Lemon Pepper Wings
Can I use frozen wings for making the Honey Lemon Pepper Chicken Wings?
Yes, you can use frozen wings, but make sure to thoroughly defrost them before marinating. This will ensure the flavors penetrate the chicken properly.
What if I don't have fresh lemons?
Fresh lemons provide the best flavor, but in a pinch, you can use bottled lemon juice. The general rule is to substitute one medium-sized lemon with approximately 3 tablespoons of bottled juice.
How can I make these HOT Honey Lemon Pepper Wings?
If you enjoy more heat, add some crushed red pepper flakes or a bit of cayenne pepper to the marinade.
Can I grill the wings instead of baking them?
Yes, these wings are also delicious when grilled. Grill them on medium heat, turning occasionally until they're cooked through and have a nice char.
How do I store leftover wings?
Leftover Honey Lemon Pepper Wings should be stored in an airtight container in the refrigerator. They can be reheated in the oven or microwave. Just as with all chicken, you'll want to consume leftovers within 3-4 days.
Can I use this recipe with other cuts of chicken?
Yes, the honey lemon pepper marinade works great with any cut of chicken. Cooking times may vary depending on the size and type of the cut.
Can I prepare these wings ahead of time?
Yes, you can marinate the wings in the honey lemon pepper marinade and refrigerate overnight. This will deepen the flavors. Remember to let the wings reach room temperature before baking or grilling.
Printable Recipe for Honey Lemon Pepper Wings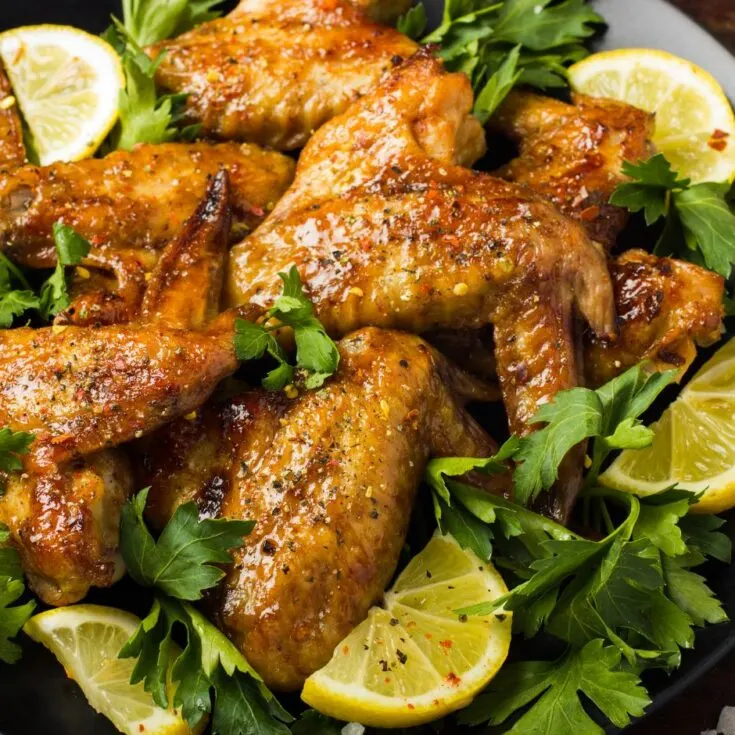 Yield:

4
Honey Lemon Pepper Chicken Wings
Savor the delightful interplay of sweet, tangy, and spicy with our Honey Lemon Pepper Wings.
Each bite of these perfectly baked chicken wings bursts with the natural sweetness of honey, the refreshing zest of lemon, and the subtle heat of pepper.
Ingredients
2 pounds of chicken wings
1/2 cup of honey
Juice and zest of 2 large lemons
2 tablespoons of olive oil
1 tablespoon of black pepper
1 teaspoon of salt
1 teaspoon of garlic powder
Optional: 1/2 teaspoon of red pepper flakes or cayenne pepper for a spicy kick
Fresh parsley or cilantro for garnish
Instructions
Prepare the Chicken: Rinse the chicken wings under cold water and pat dry with paper towels. Set aside.
Make the Marinade: In a large bowl, mix the honey, lemon juice, lemon zest, olive oil, black pepper, salt, and garlic powder. If you prefer spicy wings, add the red pepper flakes or cayenne pepper.
Marinate the Wings: Add the chicken wings to the bowl and toss until they are fully coated in the marinade. Cover and refrigerate for at least 1 hour, but preferably overnight for the best flavor.
Preheat the Oven: Preheat your oven to 375°F (190°C). While the oven is heating, line a baking sheet with aluminum foil and place a wire rack on top.
Bake the Wings: Arrange the marinated wings on the wire rack. Make sure to leave space between each wing for even cooking. Bake for 30-35 minutes or until the wings are thoroughly cooked and have a nice golden-brown color.
Glaze and Broil: Warm the remaining marinade over medium heat until it thickens slightly to make a glaze. Brush this glaze over the wings and then broil them for an additional 5-7 minutes to get a nice caramelized finish.
Serve: Allow the wings to cool for a few minutes before serving. Garnish with fresh parsley or cilantro for a touch of freshness. Enjoy your Honey Lemon Pepper Wings with your favorite side dishes and dips!
Notes
Remember, the honey lemon pepper marinade works great with any cut of chicken. Cooking times may vary depending on the size and type of the cut
More Delicious Chicken Recipes to Try: