These Mickey Mouse Snowman Sugar cookies are the perfect treat for any Disney fan! Let the kids decorate their own Mickey Mouse Snowman Sugar Cookie for some winter fun!
Mickey Mouse Snowman Sugar Cookies
A Sweet Disney Christmas Treat!
So you guys know what a total Disney fan I am….and let me tell you, it gets even more so during the holidays! Seriously, I have most of the items from this Disney Christmas Decorations list….I'm still coveting the tree topper.
Even Little Man got me a Mickey Mouse Santa yard figure for my birthday last week because he knew I love all things Mickey. Hubs was pushing for the Darth Vader one but Little Man was smitten with Olaf…so they negotiated to Mickey….but really they were thinking of what I would like best….right?! Well, well go with that story anyway.

Besides, Hubs already has plenty of Star Wars Christmas Decorations (check out this list if you live with a Star Wars fan!) and Little Man has more than enough Olafs (check out these 20 Frozen gifts for under $20)!
Anyway, we've been in cookie making mode for a few weeks now….my other vice during the holidays…experimenting in the kitchen with new sweet recipes. If you missed my Ferrero Rocher Ultimate Chocolate Cupcakes or my Cranberry Upside Down Cake recipes then you'll definitely want to go back and check those out, pin them, save them, put them somewhere you won't lose them because they are AMAZING!!
Back to these Mickey Mouse Snowman Sugar Cookies…Little Man and I had an absolute blast making then! I would draw the outlines in icing and then let him fill them in and decide on accessories.
Now this Mickey Snowman cookie cutter is actually the Halloween Mickey Pumpkin cookie cutter that I used for the Mickey Pumpkin Patch Cookies. Unfortunately you can't really find it except at Disney World during Halloween….but I found this Mickey 8 cookie cutter that would work just as well- just fill the holes of the 8 with cookie dough.
Even though this is a made from scratch recipe its SUPER easy….and tastes soooooo much better than the premade stuff. I'm also trying to cut out the processed foods full of additives and fillers in our diet. So even though these are sugary sweet goodness I'm trying to do what I can to make them better for my family. In January I'm starting a series called "Baby Steps to Organic Living" where we'll be making small changes to a healthier lifestyle….I would love it if you follow along with me—just sign up for the weekly newsletter.
Okay, now for these cookies!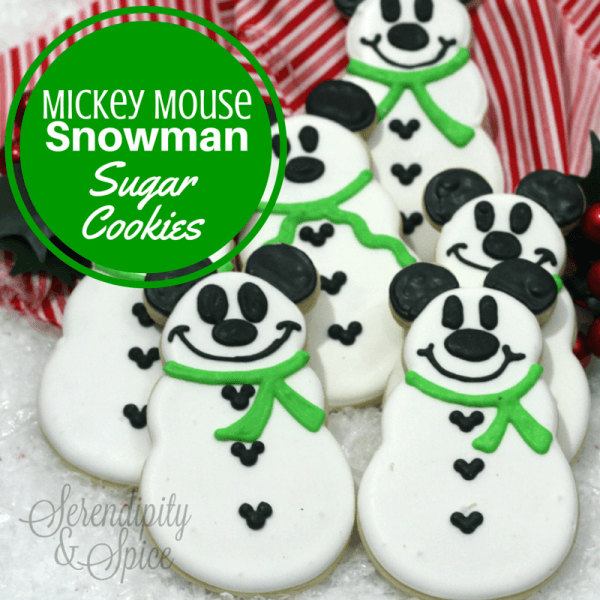 Mickey Mouse Snowman Sugar Cookies
Mickey Mouse Snowman Cookie Recipe
Author:
Ingredients
Cookie Ingredients:
1 1/2 C butter, room temp
2 C white sugar
4 egg, room temp
1 tsp vanilla
5 C flour
2 tsp baking powder
1 tsp salt
Icing Ingredients:
2 egg whites
1 C powder sugar
1/2 tsp cream of tartar
Black & green gel food coloring
Instructions
Sugar Cookie Directions:
-Cream butter and sugar together until smooth.
-Add in the eggs and vanilla, beating them as you add them in.
-Sift the flour, baking powder, and salt. Stir to blend the ingredients together.
-Form the dough into a large ball, cover then put in the refrigerator for an hour.
-Preheat oven to 400 degrees. Line a cookie sheet with parchment paper.
-Spread some flour on a cutting board and on the rolling pin. (If needed)
-Roll out dough. Using a the cookie cutter cut out the cookies.
-Put the cookies 2 inches apart on the cookie sheets.
-Bake at 400 degrees for 6 to 8 minutes or until they turn slightly brown.
-Cool slightly while still on the cookie sheet.
-Transfer the cookies to a wire rack to cool completely.
Icing Directions:
-Combine all ingredients in a mixing bowl mixing on medium speed for 4 minutes. (except your food coloring)
-If icing is not stiff enough add 1/4 C powder sugar.
-Take out 4 TBSP of icing and add several drops of black gel food coloring. Mix to blend the color.
-Take another 2 TBSP of icing adding green gel food coloring. Mix well.
-Put the remaining icing into a bowl. This icing remains white.
-Spoon each of the bowls of icing into individual (3) piping bags, each with a #2 tip.
-Twist the open end of the bag to push the icing to the tip.
Mickey Mouse Snowman:
-Follow the outline off of the picture of the cookies provided.
-Outline the entire cookie white except for Mickey's ears. Allow the outlining to dry for 30 seconds before filling in the cookies in with the white thinner icing. * Allow the filling also to dry for about 30 seconds. ( *Add in 1-3 tablespoons of water to thin the icing out. you want it to be thick and runny, not soup like. If it is soup like add in a very small amount of powder sugar to thicken it.)
-Outline Mickey's ears in the black icing. After 30 seconds fill in the ears with the black thinner icing. * Allow this filling to dry for another 30 seconds. ( *Add in 1-3 tablespoons of water to thin the icing out. you want it to be thick and runny, not soup like. If it is soup like add in a very small amount of powder sugar to thicken it.)
-Refer to the pictures for the examples of the artwork on the Mickey Mouse Snowmen.
-Make two black dots for the eyes and and additional one for the nose. (The shape of an egg for the eyes and an egg laying on its side for the mouth.)
-Still using the black thick icing on some of the snowmen draw a mouth.
-Using the green icing, outline and fill in the scarf with the same thick icing . The scarf will be between the top of the snowman and the second large snowball.
-One black dot will be placed in the center of the snowman and two other small black dots will connect to the first black dot and will look like Mickeys ears.
-Outline and fill in a total of three "Mickeys head and ears" for the coal buttons on the snowman.
-Set the cookies aside for 5-10 hours to dry.