I hope everyone had a FANTASTIC weekend and ready to start off a wonderful week! I have a TON to do this week…Little Man's birthday party is Saturday, we're going pumpkin picking today, we meet with the builder on Thursday, and I have projects galore in the works!
This week's Manic Monday Linky Party is brought to you by Zulily! Have you checked out Zulily lately? I've been a total addict the last few weeks– probably because they've been having some FANTASTIC deals! Check these out:
$4.99 a year subscriptions to Rachael Ray, Better Homes & Gardens, Parents, Family Circle, and many more!
Zulily also has a fantastic sale going on for kids too….
How ADORABLE is this little outfit…it's only $8.99!!!
Or these spooktacular bottle stoppers.….can you believe they're only $6.99!
Anyway, you should definitely go check out Zulily today— there's a TON of fantastic stuff on sale at rock bottom prices! I've already started Christmas shopping!!!
Now It's Linky Party time!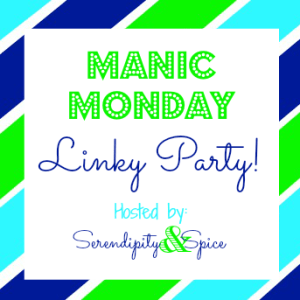 Note: Link Ups are always RANDOM at the Manic Monday Linky Party — so if you don't see yours at the bottom– have no fear– it's randomly inserted– that way everyone has equal chances at getting a feature! 🙂
By linking up you give SerendipityandSpice.com permission to feature your post using a photo, description, and link to your site.