Manic Monday Linky Party
Crafts, Recipes, Toddler Tales and so much more….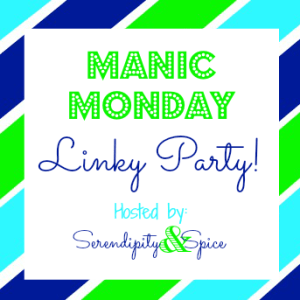 I know, I know….you guys are wondering "where on Earth have you been the last few weeks!" There's been posts going up but no Manic Monday Linky Party, no FB updates, no G+ updates, not much happening on Twitter or Instagram….I've been full blown MIA! That's because we FINALLY closed on the house and started moving!!!! Little Man FREAKED out and was glued to me 24/7 and would barely let me check email much less do any blogging. But, he's finally settling in and I've been able to start back to blogging and playing around online….yippee!
So, we're still surrounded in boxes but that's not stopping me from breaking in my brand new BEAUTIFUL kitchen! I've been trying out recipes galore (follow me on Instagram for some sneak peaks at the house and some new yummy dishes I'm going to be sharing). Anyway, please bear with me while I get back into my routine….I'm so excited to be back to the party!
Alright, now on with the Manic Monday Linky Party!!!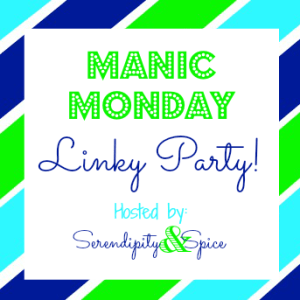 So the rules are simple…..If you link up please visit at least 2 other people for each link and show them some love! That is why we are here right?!
I'd love it if you subscribed to my weekly newsletter (it only comes once a week on Mondays to remind you of the party and let you in on anything you may have missed the previous week) or at least follow along on Facebook, Twitter, and/or Pinterest….I like to do shout outs on these and hope that you'll see you post featured!
And, finally, please only link up family friendly posts including recipes, crafts, kid fun, family fun, DIY, etc. Giveaways are welcome but please no shops or affiliate links.
Thanks so much and HAVE FUN!!!!
*By linking up you give Serendipity and Spice permission to feature you utilizing a photo and link back to your site. NOTE: Link ups are always random so if you don't see your link at the bottom like most linky parties it's because it's inserted randomly so everyone gets an equal chance at being seen up top. 🙂